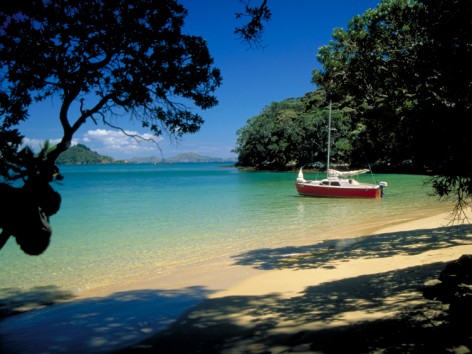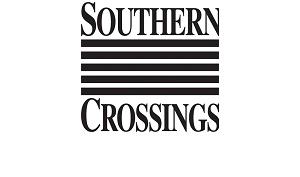 Partner:
Southern Crossings
Special Offers: Australia Adventures
List of Destinations:
Australia
Cook Islands
Fiji
French Polynesia
New Zealand
Samoa
Tonga
Northern Territory to South Australia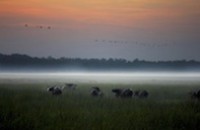 This unique, eight-day trip shows Australia in all its variety, from tropical wetlands, to the arid outback, to the rugged southern coast. Your tour begins with a stay at a wilderness lodge in Australia's Top End, where you can choose a variety of ways to explore the surrounding floodplains. Then, you'll embark on two-night rail trip on the iconic "Ghan" train, an epic and unforgettable journey right through Australia's Red Centre. Along the way, you'll stop in Katherine, where you'll have several off-train touring opportunities, including a helicopter tour of Katherine Gorge.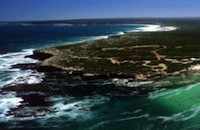 You'll spend a night in Adelaide, the elegant, cultured capital of South Australia, before continuing to Kangaroo Island and two nights at the multi-award-winning Southern Ocean Lodge. This strikingly scenic island is still largely undeveloped and supports an abundance of native wildlife such as wallabies, koalas, kangas and fur seals. Your stay here includes a special guided tour of the region's highlights, including a private lunch with an internationally recognized biologist.

Upon arrival at Darwin Airport you will be met by your private car and driver and transferred to the General Aviation terminal for your onward flight.
Note: Flights must arrive in Darwin prior to 4:00pm.
Fly Darwin to Bamurru Plains aboard your private charter flight (cost included). Bamurru Plains is located just to the west of Kakadu National Park on the Mary River floodplains. A profusion of bird and wildlife are on the doorstep of a unique bush camp that exudes 'Wild Bush Luxury' and brings a touch of style to a remote and beautiful wilderness.
During a 2-night stay guests can expect to participate in a number of activities including the following:
• Airboat trips – the best way to access the floodplains and see the extraordinary birdlife up close
• Crocodile rivers cruises – cruising late afternoon offers the best chance of sighting these elusive creatures
• Kakadu day trips (additional cost) – a short flight makes the escarpment country of Kakadu an easy day trip from the camp and opens up a range of Aboriginal cultural sites
• Fishing (additional cost) – the property is known for the quality of its barramundi fishing. Specialist guides can be arranged
• Wildlife watching – the wetlands are a meeting ground for thousands of birds and animals
• 4WD safaris – the open top camp "bull catcher" is an ideal vehicle for exploring savannah bush and plains.
ACCOMMODATION FOR TWO NIGHTS IN A DOUBLE DELUXE SAFARI TENT INCLUDING ALL MEALS, SELECTED BEVERAGES AND SELECTED TOURING ACTIVITIES AT: BAMURRU PLAINS
Today enjoy the lodge's touring programme that is included during your stay.
Today you will be escorted to your onward private charter flight to Darwin (cost included).
Upon arrival at Darwin Airport you will be met by your private car and driver and transferred to Darwin Railway Station for your onward train journey aboard The Ghan.
The train takes its name from the Afghans who, in the 1860s, used camels to meet the challenge of opening a supply line through the vast red centre of Australia.
Experience one of the most fascinating "great train journeys" of the world, travelling south to Katherine, Tennant Creek, and on to the Red Centre town of Alice Springs.
Arrive Katherine
The Ghan offers several optional off-train touring opportunities during its 4-hour break in Katherine, including an exciting Boat Cruise or Helicopter Tour showcasing the breathtaking grandeur of the 25-million-year-old canyons of Katherine Gorge. These tours are all booked and paid for on the train.
Depart Katherine
ACCOMMODATION FOR TWO NIGHTS IN A DOUBLE PLATINUM CABIN INCLUDING ALL MEALS ON BOARD: THE GHAN GREAT SOUTHERN RAILWAY
Arrive Alice Springs
Alice Springs, bordered by the MacDonnell Ranges, is known as the capital of the Australian outback and is a perfect base from which to explore the region. Considered by many to be the most romantic country town in the world, Alice Springs has evolved into a modern outback town with all the comforts of a capital city.
Depart Alice Springs
Arrive Adelaide Railway Station
Upon arrival at the Railway Station you will be met by your private car and driver and transferred to your accommodation.
The remainder of your day is at your leisure and while in Adelaide we suggest the following optional activities:
• Take an Essential Adelaide city sights tour
• Visit the Central Market, the largest fresh produce market in the Southern Hemisphere
• Stroll along North Terrace and the Botanic Gardens
• Explore North Adelaide, known for fine colonial architecture
• Visit the Museum of South Australia and the Art Gallery
• Visit the excellent National Wine Centre
• Explore the cafes of Rundle Street Mall and the fish and Asian cafes of Gouger Street
ACCOMMODATION FOR ONE NIGHT IN A KING CLUB INTERCONTINENTAL RIVER VIEW ROOM INCLUDING CLUB ACCESS AT: INTERCONTINENTAL HOTEL ADELAIDE
Today you will be met at your accommodation by your private car and driver and transferred to Adelaide Airport for your onward flight.
Depart Adelaide for Kangaroo Island aboard scheduled Regional Express flight (cost included).
Luggage limit of 15 kg (33 lb.) per person applies and excess is charged at a$6.60/kg. Luggage storage is available with the airline for international guests at a fee of a$5.00 per bag paid direct to Rex. If storing excess luggage, please ensure luggage is pre-packed and labeled, ready to store.
Upon arrival at Kingscote Airport you will be met by a representative of the Lodge and transferred to your accommodation (approximately a one hour journey).
Kangaroo Island is the third largest island off the coast of Australia. 155 km long, up to 55 km wide, and covering an area of 4,500 square kilometres. The Island is of outstanding natural beauty and still possesses rich and diverse flora and fauna seldom found elsewhere. Substantial tracts of bushland still remain undisturbed and continue to support an abundance of wildlife.
Set in natural bush land, Southern Ocean Lodge overlooks a dramatic section of coastline. Rugged cliffs, wild-ocean, white beaches and virtually untouched native vegetation are complimented by an ecological design and organic luxe interiors.
The Lodge site adjoins two National parks and is at the heart of the Island's major attractions including Flinders Chase and the Remarkable Rocks. Resident naturalist staff provide guided coastal adventures, local touring and interpretive presentations – all included in the tariff.
Other activity options include:
• Coastal trekking expeditions
• Flinders Chase focused adventures
• Beach fishing (additional charges apply)
• Aerial tours (additional charges apply)
• Kayaking (additional charges apply)
• Mountain biking
• Nocturnal tours (additional charges apply)
• Wildlife viewing
• Marine zodiac adventures (additional charges apply)
ACCOMMODATION FOR TWO NIGHTS IN A KING FLINDERS SUITE INCLUDING ALL MEALS, SELECTED BEVERAGES AND SELECTED TOURING ACTIVITES AT: SOUTHERN OCEAN LODGE KANGAROO ISLAND
Today enjoy a private guided tour of the highlights of this unique island. Walk through tall Eucalyptus trees where koalas sleep in the trees overhead, sometimes waking briefly to eat. Travel through some of the Island¹s best farming country to the North Coast and Lathami Conservation Park. Look for wallabies which are almost extinct on the mainland, and a species of kangaroo found only on Kangaroo Island. At Seal Bay Conservation Park walk with your guide among Australian sea lions on a beautiful sandy beach. Watch pups nursing, or playing in the surf, see old bulls bearing the scars of territorial disputes and learn about their unique breeding biology.
A fascinating lunch today will be hosted by Peggy Rismiller an internationally recognized Environment Physiologist. Discuss her unique discoveries with Australia's amazing egg laying mammals and why Kangaroo Island is a "window in the past' to a biologist.
Today you will be transferred to Kingscote Airport for your onward flight to Adelaide.
Depart Kangaroo Island aboard scheduled Regional Express flight (cost included).
Upon arrival at Adelaide Domestic Airport commence independent arrangements to connect with your onward flight.
Depart Adelaide.
Cost: Based on two people sharing a room the cost per person is USD$10,700 (total cost for two people is USD$21,400) and includes:
• Private car transfers as noted
• Accommodation and meals as specified
• Return private charter flights between Bamurru Plains and Darwin
• One-way rail journey from Darwin to Adelaide aboard The Ghan, Platinum service
• Return scheduled flights between Kangaroo Island and Adelaide
• Private wildlife tour of Kangaroo Island including lunch with famed biologist Peggy Rismiller
• Australian Goods and Services Tax (GST) at 10%
Price may be subject to seasonal fluctuations and public holiday surcharges.
All services are subject to availability at the time of booking.
Copyright 2013 MyLittleSwans, LLC. All rights reserved. My Little Swans, the logo and Share a world of experience are registered Trademarks of MyLittleSwans, LLC. Use of this site constitutes acceptance of our Terms of Use and Privacy Policy.