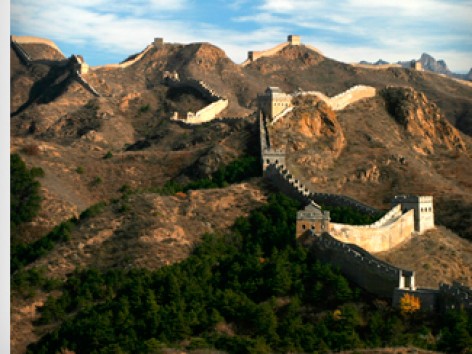 Partner:
Imperial Tours
List of Destinations:
11-day Majestic Tour of China
With visits to many of the country's most famous sights, this tour is an excellent introduction for people who've never been to China. The itinerary is filled with exclusive experiences like a private cooking lesson, a private boat tour on Hangzhou's enchanting West Lake, and access to rarely seen works of art. Throughout your journey, you'll be accompanied by a local Chinese guide as well as a carefully chosen, western "China Host," who is there to make sure you receive only the best.
topOctober 10-20, 2013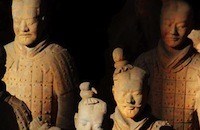 Destinations: Beijing, Xi'an, Hangzhou and Shanghai
Tour size limited to 16 persons.

Should you wish, we can suggest pre or post-tour itineraries on a private tour basis.
Upon arrival at Beijing International Airport, you will be met at the gate by airport VIP staff, holding a sign with your name, who will lead you through immigration, baggage claim and customs. Upon transferring to the hotel, you will have the remainder of the evening at leisure (no other services included this evening).
Accommodations: China World Summit Wing Hotel – Executive Room
Whether by force of irony or expediency, China's government has been located in the same area continuously for over six hundred years. You will walk back in time; strolling across Tian'anmen Square, one of the largest squares of the modern era, you will pass the Monument to the People's Heroes – dedicated to the ravages of the hundred year long Opium War – and finally enter the ancient epicenter of Imperial Power, the Forbidden City.
We arrange for special access to Chonghuagong, a section of the Forbidden City that is normally closed to the general public. Please note that Chonghuagong is filled with antiques and in the event that the weather is particularly rainy/humid, the authorities will not grant access.
We continue the day with an intimate tour through Beijing's traditional alleyways (or hutong). This is one of the rare chances that you will see Chinese people in their everyday setting. If you wish, you will have the opportunity to visit the home of a Chinese family and ask them questions about their way of life. Dinner tonight will be served at one of the city's chicest restaurants.

Meals: B, L, D
Today, you will visit the Great Wall of China. Built to protect China from the incursions of predatory nomads, the utility and meaning of this fortification has been contested for centuries. The unprecedented scale and unexpected charm of the Great Wall may inspire you.
Meals: B, L
For shoppers, Beijing's largest open-air market will come close to paradise. Here you will mingle with Beijingers, overseas and local art dealers as well as farmers who import goods from the countryside. This is your opportunity to buy a Ming dynasty set of the Confucianist classics for a song or else, and more likely, to buy from an astonishingly rich variety of Chinese and Tibetan cultural objects (at usually a tenth the price found in the U.S. and at often half the price found at local shops). For non-shoppers, this market can be thought of as China's largest museum of modern cultural life, where you can see, talk to and photograph a wide range of local and regional Chinese going about their daily lives and business.
Afterwards, we take a tour of the Imperial Summer Palace, a retreat said to have been given to the Empress Dowager Cixi in return for political favors. Whether or not you believe the popular demonization of this female leader, she certainly had taste. Her enchanting mansion, set on 700 acres of land, incorporates stunning temples, arched bridges, capacious pavilions and the world's longest covered corridor, all within a landscape crafted according to the dictates of fengshui.
Meals: B, L, D
This morning we will visit the Temple of Heaven – a Confucianist complex spanning 670 acres – created for the exclusive use of the Emperor as a place to mediate affairs between God and man. Morning is a wonderful time to visit the Temple as you will see local Beijingers out doing their morning exercises.
This afternoon, you will fly to Xi'an, where in the evening you will enjoy a private dumpling-making and noodle-throwing lesson by expert chefs.
Accommodation: Hilton Hotel – Deluxe Room
Meals: B, L, D
Competing Chinese kingdoms were united for the first time within a Chinese empire by the virile King Zheng, of the Kingdom of Qin. Many claim that this first Imperial dynasty of "Qin" (pronounced "chin") gives English the etymological root for the name "China". China's first ever Emperor, known as Qinshihuangdi, designated Xi'an the capital of his rule. He arranged for an underground army to be buried in his tomb. These are the stunning Terracotta Warriors, which you will visit this morning.
China's capital during the Han (206BC-220AD) and Tang (618-907AD) dynasties, periods of increasing international exposure, Xi'an became home to motley communities of Nestorian Christians, Zoroastrians, Buddhists, Jews & Muslims - many of whom have left their mark. This afternoon, for example, we will observe the enduring influence of Xi'an's Muslim community in its Great Mosque and forever-bustling Muslim Quarter.
In the early evening you will fly to Hangzhou, the city which Marco Polo described as the "most enchanting on earth."
Accommodations: Four Seasons Hotel – Deluxe Room
Meals: B, L, D
Your tour of Hangzhou commences with a drive through the tea plantations where China's most famous green tea is cultivated. Afterwards, you will descend down into the historic section of the city where you will be taken to a local tea house. There, you will be the guests of honor at a private tea ceremony and tea tasting.
Hangzhou's wealth and splendor flabbergasted the urbane Marco Polo in his visit to China. Gold-plated floor tiles and color-dyed pets supported the claim that: "In heaven there is paradise, on earth there is Hangzhou and Suzhou." Your visit continues, as did Marco Polo's, with a private boat tour of the extensive West Lake, encompassing its pagodas, causeways and landscaped islands.
Meals: B, L
This morning we will take a ten minute stroll to one of China's most famous temples, Lingyin Temple. Outside this temple, carved into the "Cliff That Flew From Afar," are over three hundred beautiful Buddhist sculptures carved between the tenth and fourteenth centuries. The remainder of your morning has been left free to enjoy the resort. You may wish for a guided walk to a nearby monastery or a stroll through the tea plantations.
Following lunch you will drive to Shanghai (approx. 3 hrs). Shanghai will take your breath away. Since the early 80's this city has been growing like no other, the Pudong waterfront becoming as emblematic of economic prowess as that of Manhattan or Hong Kong. Before dinner, you will have a chance to walk or drive along the Bund, taking in some of the loveliest buildings in the city.
Accommodations: Peninsula Hotel – Deluxe Riverview Room
Meals: B, L
Your tour of Shanghai begins with a lecture/tour on colonial architecture in Shanghai given by a member of the Shanghai Historical Society. This tour will take you into some of the most important buildings along the Bund and French Concessions including the former Hong Kong Shanghai Bank.
En route to lunch, we will travel along sycamore-lined boulevards into the heart of the French Concession. This section of the "Paris of the Orient" now hosts many arts-based businesses and art galleries that we can visit if you so desire. The afternoon will be spent discovering some of Shanghai's great shopping treasures. This might include a contemporary ceramics shop, the studio of a woman who designs cashmere handbags for Harrods or a fantastic Tibetan carpet shop.
In the evening, you will be taken to witness the marvelous stunts of the Acrobatic Show.
Meals: B, L
Today we take you to visit the Shanghai Museum, one of the most modern in the country. Arranged by category rather than according to a chronology, its collection introduces and elucidates the gamut of Chinese arts from ceramics to jade and ivory carvings to paintings.
In the afternoon we will visit the Yu Gardens, one of the best examples of traditional Chinese garden design in the country. Afterwards, you will have some time to stroll through Shanghai's Old Quarter.
Dinner takes place at one of our favorite Shanghai restaurants, boasting a magnificent view over the Bund and Pudong waterfronts.
Meals: B, L, D
This morning, you will be transferred to the airport in time for your international flight home.
Meal: B
Cost:
USD8,375 per person based on double occupancy
USD2,780 single supplement for anyone requiring a single occupancy room
Included in the tour price is:
- 10 nights accommodation
- 10 breakfasts (buffet breakfast), 9 lunches, 5 dinners at our carefully selected restaurants (including soft drinks and local beer)
- Services of a Western bilingual China Host and local tour guides
- All internal flights in economy class (Beijing/Xi'an, Xi'an/Hangzhou)
- All land transportation (as listed on the itinerary)
- Entrance fees to all tourist sites (as listed on the itinerary)
- Local guide and driver gratuities
- Baggage handling, domestic airport, city and hotel taxes
To book this tour, or to create your own custom-designed itinerary, please contact us.
Copyright 2013 MyLittleSwans, LLC. All rights reserved. My Little Swans, the logo and Share a world of experience are registered Trademarks of MyLittleSwans, LLC. Use of this site constitutes acceptance of our Terms of Use and Privacy Policy.