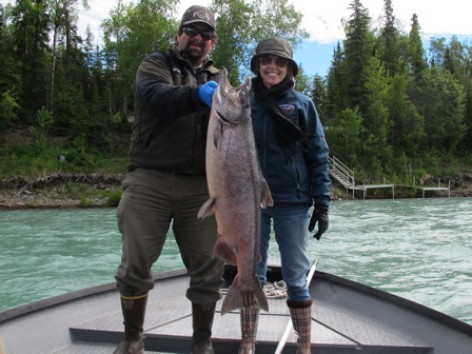 GeoStats:
Name: Alaska comes from the Aleutian word "Alyeska," meaning great land.
Passport/Visa: Beginning June 2009, all US citizens will need a passport for land crossings at Canadian (and Mexican) borders.
Capital: Juneau
Population: 655,435
Languages: Primarily English, although there are 20 native languages and even Russian spoken in some villages.
Predominant Religions: Christianity (Protestant and Roman Catholic), though every major religion is practiced.
Time Zone: 1 hour behind Pacific Standard Time. (-1PST)
Voltage Requirements: 110 volts
Telephone Codes: 907
Overview
Sailing Alaska's Inside Passage on a private yacht is a remarkable experience. Surrounded by the pristine wilderness of Admiralty, Baranof and Chichagof Islands, far from the hustle and bustle of Juneau and Ketchikan, you'll revel in the sight of glacial waters, soaring mountains and lush evergreen forests. Whether you're fishing, hiking, kayaking, whale watching or simply enjoying a ride in the skiff, the exciting itinerary and your yacht's on-board naturalist will make sure that each day brings new opportunities to explore and learn.
Full of action, adventure and good old-fashioned fun, this trip was one of my kids' all-time favorites. If you are looking to unplug and reconnect, this is truly as good as it gets. The absence of civilization creates an atmosphere of intimacy that is ideal for family bonding. And talk about living in the moment! Night after night, we would find ourselves fishing for hours on end, completely immersed in the mystery of what we would catch next, only to look at the clock and see that it was nearly midnight! Imagine...daylight at 11 pm! I've never seen anything like it! The sun nearly forgets to set on this unforgettable journey, made all the better by a family-friendly captain, crew, and, of course, the master chef—who regularly turned our fresh catch into meals so memorable, we're still talking about some of them!
We enjoyed our first Alaska trip so much that we went back again this summer. This time, we were quite a bit farther north, on the Kenai Peninsula near Anchorage. A land of crystalline lakes and snow-capped volcanoes, it's said to offer the best fishing in the world – and fish we did! We trolled the Kenai River for enormous King Salmon, took a bush plane to remote Bench Lake for a day of catch-and-release Grayling fishing, and when we got back to our cabin in the evenings, the boys fished for trout. But there are all kinds of other ways to experience this vast, unspoiled wilderness. We went on an overnight excursion to our partner's Bear Camp, where we watched a dozen or more golden Brown Bears grazing on sage grass like fuzzy cows. Another day, we flew by seaplane over the magnificent Harding ice fields and the Beluga River, where you could see Beluga whales swimming. The June days were endless, filled with simple outdoor pleasures, breathtaking scenery, and quality family time. It was another unforgettable Alaska adventure – and for a souvenir, we had 100 pounds of cured salmon shipped home to us (the fruits of our fishing expeditions).
We ended this trip with a 2-day journey on the famous Rocky Mountaineer railway. Traveling from Vancouver, B.C. to Banff, Alberta, this luxury train passes through rugged Thompson Canyon and the dramatic Canadian Rockies. If you are a train enthusiast, or just want a relaxing father/son or grandparent/grandchild bonding experience, I thoroughly recommend this by-gone form of travel.
Copyright 2013 MyLittleSwans, LLC. All rights reserved. My Little Swans, the logo and Share a world of experience are registered Trademarks of MyLittleSwans, LLC. Use of this site constitutes acceptance of our Terms of Use and Privacy Policy.