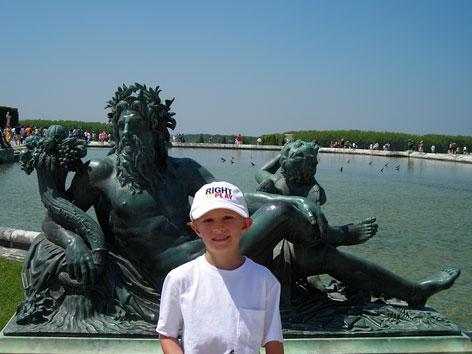 GeoStats:
Passport/Visa Rquirements: US citizens need only a valid passport.
Population: 9,820,000
Languages: French
Anthem: La Marseillaise
Currency: Euro
Predominant Religions: Christian (Roman Catholic, Protestant), though other major religions are practiced.
Time Zone: 1 hour ahead of Greenwich Mean Time (+1GMT) 6 hours ahead of Eastern Standard Time (+6EST)
Voltage Requirements: 220 volts
Phone Codes: 33 is country code; 01 is city code.
Destination:
Paris and Day Trips
Overview
Vast yet intimate, glamorous yet picturesque, Paris is one of the most beloved and most visited cities in the world. For all its size, it's a city made for walking – every street reflects Paris' rich, colorful history, from gothic cathedrals to glittering palaces to charming squares. The Parisian love of beauty shows in the city's lovely gardens and exceptional art museums. Paris' legendary style is evident in its cutting-edge fashion and its world-class cuisine. And for sheer romance, nothing beats a stroll along the Seine or an aperitif at a sidewalk café.
But don't let Paris's romantic reputation fool you – this is a city built for families. You can stay for weeks at a time and never want for things to do. Spend one day walking around the left bank and crossing sites off your must-see list. Our daughter loved the Impressionists at Musee D'Orsay while the boys were enthralled by Napoleon's tomb at Les Invalides. Meanwhile, everyone was equally thrilled by the views atop the Eiffel Tower. For a change of pace, set a day aside for less active pursuits. You'll have plenty of fun just grabbing a cone of Paris's famous Berthillon Glacier, kicking back on a bench at the Luxembourg Gardens, and relaxing as you watch the locals play a heated game of boules. And just when they think they've seen it all, you'll find you can still wow them with day trips to Versailles, Chantilly and Monet's garden in Giverny.
Copyright 2013 MyLittleSwans, LLC. All rights reserved. My Little Swans, the logo and Share a world of experience are registered Trademarks of MyLittleSwans, LLC. Use of this site constitutes acceptance of our Terms of Use and Privacy Policy.