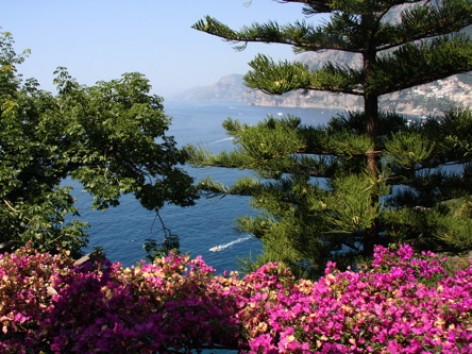 GeoStats:
Alternate Name: Divine Coast
Passport/Visa Requirements: US citizens need only a passport
Region: UNESCO World Heritage Site
Languages: Italian, though English widely spoken
Time Zone: 1 hour ahead of Greenwich Mean Time (+1GMT), 5 hours ahead of Eastern Standard Time (+5EST)
Voltage Requirements: 220 volts
Phone Codes: 39, country code, 089 coastal cities, 081 Capri
Destination:
Amalfi Coast
Overview
Offering some of the world's most spectacular scenery, the Amalfi coast is a place to enjoy simple pleasures on a very grand scale. You can't do much better than Amalfi, Positano, Ravello, Sorrento, and Capri if a relaxing week of swimming, boating, exploring quaint hillside towns, and taking scenic drives is on the agenda. The atmosphere is relaxed, the locals, warm, and the restaurants, incredible. Don't leave without indulging in the signature seafood, buffalo mozzarella, and the region's famous limoncello, a lemon after-dinner liqueur.
While adults will flock to Amalfi's shopping, medieval palaces, and vistas that strain belief with their beauty, the coast is also a place where kids can run wild. Once they've seen what pizza should really taste like in Naples, you can all head over to nearby Pompeii (a volcano, people!) on a full stomach. Then head down the Amalfi Drive, about the closest thing to a thrill ride as you're likely to find. This famous 25-mile stretch of road soars along coastal cliffs between Sorrento and Amalfi.
Abounding with beaches, the Amalfi coast is loaded with villas geared toward family bonding on the shore or by the pool. Kids can also say "si" to water sports and guided boat rides. Explore Li Galli islands with their myth of the sirens, the visually incomparable Positano bay, and Capri's green, white and blue grottoes. Stop the boat and jump in for a swim in the azure waters. Then clamber back aboard and make your way home to rest up and refuel at one of the coastal town's famously delicious restaurants. You'll need all that energy to take on the hillsides. The area is renowned for its hiking trails, so for a slice of rustic living that is pure Italia, buy a trail guide, tell the kids to grab their sneaks, and get a move on.
Copyright 2013 MyLittleSwans, LLC. All rights reserved. My Little Swans, the logo and Share a world of experience are registered Trademarks of MyLittleSwans, LLC. Use of this site constitutes acceptance of our Terms of Use and Privacy Policy.