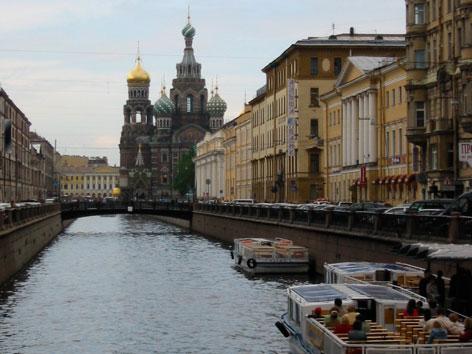 GeoStats:
Capital: Moscow
Population: 143,420,309
Language: Russian, various regional dialects
Predominant Religions: Russian Orthodox, Muslim
Time Zone: Russia spans 11 time zones from GMT+2 to GMT+12. Moscow Standard Time is 3 hours ahead of Greenwich Mean Time, and 8 hours ahead of US Eastern Standard Time.
Voltage Requirements: 220 Volts
Phone Code: 7, country code; 095, Moscow city code; 812, St. Petersburg city code
Overview
Few European countries have experienced as many changes as Russia has over the last few centuries—and few are as fascinating and complex. Moscow and St. Petersburg, Russia's most popular and populous cities, are as rich in history as they are beautiful. St. Petersburg, with its lavish palaces, elegant streets and world-class art museums, recalls the fabulous wealth of the Tsars. In Moscow, the onion domes of Russian Orthodox cathedrals rise over stark, Soviet-era monuments. Yet, to focus only on the past is to overlook what it means to be in Russia at the start of the new millennium. Trendy cafes, designer boutiques and exclusive nightclubs pulse with life as Russia's first consumer society comes into its own. Both cities offer burgeoning art scenes, upscale hotels and restaurants ranging from hip to haute.
Children will find plenty to hold their interest as well. They'll be captivated by the romantic family histories of the Tsarist era, filled with strong female rulers such as Catherine the Great and intriguing, larger-than-life characters like Rasputin. In central Moscow, the KGB Museum offers thrilling tales of espionage. The State Armoury's vast collection of jewels will dazzle and amaze, while a visit to Moscow's legendary food emporium is a feast for all senses. Even getting around the cities is a source of fun, from St. Petersburg's decorative bridges to the beauty and variety of Moscow's Metro stations (each a museum in itself).
Copyright 2013 MyLittleSwans, LLC. All rights reserved. My Little Swans, the logo and Share a world of experience are registered Trademarks of MyLittleSwans, LLC. Use of this site constitutes acceptance of our Terms of Use and Privacy Policy.