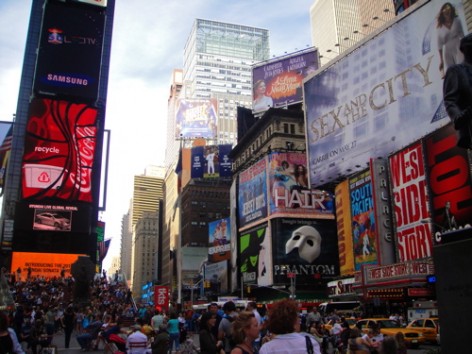 GeoStats:
Nicknames: Big Apple, Gotham, City that never sleeps
Population: 19,306,183
Boroughs: Manhatten, Brooklyn, Queens, Staten Island and the Bronx
5 most popular foreign languages: Spanish, Chinese, Russian, Korean, Italian
Time Zone: Eastern Standard Time, 5 hour behind Greenwich Mean Time
Phone codes: 347, 718, 917, NYC; 212, 646 Manhattan; 516, 631 Long Island
Destination:
New York City
Overview
New York City is the biggest, brashest, most bustling town in the USA. From Rio to Paris to Nepal, people the world over are putting the Big Apple high atop their must see lists. This international reputation is only too well-deserved. As the hub of American art and commerce, New York truly has it all. Renowned museums? Check. Awe inspiring architecture? Double check. The finest dining in the Western Hemisphere? Waiter, check please! In truth, there isn't a spot on Manhattan island that isn't steeped in history. From the Bohemian underpinnings of Soho and Greenwich Village to the immigrant roots of Chinatown, Little Italy, and the Lower East Side, to the green lawns and dreamy ponds of Central Park, Gotham is a city with many faces and even more surprises.
Nothing beats New York for introducing your children to diverse cultures. Talk about a melting pot! NYC is a world capital. Here is where you will find the United Nations Headquarters and the Statue of Liberty, one welcoming foreign countries and the other, their citizens in search of a better life. And there's no place like the sidewalks of New York to see all this international flavor play out first hand. You'll hear every language under the sun and see visitors from hither and yon, all looking for something in particular, something only New York can deliver.
Copyright 2013 MyLittleSwans, LLC. All rights reserved. My Little Swans, the logo and Share a world of experience are registered Trademarks of MyLittleSwans, LLC. Use of this site constitutes acceptance of our Terms of Use and Privacy Policy.