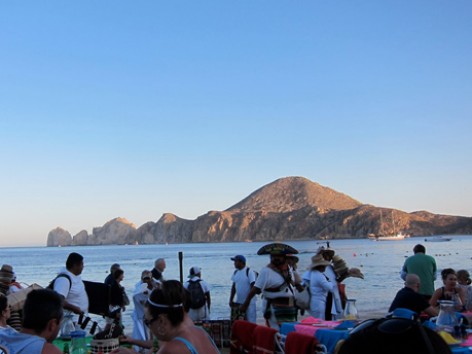 GeoStats:
Population: 56,811
Major Religions: Christian (Roman Catholic)
Languages: Spanish (though English is widely spoken)
Passport/Visa Requirements: A valid passport is required for all U.S. citizens. No visa is necessary for U.S. and EU visitors traveling as tourists.
Time Zone: 7 hours behind Greenwich Mean Time (-7 GMT). Daylight Saving Time is observed.
Voltage Requirements: 110 volts
Phone Codes: 52, country code; 624, city code
Destination:
Cabo San Lucas
Overview
For some travelers, a holiday in Cabo San Lucas means margaritas and dance clubs. For others, it means sports fishing, snorkeling or whale watching. For my 16-year-old daughter and me, it meant relaxing by the pool, gazing at the waves, enjoying one of the best spas I've ever visited, and dining at superb seaside restaurants. That's the beauty of Los Cabos – it offers all these experiences and more. Combine that with direct 3-hour flights from San Francisco, and you have the ideal long-weekend getaway.
Cabo San Lucas is at the very tip of Mexico's Baja peninsula, with the sparkling Sea of Cortez to one side and the deep blue Pacific on the other, separated by the craggy rocks and iconic arch of Land's End. Despite its reputation as a party town, it was a fishing village not long ago, and still has more than its share of striking scenery and laid-back charm. The majority of resorts are on the Sea of Cortez, lining the beach all the way to San José del Cabo (though most are still just a short taxi ride from Cabo San Lucas). We stayed at Capella Pedregal, on the Pacific side, where the hotels are fewer and the waves are more dramatic. The resort is gorgeous and felt very private, but it only took a 6-minute taxi ride through a tunnel to bring us into downtown.
There's definitely a party scene here, from convivial, popular beach cafes to glitzy nightclubs, but the streets are surprisingly calm and quiet at night. During the day, the list of activities goes on and on, from surfing, sailing and swimming with dolphins to horseback riding and ATV adventures on the dunes. If you're interested in cultural pursuits, there's San José del Cabo's historic district, or the galleries and handicrafts of nearby Todos Santos. If you love expertly prepared fresh seafood and authentic Mexican dishes, Cabo will be your idea of heaven, And if you just want to unwind by an infinity pool or on a breezy terrace with a stunning ocean view, there are few better places.
Copyright 2013 MyLittleSwans, LLC. All rights reserved. My Little Swans, the logo and Share a world of experience are registered Trademarks of MyLittleSwans, LLC. Use of this site constitutes acceptance of our Terms of Use and Privacy Policy.