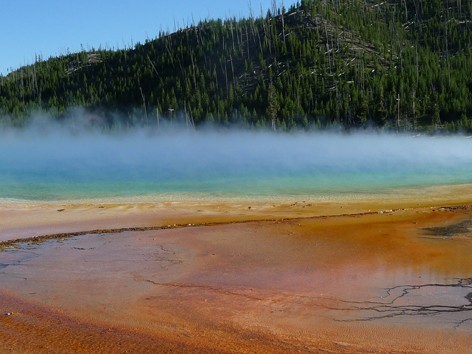 Destination:
Yellowstone & Grand Teton
Overview
Yellowstone and Grand Teton are two of the most iconic places in the United States, and for good reason. These parks feature arguably the greatest combination of wildlife, scenery and geological phenomena on the planet. From craggy peaks to tumbling waterfalls to bubbling hot springs, there are as many different landscapes to discover as there are ways to enjoy them. Pitch a tent or stay at an historic hotel. Float down a river or fly-fish it for trout. Hike around a sparkling alpine lake or kayak across it. Along with the sheer joy of being surrounded by so much natural beauty, there's the excitement of knowing that at any minute, you might spot a moose grazing on the riverbank or a golden eagle cruising by overhead. (Be sure to bring binoculars!)
Though the parks are very popular, especially in summer, it's still possible to find yourself far from the crowds, watching hundreds of buffalo crossing the plains as they did centuries ago. Many of the villages and lakes are named for the rugged frontiersmen who explored the area, and one can imagine their astonishment when they first witnessed Old Faithful's 180-foot plume or saw the Tetons reflected in a lake.
The parks are well worth visiting on their own, but we recommend seeing both if you have time. Though they border one another, each park has its own distinct character. Grand Teton National Park has a quiet majesty and seems relatively intimate and compact, while Yellowstone impresses with its vastness and power – it's literally a massive, active volcano, and feels very alive. Both regions are quintessentially American and yet one of a kind, and they are not to be missed.
Copyright 2013 MyLittleSwans, LLC. All rights reserved. My Little Swans, the logo and Share a world of experience are registered Trademarks of MyLittleSwans, LLC. Use of this site constitutes acceptance of our Terms of Use and Privacy Policy.