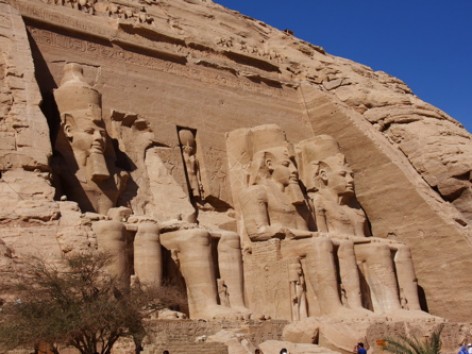 GeoStats:
Official Name: Arab Republic of Egypt
Passport/Visa Requirements: US citizens need both a passport and visa
Capital: Cairo
Population: 83,688,164
Languages: Arabic, though English and French are widely understood by the educated classes
Predominant Religions: Islamic, Christian (Coptic Orthodox)
Time Zone: 2 hours ahead of Greenwich Mean Time (+2GMT), 7 hours ahead of Eastern Standard Time (+7EST)
Monetary Unit: Egyptian pound
Voltage Requirements: 220 volts
Telephone codes: 20, country code; 2, Cairo city code
Travel Tips
Touring the Nile – Air vs. Boat
The traditional way to visit the temples and tombs of the pharaohs is on a Nile cruise from Aswan to Dendera, stopping at all the major sites along the way. On our first trip, this is how Terry and I traveled. When we returned with the kids, we felt that they would max out on temples pretty quickly, so instead we flew in to a few important sites – Abu Simbel, Aswan and Luxor. The advantage of this is you can be more selective and take a shorter amount of time. The disadvantage is that you are at the mercy of EgyptAir. There are usually only one or two flights per day, and on one occasion, two members of our party of seven were bumped off a flight, even though it was pre-paid. (We all ended up going from Luxor to Aswan by car – not something I'd recommend.)
Another option is to do a shorter Nile cruise, starting from Aswan and ending in Luxor. (You'll want to fly out to Abu Simbel and back first, as a boat trip across Lake Nasser would take too long.) The advantage of the boat is the beauty and relaxation of cruising the Nile, and not having to pack and unpack as frequently.
Tombs of the Nobles
Our guide brought us to this little-known site in the Theban necropolis, and it was a wonderful discovery. Fewer crowds mean the tombs are well preserved and more pleasant to visit – be sure to ask your guide about it.
Horseback Riding in Cairo
Riding out to the pyramids on horseback sounds romantic and picturesque. Unfortunately, the stables are in the worst part of Cairo – dirty and unsafe, especially for unaccompanied women – and you need to ride through this squalid area to get out to the pyramids. We recommend saving your ride for Saqqara or another place along the Nile.
Flying out of Abu Simbel
Egypt no longer allows flights from Abu Simbel to Jordan. This is a brand-new regulation and caught all of us off guard (pilots too). International flights must go out of airports that have immigration – we flew out of Aswan but it is also possible to go from Luxor.
Winter Weather
We found Egypt surprisingly cold and windy, with dust storms that cut short our sailing and sightseeing plans in Cairo and made Hurghada less pleasant than it would be other times of year. Jordan's deserts are generally cool in winter, and downright cold at night. Be sure to bring warm clothes, and bundle up for the nighttime tour of Petra and any other activities after dark. (The midday sun is still strong, though, so don't forget hats and sunscreen.) The short days meant that monuments and sites in Egypt closed early, around 4pm, and we were not allowed in the Wadi Rum or Petra during times of day when the light would be most dramatic for photography.
Customs & Etiquette
Travelers to Egypt should keep in mind that social norms are very different for women in a Muslim country than in the west. Female tourists should not walk around unattended, and may wish to dress more modestly.  Long, loose, opaque clothes in conservative styles are recommended for both men and women. For men this means long pants and long- or short-sleeved shirts (no tank tops). Women generally should not wear shorts or leave their shoulders uncovered, and skirts should be mid-length or longer.
Visiting Mosques
When visiting mosques in Muslim countries, etiquette demands that you remove your shoes and that women cover their heads. Entering the mosques barefoot isn't ideal, so it's smart to always carry socks with you. Women and girls should also carry a shawl or scarf.
Sharm el Sheikh vs. Hurghada
Both of these resort spots on the Red Sea offer beautiful beaches and fantastic snorkeling and diving. We choose Hurghada for our recent trip because it was closer to Luxor (where we were traveling next, by car). However, if you're flying, Sharm el Sheikh isn't much further, and is much more convenient if you want to visit St. Catherine's monastery near Mt. Sinai.
Traffic and Tourist Police
Cairo has really expanded over the past several years, and traffic can be horrific. The frequent roadblocks used by the Egyptian tourist police also make it hard to cover ground. The tourist police seemed even more vigilant on this last trip. Overall we felt protected, not harassed; however, we noticed that we were taken almost exclusively to tourist restaurants. If you have a particular restaurant you would like to visit, ask your guide if it can be arranged.
Copyright 2013 MyLittleSwans, LLC. All rights reserved. My Little Swans, the logo and Share a world of experience are registered Trademarks of MyLittleSwans, LLC. Use of this site constitutes acceptance of our Terms of Use and Privacy Policy.