Restaurants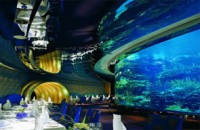 Ground floor, Burj Al Arab
Advance reservations are essential
Lunch 12:30pm to 3pm; 
Dinner 7pm to 11:30pm
Tel: +971 4 3017600

Email: BAArestaurants@jumeirah.com
A one-of-a-kind experience; world-class seafood in an underwater restaurant reached by a 2-minute submarine ride. Dine while surrounded by exotic fish in Dubai's largest aquarium. Semi-formal (no jeans or tennis shoes). Jacket required for men at dinner.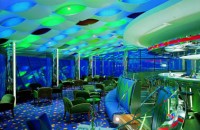 27th floor, Burj Al Arab
Advance reservations are essential
Lunch 12:30pm to 3pm; Friday Brunch 10am to 3:30pm;
 Dinner 7pm to 12am
Tel: +971 4 301 7600

Email: BAArestaurants@jumeirah.com
Enjoy contemporary Mediterranean cuisine along with spellbinding views of the beach and coast in this restaurant 200 meters above the Arabian Gulf. Elegant attire (dressy jeans only, no tennis shoes, no shirts without collars).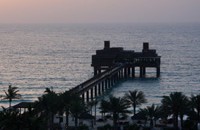 Al Qasr, Madinat Jumierah
Lunch 12pm-3pm, Dinner 7pm-11:30pm; Smart casual attire
Tel: +971 4 3666730
Fax: +971 4 3666649
Email: MJrestaurants@jumeirah.com

Located at the end of a romantic pier, Pierchic serves fine seafood, accompanied by balmy ocean breezes and serene views of the Gulf.
Salmontini La Maison du Saumon
Mall of the Emirates, West End
Tel: +971 4 341 0222 / +971 50 515 7051

Offering an unforgettable culinary experience, La Maison du Saumon specializes in homemade smoked salmon, French cuisine and international delicacies all wrapped up in a touch of "je ne sais quoi."
Copyright 2013 MyLittleSwans, LLC. All rights reserved. My Little Swans, the logo and Share a world of experience are registered Trademarks of MyLittleSwans, LLC. Use of this site constitutes acceptance of our Terms of Use and Privacy Policy.