Activities

Lounging by the pool has its time and place, but if you want to get active, Dubai has plenty to offer – kids especially will enjoy that there are so many activities to choose from. Head to the beaches for swimming, boating, waterskiing and windsurfing, cool off at one of the city's amazing waterparks, or hit the slopes year-round at Ski Dubai. If you like golf, Dubai was named as the world's #1 golf destination by the International Golf Tour Operators Association. Scuba divers can explore shipwrecks near Dubai, or head to the East Coast of the UAE for spectacular reef diving. And don't forget the sand dunes of the Arabian desert, just waiting to be scaled by SUV or camel.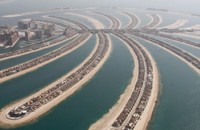 Helicopter Excursion
We took a helicopter tour on our first afternoon in Dubai, and it was a highly worthwhile experience. They'll fly you up to and over the Burj Dubai (the world's tallest structure at 2,624 feet), then along the coast for aerial views of the man-made Palm island. Be advised that the helicopters can't fly in extreme heat.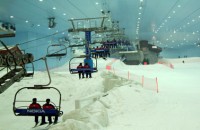 Mall of the Emirates
Shiekh Zayed Road, exit 39, towards Al Barsha
Tel: +971 4 409 4000

Fax: +971 4 409 4101
The first indoor ski resort in the Middle East, this amazing 22,500-square-meter attraction lets visitors ski, snowboard and sled on real snow year-round. Ski Dubai offers five runs of varying degrees of difficulty, a Freestyle Zone where boarders can practice stunts, an interactive Snow Park, and two themed restaurants. Clothing and equipment are provided; professional instruction is available at the Snow School.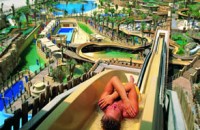 Jumeirah Beach Road, between Jumeirah Beach Hotel and Madinat Jumeirah
Tel: +971 4 348 4444

Fax: +971 4 348 0275
Email: WWinfo@jumeirah.com
Themed around a popular character from Arabian folklore, this enormous waterpark features 30 rides and attractions – a 33-meter cascade, an "uphill water roller coaster," a surfing pool, a wave pool, river rides and more.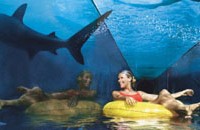 Open daily 10am-7pm
+971 4 426 0000
No advance booking required

This waterpark at the Atlantis resort on Palm Jumeirah features some of the largest water slides in the world. The dominant feature is the Ziggurat, launching point for several of the rides, including a tidal river and a 90-foot plunge into a shark-filled lagoon.
Falconry Demonstrations
One of the world's oldest sports, falconry was originally used by the Bedouin as a hunting method. It's still held in high esteem throughout the Arab world, and a falconry exhibition is well worth your time while you're here. The demonstration we saw at Al Maha was amazing, though we had to rise at dawn (the birds can't tolerate the midday heat). Like most performances, ours featured an exciting fly-to-the-lure demonstration; the falconer swings a leather pouch – with fresh meat attached – on the end of a 30-foot cord, and the falcon tries to strike it mid-air. Afterward, we were allowed to handle these exquisite birds of prey.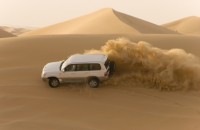 Desert Safaris
There are a number of operators offering complete desert experiences, including dune safaris, sand surfing, camel rides, extravagant dinners at a Bedouin-style camp (complete with belly dancers) and camping under the stars.
Dune Safaris
Take a thrill ride up and over the dunes in an SUV driven by a professional driver, or try it yourself in a dune buggy or quad bike – guided by an instructor, of course. (Please note that children under three are not allowed on dune-bashing rides, and it's not advised for expectant mothers or the elderly.)
Sand Boarding
Dubai's sand dunes are high and smooth enough to slide on with snowboards – great fun, and falling is much less painful than on snow and ice.
Copyright 2013 MyLittleSwans, LLC. All rights reserved. My Little Swans, the logo and Share a world of experience are registered Trademarks of MyLittleSwans, LLC. Use of this site constitutes acceptance of our Terms of Use and Privacy Policy.