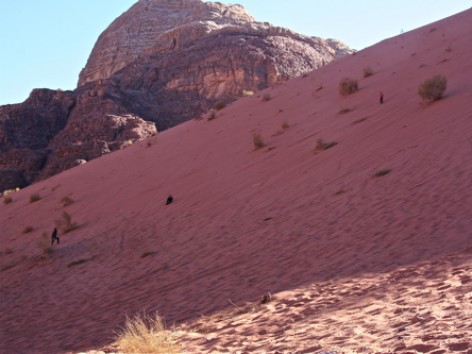 GeoStats:
Official Name: Hashemite Kingdom of Jordan
Passport/Visa Requirements: US citizens need both a passport and visa
Capital: Amman
Population: 6,053,193
Languages: Arabic, some English and French spoken
Predominant Religions: Islamic, small Christian minority
Time Zone: 2 hours ahead of Greenwich Mean Time (+2 GMT), 7 hours ahead of Eastern Standard Time
Currency: Jordanian Dinar
Voltage Requirements: 220 volts
Telephone Codes: 962, country code; 2, Amman city code
Travel Tips
Winter Weather
Jordan's deserts are generally cool in winter, and downright cold at night. Be sure to bring warm clothes, and bundle up for the nighttime tour of Petra and any other activities after dark. (The midday sun is still strong, though, so don't forget hats and sunscreen.) We chose to go over the Christmas holidays because of my childrens' school schedules – the weather was pleasant overall, but the short days meant that we were not allowed in the Wadi Rum or Petra during times of day when the light would be most dramatic for photography.
Customs & Etiquette
Jordan is one of the most liberal countries in the region, but it is still a predominantly Muslim nation. Very revealing clothing is never appropriate, and conservative dress is advisable for both men and women in the old part of Amman (downtown), and outside the cities. Shorts are rarely worn by either sex, and would be out of place in the downtown Amman area.
Visiting Mosques
When visiting mosques in Muslim countries, etiquette demands that you remove your shoes and that women cover their heads. Entering the mosques barefoot isn't ideal, so it's smart to always carry socks with you. Women and girls should also carry a shawl or scarf.
Copyright 2013 MyLittleSwans, LLC. All rights reserved. My Little Swans, the logo and Share a world of experience are registered Trademarks of MyLittleSwans, LLC. Use of this site constitutes acceptance of our Terms of Use and Privacy Policy.