Val di Noto
This valley contains a string of ancient cities – the ones listed below have all been named UNESCO World Heritage sites for their impressive Baroque architecture.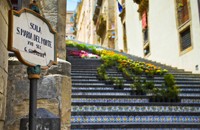 Caltagirone
This city has been a major producer of high-quality ceramics since prehistoric times, but didn't reach international fame until the 10th century, under Arab rule – Caltagirone comes from the Arab words for "castle of vases." Devastated by the massive 1693 earthquake, it was rebuilt with elegant Baroque churches, piazzas and gardens. The ceramics industry began to flourish again in the 19th century and continues today in the many traditional workshops. One of the city's most famous sights is the Santa Maria del Monte stairway, featuring 142 steps decorated with colorful ceramic tiles.
Ragusa
Like many cities in the region, Ragusa was heavily damaged in the 1693 earthquake – but unlike others, the medieval old town was rebuilt along with new Baroque constructions, creating an interesting mix of styles. The town is divided into two communities, historic Ibla and "new" Baroque Ragusa. Though the new town is more commercial and prosperous, Ibla is more atmospheric. Both offer fine examples of Sicilian Baroque.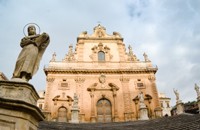 Módica
Módica was an important city under Spanish and Arab rule, and again during the Renaissance. It is divided into upper and lower towns, connected by flights of steps. The highlight of the upper town is the Baroque Chiesa de San Giorgio, one of the most magnificent in the region. Lively Corso Umberto I is lined with shops, cafes, palazzos and a monumental staircase flanked by statues of the Apostles.
Scicli
This strategically located city was used as an outpost by Spanish barons during their long rule. It was completely rebuilt in Baroque style after the 1693 quake. The most notable building here is Chiesa Santa Maria del Nova, which was rebuilt yet again in Neo-classical style.
Donnalucata
This picturesque fishing village has been inhabited since the 3rd century BC. An administrative division of nearby Scicli, it's now a resort town known for its food and wine as well as its sandy beaches.
Copyright 2013 MyLittleSwans, LLC. All rights reserved. My Little Swans, the logo and Share a world of experience are registered Trademarks of MyLittleSwans, LLC. Use of this site constitutes acceptance of our Terms of Use and Privacy Policy.