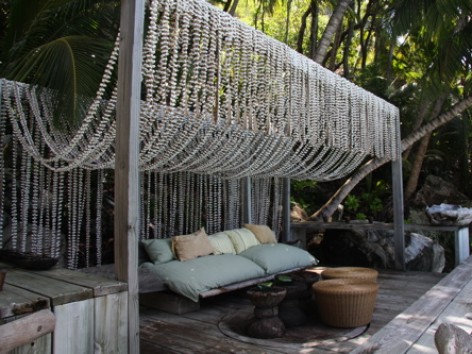 GeoStats:
Country Name: The Republic of Seychelles
Passport/Visa Requirements: US citizens need a valid passport
Population: 81,895
Languages: Creole, English, French
Nationalities: European, African, Chinese and Indian
Predominant Religion: Christian (Roman Catholic)
Time Zone: 4 hours ahead of Greenwich Mean Time (+4GMT), 9 hours ahead of Eastern Standard Time (+9EST)
Monetary Unit: Seychelles rupee
Voltage Requirements: 240 volts
Telephone Codes: 248, country code
Basics
When to Go
The climate, while hot, is nearly perfect year-round. The islands are not in the cyclone/monsoon belt, so high winds and heavy rains are rare. There is a rainy season Nov-Jan, but it's still sunny enough for sunbathing. The humidity is high, but a breeze usually keeps it tolerable.

The best time to go depends on what you want to do. The diving is best March-May and September-November. Surfing, windsurfing and hiking are best May to September. Bird-watching is best April-October, and the fishing is best October-April. And our favorite activities, sailing and snorkeling, are great year round.
Weather & Temperature
The Seychelles enjoy an equatorial tropical climate. The temperature is pleasant year-round and varies between 76-89º F, with humidity generally around 80%.
Victoria, Seychelles

JAN

FEB

MAR

APR

MAY

JUN

JUL

AUG

SEP

OCT

NOV

DEC

Average High Temperature
°F

86

87

88

89

87

84

83

83

84

85

86

86

°C

30

30

31

31

30

29

28

28

29

30

30

30

Average Low Temperature
°F

76

77

78

78

78

77

76

76

76

77

76

76

°C

25

25

25

25

26

25

24

24

25

25

24

24

Average Precipitation
in

12.25

7.8

5.33

5.18

5.5

4.4

2.65

4.02

5.14

4.85

6.2

7.78

cm

31.16

19.82

13.55

13.05

13.98

11.17

6.74

10.21

13.06

12.31

15.75

19.75
Time Difference
Set your watch 4 hours ahead of Greenwich Mean Time (+4GMT) or 9 hours ahead of Eastern Standard Time (+9EST). Daylight Saving Time is not observed.
Passport & Visa Requirements
All visitors must be in possession of a current passport valid for six months after the scheduled date of departure from the Seychelles, as well as an onward travel or return ticket. A visitor's permit, obtained upon arrival, is good for one month and may be extended for another two months with proof of sufficient funds. Reconfirm travel document requirements with your carrier before departure.
Health Matters
Medical Services
Victoria has a large and efficient hospital, and most islands have health clinics.
Vaccinations
Vaccinations are not required unless visitors are coming from Africa. Check with your GP or the World Health Organization website for current bulletins on the Seychelles.
Sun and Heat Precautions
Intense heat and humidity can pose potential health risks. Stay hydrated, apply sunblock, wear a sunhat, and wear a T-shirt when swimming.
Security
Safety is not a concern in the Seychelles; however, normal precautions should be taken as you would when traveling anywhere.
U.S. Consulate in Seychelles
U.S. Consular Agency
Oliaji Trade Center, Francis Rachel Street
Victoria, Mahe
Tel: +248 225 256
Money Matters
Local Currency
The currency is the Seychelles rupee, abbreviated SRC and sometimes SRe. Coins come in denominations of 5, 10 and 25 cents, 1 rupee and 5 rupees. Notes come in denominations of 10, 25, 50, 100 and 500 rupees.
A foreign-exchange deficit has led to the government enforcement of strict foreign-exchange controls. Visitors are required to pay in foreign currency—by credit card or traveler's checks—for the following: hotels and guesthouses; hiring of cars or boats; at a casino; services of tour operators or travel agents; and for transfers within the Seychelles. Prices are usually quoted in euros. Note that change will often be given in Seychelles rupees.
Local currency is used for purchases in shops and markets, at restaurants outside of hotels, for taxi fares and for fuel. There is a black market for exchanging currency, but resist the temptation. Offending tourists have been deported when caught in the act.
Bank and Exchange Offices
Money can only be changed at banks or hotels or by authorized money dealers at Seychelles International Airport. It is advisable to keep the money exchange receipt, as you will need to change back any Seychelles rupees (maximum of 800 SRC) you have left at departure. It is illegal to take more than 2,000 SRC out of the country.
There are ATMs in Mahé, Praslin and La Digue, but they only dispense local currency.
Credit Cards & Travelers Checks
Major credit cards are accepted at large hotels, restaurants and shops, but ask whether they are accepted at smaller establishments. Traveler's checks issued in U.S. dollars, euros or British pounds are preferred.
Tipping
A service charge is added to most hotel and restaurant bills. In general, tips aren't expected but they are gratefully accepted.
Phone Services
The efficient Seychelles telephone service allows international direct-dialing to most countries in the world. Coin- and card-operated public telephones are widespread on the main islands. Phone cards can be bought at the post office and in many small shops, and cost 30 SRC-200 SRC. Cable & Wireless on Francis Rachel Street, Victoria, is open 7am-9pm daily for faxes, telegrams and phone calls. Most hotels have phones in the rooms but levy high surcharges.
Dialing Codes
When calling from abroad, dial the country code (248) + the area code + phone number.

To dial internationally, dial 00 + country code + phone number.
Information & Emergency Numbers
International Directory Assistance: 151
Local Directory Assistance: 181
Fire, Ambulance or Police: 999
Victoria Hospital: 388 000
Mobile Phones
Seychelles has a GSM 900/1800 mobile phone network service with "world option" roaming agreements for many countries. Cell phones can be hired at the International Airport and in Victoria.
Transportation
There are numerous inter-island flights (20-30 daily flights between Mahe and Praslin) and helicopter service between Mahe and La Digue, North Island, Fregate, Silhouette, Praslin and several other islands.

When you arrive in the islands, be certain inter-island flights are reconfirmed: they're subject to change up to the last minute. Also, be aware that the shuttle between Mahe and Praslin is first-come, first-served: You may show up at the appointed time, but if weather has delayed earlier flights, you won't get on until the backlog clears. (This is vital to keep in mind if you're making an international connection out of the islands—leave yourself plenty of time).

A number of cruise lines visit the islands and there are daily ferries between Mahe, Praslin and La Digue. The Cat Cocos catamaran runs two to three trips daily from Mahe to Praslin (phone 324-843) and the Inter Island Ferry Co. operates a schooner service between Praslin and La Digue (phone 232-329). The crossing lasts 30 minutes and may be rocky.

Yacht charters are an excellent way to see the country.
Electrical
Electricity is 240 volts. British-style three-point square-pin plugs are used.
What to Pack
The weather is hot and humid year-round, so pack light, informal clothing. Women should bring shorts and shirts, light dresses, skirts and tops. A sarong is useful (colorful sarongs can be bought locally) because many hotels and resorts prefer you to cover up in the restaurant. Most hotels ask men to wear long trousers in the evenings. A lightweight sweater is ideal for cool evenings and protection against mosquitos.

Pack a wide-brimmed hat, swimwear, sandals, sunglasses, high-protection sunscreen and a good moisturizer. For trekking, lightweight walking shoes are adequate. Plastic sandals are a good idea when exploring the coral reefs.

Be careful not to overpack. Those inter-island planes are small, and if they're overloaded, you may have to leave part of your luggage behind.
Customs
Topless sunbathing is tolerated but frowned upon away from resort beaches. Local women would never do it.
Copyright 2013 MyLittleSwans, LLC. All rights reserved. My Little Swans, the logo and Share a world of experience are registered Trademarks of MyLittleSwans, LLC. Use of this site constitutes acceptance of our Terms of Use and Privacy Policy.