Events
World Snow Festival, Grindelwald
Mid-January
Artists from all over the world create masterpieces out of snow and ice during this international six-day event, which also features folk arts.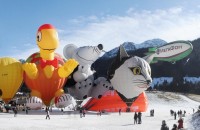 Late January
More than 130 balloons from all over the world participate in this spectacular event, which includes other aerial demonstrations and races.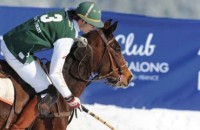 January
This international snow polo demonstration features worldwide elite players and several days of matches and celebration.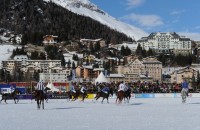 Late January
This four-day tournament is the world's most prestigious winter polo tournament, played on the frozen surface of Lake St. Moritz.
International Dog Sled Race & Dog Festival, Saignelégier
January
The best dog-sled teams from around the world compete against each other in this annual event.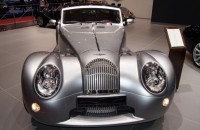 Early March
Annual exhibition of new automobile models, concept cars and prototypes.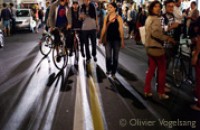 Third Thursday of March, May and September
A night of art museum and gallery openings held in Geneva's cutting-edge Quartier des Baines district.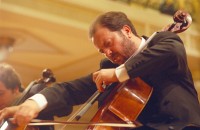 Graubünden Festival, St. Moritz
Mid Mar-Early Apr
"Snow and Symphony" is a unique symbiosis of international culture and winter sports. Unique venues include mountaintop cable-car stations and electricity transformer stations, transmuted overnight into concert halls.
Carnaval de Lausanne
May
Formerly known as Fete du Soleil, this is Lausanne's version of carnival, with parades, food stalls, rides, plays and music.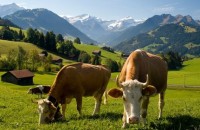 Alpaufzug (everywhere in the Alps)
Mid June
At this folk festival, cows are adorned and herded to their summer homes in the alpine meadows. Village celebrations follow.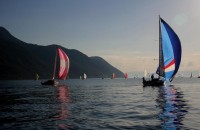 Mid June
Over 500 boats participate in this annual event, Europe's largest regatta in enclosed waters. Setting off from Geneva, boats travel the length of the lake to Bouverat before making the return sprint back. Celebrations in Geneva follow the race.
Early-Mid July
One of the most prestigious jazz festivals in Europe, this annual two-week event attracts the best international talent.
Swiss Open, Gstaad – International Men's Tennis Tournament
First 2 weeks in July
Mid July-mid August
Hundreds of free concerts, including classical, rave, R&B, reggae & folk music, plus a major fireworks display,
Nuit des Diables (Night of the Devil), Les Diablerets
Late July
Large summer festival with street parties, entertainment, sports activities, and music.
National Day (throughout Switzerland)
August 2
Celebrations, fireworks, and lantern processions celebrate the anniversary of the Swiss confederation.
Aug-Mid Sep
World famous classical music festival, with some 30 symphony concerts and 60 other events.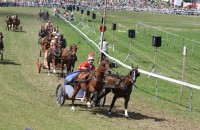 Marché-Concours, Saignelégier
2nd weekend of August
One of the world's largest horses festivals, attracting up to 50,000 visitors and horse lovers each year with horse shows, parades and horse races.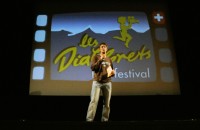 Mid August
Annual festival highlighting films about mountains, extreme sports and the environment.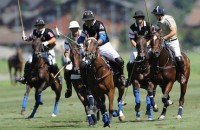 Late August
International Gold Cup tournament.
Fete des Vignerons, Vevey
Late summer
This huge wine festival is held approximately every 25-30 yrs (the last one was in 1999, and the next one is scheduled for 2019). Spreading over two weeks, the event honors the region's winegrowers with elaborate shows and parades in traditional costume.
Graubünden Festival, St. Moritz
Late Aug-Early Sep
"Art and Symphony" captures a unique blend of art and music. Museums and galleries host unusual concerts that relate to the works of classical and contemporary art on display.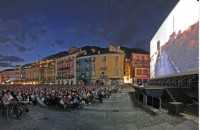 Every August Locarno becomes the world capital for independent cinema.
Grape Harvest Festival, Neuchatel
Late September
This is the largest of Switzerland's many harvest festivals, drawing tens of thousands of visitors for three days of wine and beer tasting, music, rides and parades.
La Benichon, Gruyères
Second week in October
Celebrating the return of cowherds to the lowlands after months in the alpine meadows, this traditional, centuries-old festival involves hours of feasting and dancing.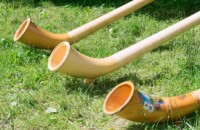 Festival of Swiss Folk Music, Les Diablerets
Third Saturday in October
This popular annual event attracts the finest folk orchestras in the country.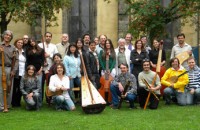 Late Oct-late Nov
An intimate festival devoted to the enjoyment and study of Bach's works.
St. Nicholas Day (all over Switzerland)
On or around Dec 6
The arrival of St. Nicholas is celebrated with parades and fairs.
Fete de l'Escalade, Geneva
Closest weekend to Dec 12
This festival commemorates the Duke of Savoy's failed attempt to capture the city in 1602. Festivities include historic processions and the customary selling of hot soup on the streets.
Copyright 2013 MyLittleSwans, LLC. All rights reserved. My Little Swans, the logo and Share a world of experience are registered Trademarks of MyLittleSwans, LLC. Use of this site constitutes acceptance of our Terms of Use and Privacy Policy.