Destination:
San Francisco and the Bay Area
Sights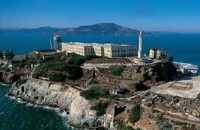 Alcatraz
This island 1.5 miles offshore from San Francisco was an infamous maximum security prison from 1934 until 1963, housing notorious inmates like Al Capone and "Machine Gun" Kelly. Daily tours include a fascinating cellhouse audio tour, featuring the voices of former prisoners and guards. Guided night tours are also available Thu-Mon. Tickets sell out early, so be sure to purchase well in advance.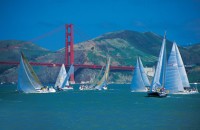 Golden Gate Bridge
Drive, ride or walk across it, sail under it, or just admire it from the waterfront, but don't miss it. Opened in 1937 as a link to the "Redwood Empire" of Northern California, the Golden Gate Bridge is the iconic emblem of San Francisco, and one of the best-known bridges in the world.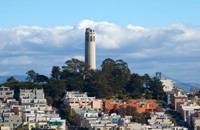 Coit Tower
1 Telegraph Hill Boulevard (North Beach)
Tel: (415) 362-0808
Open daily Mar-Sep, 10am-5:30pm; Oct-Jan 9am-4:30pm
The 210-foot Art Deco tower that crowns Telegraph Hill was built in 1933 using funds donated by Lillie Hitchcock Coit, an eccentric socialite who used to ride along with the local firefighters. The often-repeated stories that the tower was designed to resemble a fire hose and intended to honor San Francisco's firefighters are untrue – Coit simply wanted a way to beautify the city. Views from both the foot and top of the tower are spectacular.
The restored murals on the inside of the tower's base, created as a Public Works of Art project during the Depression, are worth looking at closely. Painted in social-realism style, some of the murals were considered politically subversive and created quite a controversy when they were unveiled.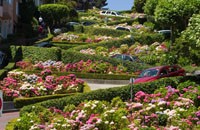 Lombard Street
Dubbed the "crookedest street in the world," this steep, flower-lined residential street winds its way between Hyde and Leavenworth Streets in Russian Hill. Cars are only allowed to drive downhill, and during the summer months, the line of cars waiting to zig-zag down it can stretch for blocks. The best way to see the famous street is on foot, or you can look down on it from the Powell-Hyde cable car.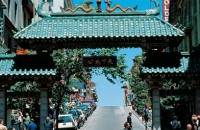 Chinatown
Chinese immigrants have occupied this area just east of the Financial District since the 1850s – it's the second largest Chinese neighborhood in the country, after New York. The sidewalks are packed with locals and lined with tiny shops where you'll see jars of exotic Chinese herbs, cooked ducks hanging in windows, live fish swimming in tanks, and a plethora of imported knick-knacks. Grant Avenue is the main commercial street, with pagoda-shaped lamps along the route and an elaborate Dragon Gate at the southern entrance.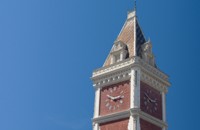 900 North Point Street (Fisherman's Wharf)
A former chocolate factory and woolen mill, this cluster of attractive brick buildings was converted to commercial space in the mid-1960s. The square features a number of interesting shops, wine tasting rooms, and waterfront restaurants, and offers nice views over Aquatic Park and the Hyde Street Pier. Located below the trademark clock tower, Ghirardelli Chocolate Manufacturing no longer makes chocolate on-site, but it sells plenty of it, and has the original chocolate-making equipment on display.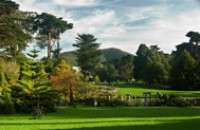 9th Avenue at Lincoln Way, Golden Gate Park
Open daily: Mid March-Sep, 9am-7pm; Oct-early Nov, 9am-6pm: mid Nov-Jan, 9am-5pm; Feb-early March, 9am-6pm. Last visitor admitted one hour before closing. Free guided walks daily at 1:30pm.
The 55 lush acres of this botanical garden are home to some 8,000 species of plants from around the world. Especially worth exploring are the Garden of Fragrance, designed for vision-impaired visitors, the Moon-Viewing Garden filled with Asian plants, and the New World Cloud Forest.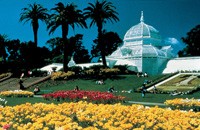 100 John F. Kennedy Drive, Golden Gate Park
Tel: (415) 831-2090
Open Tue-Sun 10am-4:30pm (last entry 4pm). Closed Mon except Memorial Day and Labor Day. Open Jul 4, Dec 24 (until 2pm) and Dec 31. Free admission the 1st Tue of the month.
The oldest building in Golden Gate Park is also the western hemisphere's oldest existing public conservatory. Built in 1879, this one-of-a-kind glass-and-wood Victorian masterpiece holds 10,000 species of rare and endangered plants, including carnivorous plants and a renowned orchid collection. The conservatory was severely damaged by high winds in 1995, and reopened in 2003 after a painstaking renovation.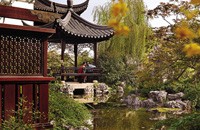 Hagiwara Tea Garden Drive, Golden Gate Park
Tel: (415) 752-1171
Open daily, 9am-6pm Mar-Oct, 9am-4:45pm Nov-Feb
This exquisite garden, with its arched bridges and five-tiered pagoda, was built for the California Midwinter International Exposition of 1894 and carefully maintained ever since. Stroll around the tranquil pathways and shrines, visit the bronze Buddha (the largest outside Asia), then stop in the Tea House for a cup of tea and some cookies. The garden is especially lovely in April, when the cherry trees are in bloom.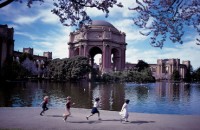 Palace of Fine Arts
Baker Street between Marina Blvd and Bay St (Marina)
Sole survivor of the many lavish but temporary structures built for the 1915 Panama-Pacific Exposition, this building proved so popular that it was rebuilt in concrete after the exposition ended. On weekends, there's a steady stream of newly married couples having their pictures taken in front of the Neo-Classic rotunda and colonnade. The Palace interior is home to the popular Exploratorium science museum.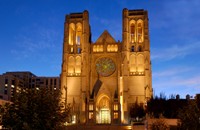 1100 California Street
 (Nob Hill)
Tel: (415) 749-6300
Open Mon-Fri 7am-6pm, Sat 8am-6pm, Sun 8am-7pm. Choral Evensong Sun 3pm (mid Sep-mid June) and Thu 5:15pm.
Modeled after the Notre Dame in Paris, this Neo-Gothic cathedral at the top of Nob Hill was the third-largest Episcopal cathedral in the country when it opened in 1964. It is famous for its excellent choirs as well as its striking stained-glass windows and "Gates of Paradise" doors, replicas of the Ghiberti doors on the Florence Baptistry. If you have time, take a meditative walk around one of the labyrinth mazes (one inside and one outside).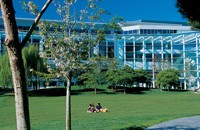 Bounded by Mission, Folsom, Third and Fourth Streets (SOMA)
Open daily 6am-10pm
Adjacent to Moscone Center, San Francisco's largest convention venue, this arts and cultural center added a much-needed vibrancy to the area when it opened in 1993. The grassy esplanade is a pleasant place to enjoy a bag lunch, the Yerba Buena Center for the Arts offers live theater and rotating art exhibits, and the Rooftop features the Zeum Children's Museum, a bowling alley, an ice skating rink, and a historic carousel. To the west of the esplanade, the Metreon entertainment complex houses a 16-screen movie theater (complete with IMAX) and variety of restaurants.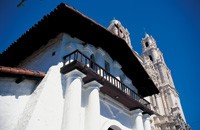 3321 16th Street
Tel: (415) 621-8203
Open daily 9am-4:30pm May-Oct, 9am-4pm Nov-April. Closed Thanksgiving, Dec 25 and Jan 1.
Misión San Francisco de Asís was founded by Junipero Serra in 1776 – it's the oldest intact mission in California as well as the oldest building in San Francisco. The name "Mission Dolores" came from a nearby creek called Arroyo de los Dolores (creek of sorrows). The adjacent basilica was rebuilt in 1918. The Mission cemetery is the only cemetery remaining within the San Francisco city limits. Many Native Americans from local tribes were buried here, along with prominent San Franciscans. The cemetery also famously appeared in a scene from Hitchcock's Vertigo.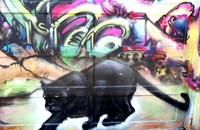 Mission District Murals
There are some 600 murals in San Francisco – the largest concentration is in the Mission District, where vivid scenes cover the walls of schools, community buildings, grocery stores and garages. Many were painted by Mexican-Americans and are celebrations of their culture (or commemorations of their struggles), while others are fanciful, graffiti-like, or abstract. 24th Street, Clarion Alley and Balmy Alley are particularly mural-rich. Guided walking tours are available through the Precita Eyes Mural Arts and Visitors Center (Sat & Sun, 11am & 1:30pm) – they also provide maps if you prefer a self-guided tour.
Copyright 2013 MyLittleSwans, LLC. All rights reserved. My Little Swans, the logo and Share a world of experience are registered Trademarks of MyLittleSwans, LLC. Use of this site constitutes acceptance of our Terms of Use and Privacy Policy.