What to See & Do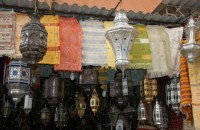 Souks
Place Djemâa el Fna via Rue du Souk Smarine or Bab Doukkala,
Marrakech Medina
Open daily from 9am-7pm, closed Fri from 12-4pm.

Roaming the ancient labyrinth-like souks (open-air markets) of Morocco can be a tantalizing experience as they are constantly bustling with energy and offer a unique cultural scene. Things to look for – handcrafted antiques, metal work jewelry (silver & gold), leather goods, pottery, textiles, rugs, herbs and spices. The best times to go are in the morning (less crowded) and late afternoon (best deals). Take your time and remember, bargaining is a fun and respected tradition here.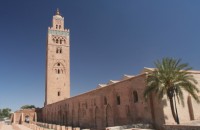 Koutoubia Mosque
Avenue Mohammed V, Marrakech Medina

Unfortunately, non-Muslims can only view this magnificent mosque from the outside. But given it boasts impressive 12th-century Moorish architecture and the tallest minaret in the city, it is well worth a visit.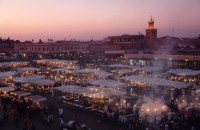 Place Djemâa el Fna
East of Gueliz off the southern extremity of Avenue Mohammed V,
Marrakech Medina

Considered to be the social heart of Marrakech, this square and marketplace attracts the most eye-opening attention thanks to its exotic mix of musicians, acrobats, snake charmers and storytellers. It's a powerful fusion of medina locals and city-visiting Berbers from the Atlas Mountains, all offering an engaging show or tasty treat. Declared by UNESCO as a major World Heritage Site, Place Djemâa el Fna is Marrakech in its most traditional, spirited form.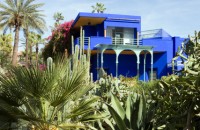 Avenue Yacoub el-Mansour, Marrakech
Oct-May 8am-5pm; Jun-Sept 8am-6pm
+212 (0)24 30 18 52

Restored by Pierre Bergé and Yves Saint Laurent, these magical gardens feature over 400 varieties of palm tree and 1,800 species of cactus.

Islamic Art Museum
In the Jardin Majorelle
Oct-May 8am-5pm; Jun-Sept 8am-6pm

Houses the personal, Islamic art collection of Yves Saint Laurent and Pierre Bergé.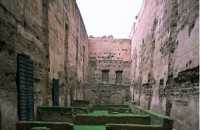 Palais el-Badi
Hay Salam, Rue Berrima, Marrakech Medina
Daily 9am-12pm, 2:30-5:45pm

Built by Sultan Ahmad al-Mansur, in the mid-16th century, it is said the design of this palace was influenced by the Alhambra. Even in ruins, it remains a majestic destination.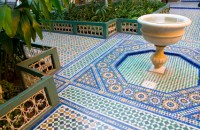 Palais Bahia
Riad Zitoun Jedid, Marrakech Medina
Daily 8:45am-11:45am, 2:30-5:45pm

Designed by architect Muhammad al-Mekki in the late 19th century, this palace uses glazed ceramic tile, carved stucco and painted woodwork to great effect.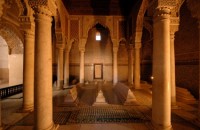 Saâdian Tombs
Rue de la Kasba, Marrakech Medina
Wed-Mon 9am-12pm, 2-6pm

Rediscovered in the early 20th century, the Saâdian Tombs are the finest examples of Islamic architecture in Morocco – a must-see destination for anyone interested in history or design.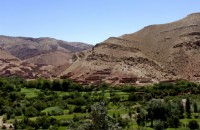 La Palmeraie
On the road to Casablanca, 22 km (14 miles) north of Marrakech, La Palmeraie is a large oasis of palm tree groves and home to many luxury hotels, golf courses and private villas.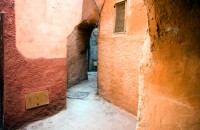 Mellah
East of Place des Ferblantiers, Marrakech Medina

The former Jewish quarter of Marrakech, which is best entered through the adjoining covered market. Very few Jews are left in Marrakech and most live outside the walls of the medina. Immediately adjacent is the cemetery known as Miâara. With an expanse of white tombs (some even featuring images of those who have passed), this site dates back to the 17th century.

Gueliz
Northwest of Marrakech Medina

This is the Ville Nouvelle (New Town), which takes its name from the locally mined sandstone. Wide avenues, gardens, large hotels and cafés with covered terraces define the area.
Copyright 2013 MyLittleSwans, LLC. All rights reserved. My Little Swans, the logo and Share a world of experience are registered Trademarks of MyLittleSwans, LLC. Use of this site constitutes acceptance of our Terms of Use and Privacy Policy.