Destination:
Washington D.C.
Mount Vernon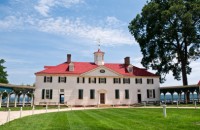 3200 Mount Vernon Memorial Highway
Mount Vernon, VA
(703) 780-2000
Daily: Apr-Aug 8am-5pm; Mar, Sep, Oct 9am-5pm; Nov-Feb 9am-4pm
Tickets cost $15 for adults 12 years and older, $7 for youth between the ages of 6 and 12, $14 for seniors; children 5 and younger are free. Purchasing tickets online is recommended.
Metro stop: Yellow line to Huntington Station
Mount Vernon was the home of George and Martha Washington from the time of their marriage in 1759 until General Washington's death in 1799. Built as a farmhouse by his father, Washington expanded the estate from 2,000 acres to 8,000 and the mansion house from six rooms to twenty-one. Located just 16 miles south of D.C., the plantation rests on the banks of the Potomac River. Visitors are invited to tour the Mansion house (which is furnished as it would have been during Washington's presidency) and more than a dozen outbuildings including the slave quarters, kitchen, stables, and greenhouse. Stroll gardens, hike the Forest Trail, and explore the Pioneer Farmer site, a four-acre working farm.
Copyright 2013 MyLittleSwans, LLC. All rights reserved. My Little Swans, the logo and Share a world of experience are registered Trademarks of MyLittleSwans, LLC. Use of this site constitutes acceptance of our Terms of Use and Privacy Policy.