In Brief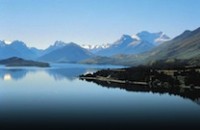 For such a small island, the South Island has an unbelievable range of topography – jagged, snow-covered mountains, stunning fiords with walls towering high above the ocean, waterfalls upon waterfalls cascading from alpine peaks, and glacial lakes that are an impossible shade of turquoise blue. The magnificent Southern Alps stretch nearly the length of the island, dividing it in two – the east coast tends to be drier, while the west coast gets more rain and snow. Though the Alps are the most famous, several other ranges add their own spectacular backdrops, including the Remarkables, near Otago, and the Cathedral Mountains in Fjordland.
Along with breathtaking alpine scenery, the South Island also features vast areas of farmland (more sheep than people live on the island), famed wine-producing regions, virgin rainforest, sandy beaches and untamed coast. Outdoor enthusiasts will find no end of adventures to choose from, while nature lovers can visit the wildlife colonies around the island, home to kiwis, fur seals, and a huge variety of seabirds, including penguins and albatross. The surrounding oceans abound with dolphins, whales and other marine life.
Though most of the South Island's attractions are of the natural kind, there are also a number of charming, historic towns to explore, such as Christchurch, with its many parks and gardens, Dunedin, with its diversity of architecture, and Nelson, with its vibrant art scene.
Copyright 2013 MyLittleSwans, LLC. All rights reserved. My Little Swans, the logo and Share a world of experience are registered Trademarks of MyLittleSwans, LLC. Use of this site constitutes acceptance of our Terms of Use and Privacy Policy.