Don't Miss
Vatican Galleries, Museums, and the Sistine Chapel
Viale Vaticano at Piazza Risorgimento
+39 (06) 6988 3333, +39 (06) 6988 4947
Mon-Sat 8:30am-6pm (last entrance 4 pm)
Closed holidays

Simply amazing art and architecture. The Vatican Museums, Sistine Chapel, St Peter's Basilica and square showcase the efforts of many of the greatest Renaissance artists along with classical and modern masterpieces.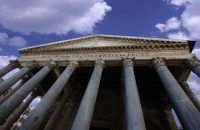 Pantheon
Piazza della Rotonda, Rome
+39 (06) 6830 0230
Mon-Sat 8:30am-7.30pm; Sun 9am-6pm
Public holidays 9am-1pm
Closed to visitors during Mass on Sun at 10:30am
Closed Jan 1, May 1, Dec 25

Rebuilt by Hadrian around AD 120, Rome's best-preserved ancient temple is a marvel of Roman engineering. The circular opening, or ocululs, in the center of the dome is a symbolic link between earth and heaven. Try to visit the Pantheon during a rainstorm to witness rain pouring down in a perfect circle.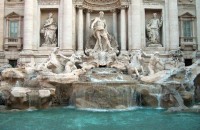 Trevi Fountain
Piazza di Trevi, Rome
Legend has it; a visitor who throws a coin into the Fontana di Trevi is guaranteed to return to Rome. True or not, whimsical statues of Neptune and frolicking sea creatures make this grand fountain worth seeing.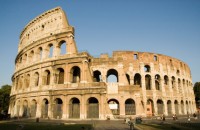 Piazza del Colosseo, Rome
Information and Booking: +39 (06) 3996 7700
Online information and booking
Daily 8:30am to one hour before sunset
Closed Jan 1, May 1, Dec 25
Closes at 2pm on Good Friday

With a capacity of 55,000, this famed amphitheater staged "games," pitting criminals, slaves, and gladiators against each other or wild animals, often to the death. Spectators exercised the power of life and death over the defeated – thumbs up for mercy, thumbs down to execute.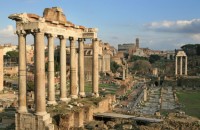 Piazza Santa Maria Nova 53
Largo della Salara Vecchia 5/6, Rome
Information: +39 (06) 6998 0110
Booking: +39 (06) 3996 7700
Online information and booking
Daily 8:30am to one hour before sunset
Closed Jan 1, May 1, Dec 25

The Roman Forum was the political, religious and commercial heart of Republican Rome. The ruined temples and basilicas within this site span some 900 years.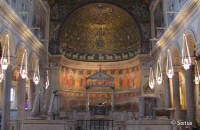 San Clemente
Piazza San Clemente
Via di San Giovanni in Laterano, Rome
+39 (06) 7045 1018
Mon-Sat 9am-12:30pm, 3-6pm; Sun 10am-12:30pm, 3-6pm

Just a few blocks from the Colosseum, San Clemente lets visitors explore several layers and 2000 years of religious history – a medieval church built over a 4th century church, built over a 3rd century Mithraic Temple.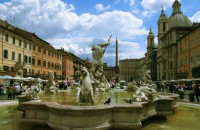 Piazza Navona
This captivating piazza owes its oval shape to the grandstand of an ancient stadium. Today, its fountains and palazzos are rich in Baroque splendor. Lined with cafes and bustling with street entertainers, it's a lovely place to soak up the atmosphere of Rome.
Borghese Gallery and Museum
Piazzale del Museo Borghese 5, Rome
Information:+39 (06) 32810
Reservatons: +39 (06) 32810
On-line reservations
Tues-Sun 9am-7pm
Closed Mon
Closed Dec 25, Jan 1
Booking ahead is essential.

Built for a pleasure-loving cardinal, this palace holds a collection of exquisite Bernini sculptures as well as paintings by Caravaggio and Titian. Great to visit on a Sunday when many other sights are closed.
Copyright 2013 MyLittleSwans, LLC. All rights reserved. My Little Swans, the logo and Share a world of experience are registered Trademarks of MyLittleSwans, LLC. Use of this site constitutes acceptance of our Terms of Use and Privacy Policy.