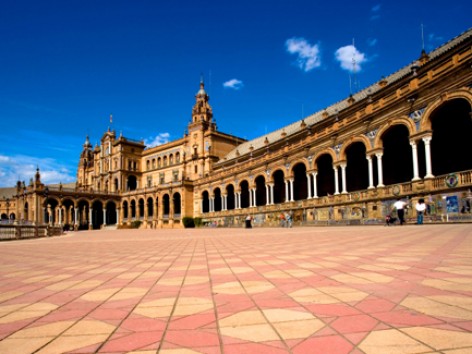 GeoStats:
Population: 40,491,051
Passport/Visa Requirements: Passport needed by citizens of the U.S. and Canada. A tourist visa is not required for a visit of up to three months.
Predominant Religion: Christian (Roman Catholic)
Languages: Castilian Spanish (official), Catalan, Gallego, Basque, local dialects.
Time Zone: 1 hour ahead of Greenwich Mean Time (+1 GMT).
Voltage Requirements: 220 volts. 50 Hz.
Telephone Codes: 34, country code; 91, city code for Madrid; 93, city code for Barcelona.
Overview
Blessed with two glorious coastlines, lush mountains, abundant sunshine and a rich, complex history, Spain has cultural and natural wonders to satisfy every type of traveler. In the last 40 years the country has seen huge transformations, with a major shift in population from rural villages to cities, and changes in leadership from a dictatorship to a constitutional monarchy to a democracy. But the Spanish people have kept their unusually strong regional identities, with their own sharply distinct customs, languages, cuisines and dialects (and, of course, festivals). Discovering the unique qualities of these regions is one of the primary joys of travel in Spain, and is increasingly luring travelers away from Spain's famous beaches and into the historic towns.
There's the Basque country, with its wild foothills and beautiful coastal towns; Andalusia, with its ornate Moorish architecture and centuries-old traditions; Madrid, with its royal grandeur, famed nightlife and world-class museums; and sophisticated, avant-garde Barcelona. This is just a taste of the amazing variety Spain has to offer.
If there is a universal Spanish quality, it's their capacity for enjoyment. Social life is a way of life here – in villages and cities all over Spain, the plazas are gathering places where multiple generations come to hang out and talk for hours. Evening meals happen late and can linger far into the night. Though there's a strong Catholic tradition (particularly in rural areas), it's combined with a certain irreverence and a love of pageantry and fun – religious festivals often have a carnival quality, a playfulness or a sense of bravado. So whether you travel here for the history, architecture, food, scenery, fashion or sport, do as the Spanish do – relax and enjoy.
Copyright 2013 MyLittleSwans, LLC. All rights reserved. My Little Swans, the logo and Share a world of experience are registered Trademarks of MyLittleSwans, LLC. Use of this site constitutes acceptance of our Terms of Use and Privacy Policy.