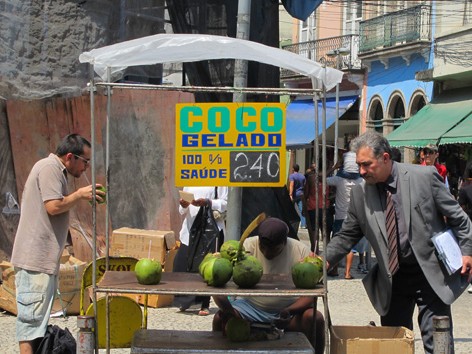 GeoStats:
Capital: Brasilia
Population: 201,103,330
Major Religions: Roman Catholic, Protestant
Languages: Portuguese is the official and most widely spoken language; less common languages include Spanish, German, Italian, Japanese, English, and a large number of minor Amerindian languages.
Passport/Visa Requirements: US and Canadian citizens need a valid passport as well as a visa to enter Brazil. EU citizens need only a valid passport.
Time Zones: Brazil is divided into three time zones. São Paulo and Rio are 3 hours behind Greenwich Mean Time.
Voltage Requirements: 220 volts or 110 volts
Phone Codes: 55, country code; 11, São Paulo city code; 21, Rio de Janeiro city code; 71, Salvador city code
Overview
The first things most people think of when they think of Brazil are the Amazon rainforest and Rio's colorful Carnival. This is hardly surprising – the Amazon is the world's largest forest, containing the world's largest river system and vitally important ecosystems. And Carnival is perhaps the world's biggest party, celebrated in famously flamboyant style in Rio, Olinda and Salvador. But this is only a small taste of what Brazil has to offer. With a landmass bigger than the U.S. (minus Alaska), Brazil features a huge diversity of terrain and climate, from pristine beaches, to vast wetlands, to endless savannahs. The people are varied as well, with immigrants from Germany, Italy, Poland, Lebanon, Syria, and dozens of other countries joining the Portuguese colonists and Amerindian natives. Brazil also has a large African population – Salvador, in the Bahia region, is known for its vibrant Afro-Brazilian culture – and is home to the largest number of Japanese outside of Japan.
Carnival is celebrated everywhere throughout the country, and means something different to each region. Music is another huge part of Brazilian culture, with samba and bossa nova being just a few examples of the country's variety of genres.
Brazil is a relatively young democracy. Once famous for its economic instability and rampant poverty, the country has been transformed over the last decade or so. Though the country's problems are far from solved, poverty has dropped, the economy is growing, and their international prestige is rising. This looks likely to continue – Brazil's newly elected president, Dilma Rousseff, is expected to maintain the policies of her wildly popular predecessor, Lula. And as host to the 2014 FIFA World Cup and 2016 Olympics, Rio is undergoing major improvements in crime reduction and infrastructure.
Terry and I visited Brazil this past September on an art tour, and spent most of our time in the two largest cities, São Paulo and Rio de Janeiro. The cities are interesting in such different ways, I feel you really need to see them both. Sprawling São Paulo is more sophisticated and business-focused, while Rio was all about the beach – with its outgoing personality and body-conscious fashions, it reminded me of a big Miami.
We are planning to return with our kids in the near future, and the challenge will be deciding where to go – there are so many fascinating places to choose from. Topping our list is one of our Latin American partner's favorite places, Angra dos Reis, on Brazil's Costa Verde. Just a short helicopter flight from Rio, this collection of tropical islands offers both pristine beaches and untouched rainforest. Another tempting archipelago is Fernando de Noronha, a protected marine national park some 210 miles off the Northeastern coast, with incredibly clear waters for snorkeling and diving and an abundance of wildlife. En route from Fernando de Noronha, we'll want to make a stop in Salvador for a taste of Bahian cuisine and culture. In the Amazon forest, we like the region near Manaus, where the "meeting of the waters" provides a large diversity of river and animal life. We're also considering the Pantanal, right in the heart of Brazil. This enormous wetland is one of the best places for spotting wildlife in all of South America. And we highly recommend Iguaçu Falls, which we visited on our Argentina trip. This huge, powerful cascade outdoes Niagara for splendor, and we had a wonderful time rappelling down the falls and zip-lining through the forest.
Copyright 2013 MyLittleSwans, LLC. All rights reserved. My Little Swans, the logo and Share a world of experience are registered Trademarks of MyLittleSwans, LLC. Use of this site constitutes acceptance of our Terms of Use and Privacy Policy.