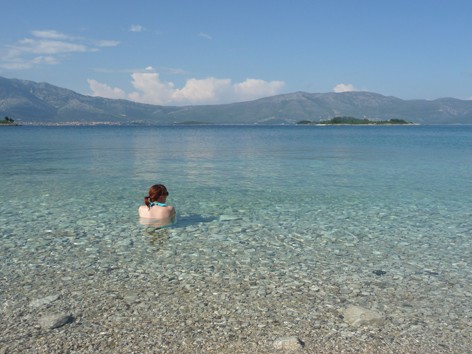 GeoStats:
Official Name: Republic of Croatia
Population: 4,483,804
Capital: Zagreb
Predominant Religion: Roman Catholic
Predominant Language: Croatian
Time Zone: Central European Time, one hour ahead of Greenwich Mean Time (GMT +1)
Voltage Requirements: 220V, 50Hz
Telephone Codes: 385, Country Code; 1, city code for Zagreb; 23, city code for Split; 20, city code for Dubrovnik
Overview
On the cusp of Central Europe and the Balkans, Croatia has a long and colorful history, and more than its share of natural beauty, with 3,600 miles of breathtaking Adriatic coastline and a landscape abundant with waterfalls, mountains and primeval forests. Over the centuries, Croatia has been invaded or occupied by Romans, Venetians, Franks, Ottomans, Hungarians, and Habsburgs; each ruling empire left its mark, from ruined Roman palaces to medieval fortresses to elegant Venetian-style towns clad in marble. Both despite and because of this rich mosaic of influences, the unique Croatian character has continued to thrive, expressed in the regional cuisine, music, dances and traditions. While most Croats identify more strongly with Western than Eastern Europe, the Balkan elements of their culture are increasingly being embraced and celebrated.
Though tourism is hardly new to Croatia, it has experienced a renaissance in the last two decades. One reason Croatia is new to many travelers is that for much of the 20th century, it was called something else. In 1929, the Croats, Serbs and Slovenes formed a kingdom known as Yugoslavia, which became a Communist state after WWII under the dictator Tito. Croatia finally declared its independence from Yugoslavia in 1991, only to land in a bitter and bloody struggle with Serbian forces. When the fighting ceased in 1995, Croatia dedicated itself to restoring its national treasures and rebuilding its tourism industry.
Soon, word began to spread about sun-drenched islands as lovely as those of Greece, and fortified medieval towns that rival those of Tuscany. Dubrovnik (with its famous walls), Split (with its fascinating Diocletian's Palace) and Hvar (with its renowned beaches and nightlife) have become well known and deservedly popular, but that's just the beginning. If you like history, there's the Roman amphitheater at Pula and the ancient ruins at Solin. Culture buffs will love Zagreb's excellent museums and the film and music festivals held throughout the country. Gourmets can head to Istria for wine tasting, truffles and slow-food dining, try the legendary oysters in Ston, or enjoy sublime Croatian specialties like lamb or fish "under the bell." And if you like boating in hidden coves, swimming in the clearest waters in the Mediterranean, or basking on pebbly white beaches, Croatia's spectacular coastline and 1185 islands and islets offer no end of choices.
Copyright 2013 MyLittleSwans, LLC. All rights reserved. My Little Swans, the logo and Share a world of experience are registered Trademarks of MyLittleSwans, LLC. Use of this site constitutes acceptance of our Terms of Use and Privacy Policy.