Destination Spotlight:
Central and Eastern Europe
Watching the Olympics these past weeks with my family was an education—not just in obscure sports, but in unfamiliar countries. As the athletes paraded through the opening ceremonies, we kept asking each other, "Where is that?" Kazakhstan? Djibouti? Nauru? Even when a country's name was more familiar, like Lithuania or Ukraine, we were still often vague on the geography—but as we saw competitors proudly representing those countries (such as Montenegro's impressive water polo team), our curiosity grew along with our awareness. There's still a whole world out there to discover!
Central and Eastern Europe are exciting new frontiers for travel right now. Locked behind the Iron Curtain for much of the 20th century, these countries were a blank mystery to most of us for decades—and even though the curtain fell more than 20 years ago, it took time for them recover their national identities and rebuild their economies. Some, such as Croatia and Bosnia, had only just thrown off Communist dominance when they were embroiled in bitter wars for their independence. Others, like Montenegro, became independent nations as recently as 2006. Now ready to welcome travelers, these regions offer all the charm, uniqueness and services that you could want, with the advantage of being less touristy, in many ways more authentic, and often less expensive than their counterparts to the west. The Baltic and Slavic languages and local cuisines add a touch of the exotic—that small, pleasant jolt of culture shock that reminds you you're far from home. And yet, they are still unquestionably European, from the music of Chopin and Mahler to the medieval streets of Old Krakow and the Baroque façades of Ljubljana.
If you're a fan of history, Central and Eastern Europe are a dream come true. Croatia, Slovenia and Montenegro are fascinating mosaics of civilization, having been at one time or another conquered, raided, ruled or occupied by the Roman Empire, the Ottoman Empire, the Austrian Empire, the Venetians, and the Communists, who each left their own layer of influence. The WWII histories of Poland, Hungary and the Czech Republic are moving, tragic, and ultimately inspiring—knowing that Warsaw was painstakingly rebuilt after being 85% destroyed in the war, you have to be impressed by the Poles' indomitable spirit.
If you like adventure, Slovenia and Bosnia & Herzegovina offer diverse and spectacular terrain for climbing, trekking, rafting, kayaking, canyoning, paragliding and mountain biking. If you like sunning, swimming and snorkeling, the crystalline waters and countless islands of Croatia and Montenegro are ideal for a boating holiday. Food and wine lovers will enjoy Croatia's Istrian peninsula, known for its white truffles, gastronomic specialties and excellent local wines. And though Hungary has a wine-growing heritage that dates back to Roman times, it is just now emerging as a major wine destination. (The Budapest Wine Festival, held annually in September, is a great place to start.)
This is just the beginning—I haven't even gotten into Romania, Bulgaria, Serbia, Ukraine, Estonia, Lithuania or Latvia (whose capital, Riga, has been called the "Paris of the North"). Though I am still learning about these places, our partner Exeter International has been specializing in these regions for years, and has the expertise and local connections to create a truly exceptional journey. So plan your Central or Eastern European adventure today—and at the Olympics in 2016, instead of saying "Where is that?" you can say, "Wasn't our trip there amazing?"
One-on-One Family Trips
August is back-to-school crunch time for many of us—especially if you have kids heading off to boarding school or college. Between shopping excursions, placement tests, and campus tours, how can you steal away some quality time with your child before they go? The key is to stay fairly local, and don't overthink it too much. Maybe you and your school-bound teenager don't have time for a trip to Europe, but a few days of "glamping" in British Columbia or fly-fishing in Montana is doable. If you want something less outdoorsy, why not plan a shopping and museum-hopping trip to Manhattan, or a spa weekend in Napa?
One-on-one parent/child holidays are a tradition in our family; recently, my daughter and I went for a long weekend in Cabo San Lucas. My husband Terry took our youngest, Ali, for a Hollywood-themed tour of L.A.'s movie lots and amusement parks, and for a weekend of exploring America's history and national treasures in Washington, D.C. If one of your kids has a particular interest, themed trips can be especially fun. You might plan your trips around visiting ballparks, or historic monuments, or places where your favorite films were shot. Whatever you decide, I recommend getting your child involved with the planning—it's more fun for both of you that way, and it makes the anticipation that much sweeter.
Photo Contest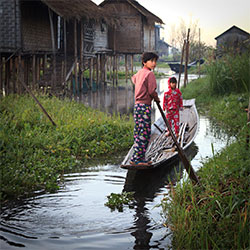 We're accepting submissions for our second 2012 contest. Send in your photos up until November 30, 2012—we'll be holding our next drawing in early December. As in previous contests, the prizewinner's name will be drawn from the monthly winners. The winner will have a choice of prizes—an Apple iPad or a BlackBerry PlayBook! To see the selected photos from earlier this year, please visit the Photo Contest page on My Little Swans.
Warm Regards,
Katrina Garnett