Day Trips
topGreenwich
This elegant village just north of London was a favorite of the Tudors. Though the old palace is gone, many fine examples of architecture remain, including Christopher Wren's Naval College and Inigo Jones' Queen's House. Greenwich Park, the former grounds of the palace, offers panoramic views of London and the Thames. Lovers of maritime history can peruse the exhibits at the National Maritime Museum or board the 18th century clipper ship Cutty Sark. Greenwich also features the world's only Fan Museum, with over 3,500 items on display.
Getting there:
Approx. 1 hr by boat from London
Board from piers at Westminster, Waterloo, Embankment or Tower of London.
Also accessible by Underground or rail.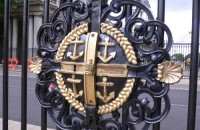 Romney Rd SE10
+44 (0)20 8858 4422
Open 10am-5pm daily
Closed Dec. 24-25
Exhibits highlight the role of the sea in British defense and exploration, and include elaborate royal barges, tickets from the doomed Titanic, and Horatio Nelson's uniform from the Battle of Trafalgar.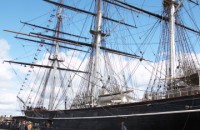 King William Walk SE10
Tel: +44 (0)20 8858 3445
Open 10am-5pm daily
Closed Dec. 24-25
First launched in 1869, this ship was one of the fastest of its kind. It now holds Britain's largest collection of wooden figureheads. Exhibits provide a vivid glimpse of how seamen of the time ate, worked and slept.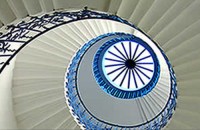 Romney Rd SE10
+44 (0)20 8858 4422
Open 10am-5pm daily (closed during 2012 Olympics, reopens Sep 22)
Originally built for the wife of James I, this Palladian villa was much beloved by Charles I's queen, Henrietta. The newly refurbished house displays the art collection of the National Maritime Museum.
Blackheath Avenue, Greenwich, SE10
+44 (0)20 8858 4422
Open 10am-5pm daily (closed during 2012 Olympic games, reopening Aug 4)
Closed Dec. 24-25
Located on the prime meridian (0° longitude), this is the point from which the world's time has been measured since 1884. The observatory contains a Time Ball, dropped every day at 1pm, and exhibitions of rare clocks and astronomical instruments.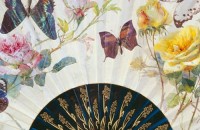 12 Crooms Hill SE10
+44 (0)20 8305 1441
Open Tue–Sat 11am-5pm, Sun 12pm-5pm
Devoted to the art of fans and fan-making, this one-of-a-kind museum shows examples from all over the world, from the 11th century onward.
topWindsor
Windsor has been the primary residence of the royal family since Queen Victoria, and many visitors come just to tour the castle. (If the royal standard is flying above instead of the Union Jack, the queen is at home.) Also worth visiting are the Legoland theme park and the Household Calvary Museum.
Getting there:
20 miles west of London; Approx. 30 mins by rail from Paddington (change at Slough) or 50 mins direct from Waterloo.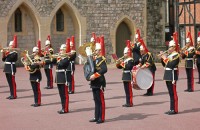 Open daily Mar-Oct 9:45am-5:15pm; Nov-Feb 9:45am-4:15pm (last entry 1.25 hrs before closing)
Check website for special hours during 2012 Olympic Games
+44( 0)20 7766 7304
Closed Dec 25-26, plus other holidays, check website.
State Apartments closed on certain dates, check website.
Changing of the Guard 11am most days
Construction on this royal residence began in 1078 – it's said to be the oldest and largest occupied castle in the world. Highlights include the lavish staterooms and the famous Doll's House, a miniature palace on a 12:1 scale, down to the 1-inch Kipling books in the library.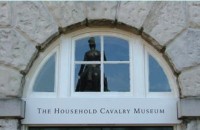 Combermore Barracks, St. Leonard's Rd
Tel: +44 (0)20 7930 3070
museum@householdcavalry.co.uk
Open daily (except April 22, Dec 24-26) 10am-6pm (Mar-Sep), 10am-5pm (Oct-Feb)
Closed during 2012 Olympic Games, reopens Sep 7
Houses an interesting collection of swords, uniforms and other equipment, from the reign of Charles II to the present.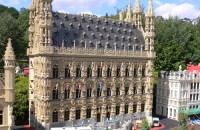 Tickets and information: +44 (0)87 1222 2001
Open daily Mar-Oct 10am-5pm (July-Aug 10am-7pm). Hours may vary - check website.
This theme park offers 150 acres of interactive, kid-friendly rides and attractions – roller coasters, a "hot air balloon school," and a scale model of European towns built from Legos, to name just a few.
topHampton Court
This riverside residence was originally built for Cardinal Wolsey, Henry VIII's Bishop of York – he later gifted it to the king in an attempt to regain favor. Extended first by Henry and then by William and Mary (who chose Christopher Wren as their architect), the palace is a unique blend of Tudor and Baroque styles. Highlights include the beautifully landscaped gardens (leave plenty of time for the popular Maze), the massive Tudor Kitchen, and the Great Hall, where Henry held his lavish banquets and entertainments.
Getting there:
15 miles upriver from London; 35 mins by rail from Waterloo Station, up to 4 hrs by boat from Westminster pier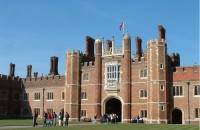 Hampton Court Palace, Surrey, KT8
+44 (0)84 4482 7777
Open daily 10am-6pm (last admission 5pm; last entry to the maze 5:15pm)
Closed Dec 24-26
topKew Gardens
Started by George III's mother, Princess Augusta, in 1759, the Royal Botanic Gardens at Kew is now the most complete and most famous collection of flowers and plants in the world. Its 300 glorious acres feature a 10-story pagoda, several elegant glasshouses (including the jewel-like Palm House, filled with tropical plants), and the newly renovated Kew Palace, used as a royal residence by George III.
Getting there:
90 mins by boat from Westminster Pier; also accessible by Underground
Tel: +44 (0)20 8332 5655
Open 9:30-dusk daily
Closed Dec 24-25
Copyright 2013 MyLittleSwans, LLC. All rights reserved. My Little Swans, the logo and Share a world of experience are registered Trademarks of MyLittleSwans, LLC. Use of this site constitutes acceptance of our Terms of Use and Privacy Policy.