Destination:
Western France
Normandy
topLe Pays d'Auge
An hour or so south from the Normandy coast, the Auge countryside is a place of lush green pastures and classic Norman villages. This region is the heart of production for cider, Calvados (apple brandy) and Norman cheeses such as Camembert or Livarot. You can easily spend a half or full day here, visiting distilleries and cheese makers, touring historic châteaux and towns, and drinking in the beauty of the farmland
Le Château de Saint Germain de Livet
14 100 Saint Germain de Livet
Tel: + 33 (2) 31 31 00 03
Fax: +33 (2) 31 31 19 01
Open 11am to 6pm; closed Tuesdays and from Oct 1-15 and Dec 1-Jan 31
This jewel of Norman architecture consists of an enchanting 15th-century half-timbered manor and a 16th-century château with a checkerboard glazed-brick façade, surrounded by a moat. The buildings have been completely renovated and furnished in period style. Be sure to take a look at the garden Abbé Marie.
14340 Crèvecoeur-en-Auge
Tel: +33 (2) 31 63 02 45
Fax: 33 (2) 31 63 05 96
Open daily Apr-Jun and Sep, 11am-6pm; Jul-Aug 11am-7pm; Oct Sun only, 2pm-6pm
Miraculously preserved, this small castle is a rare example of a Norman fortified site from the middle ages. The walls and chapel date from the 12th century – the half-timbered buildings are from the 15th century. Exhibits include traditional construction techniques, displays of life in medieval times, and artifacts dating back nearly ten centuries. In early August, the Château offers eight days of medieval entertainment, as enthusiasts in period costume recreate the Crèvecoeur estate of old.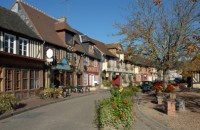 Beuvron-en-Auge
Classified as one of the "loveliest villages in France," this town's oval square is surrounded by a glorious display of half-timbered buildings ranging from the 16th to the 18th centuries. It's a perfect place to stop for tea or a drink and peruse the antiques shops.
Le Domaine Saint-Hippolyte
Route de Livarot - D579
14100 St Martin de la Lieue
+33 (2) 31 31 30 68
Open 10am-6pm Tue-Fri, weekends on request; closed Mon.
Private tours are available.
This working farm, classed as a Site Remarquable du Goût (Site of High Taste), introduces visitors to the secrets behind the manufacture of Normandy's famous cheeses. The grounds are lovely, with river views, a 16th century manor, and a magnificent eight-sided dovecote, but the cheese (which you will get to taste) is the real attraction.
topRestaurant
Route du cadran - 14340 Cambremer
Open evenings (except Monday and Tuesday). Reservations should be made one month in advance.
+33 (1) 31 32 22 45
For an unforgettable gastronomic experience, stop at this lovingly transformed 18th century manor house in the heart of a famous cider-producing region. Chef Philippe Harfaux takes his inspiration from the local farmland: the freshest seasonal produce, the finest Cambremer lamb and cheeses, and the fish caught in Port en Bessin.
topContacts
The capital of Normandy, Rouen is located along the route from Paris to Honfleur, and is definitely worth a stop. Its well-preserved center is filled with architectural treasures that reflect its past as one of the largest and most prosperous cities of medieval Europe. Rouen has been the backdrop for many historical, artistic and literary figures – Pierre Corneille and Gustave Flaubert were born here, Joan of Arc was martyred here, Victor Hugo called it the "City of a Hundred Bell Towers," and Monet captured its famed Notre Dame Cathedral in all different seasons. The city was heavily damaged in World War II, but most of the historic center survived intact.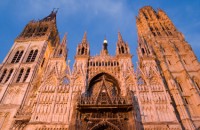 Cathedral Notre-Dame
Place de la Cathédrale
+33 (2) 35 71 00 48
Open Mon-Sat 8am-7pm; Sun 8am-6pm
Closed during Mass and on bank holidays
Monet painted the façade of this iconic cathedral more than 30 times. Construction began in the 12th century, and its modifications over the years show the evolution of Gothic architecture, including original stained glass windows dating from the 13th to the 16th centuries. The 490-foot cast-iron spire, erected in 1876, is the highest in France. The ambulatory and Lady Chapel house the graves of Richard the Lionheart and the Cardinals d'Amboise, along with other illustrious figures.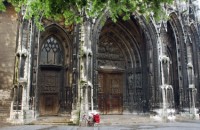 St. Maclou Church
3 place Barthelemy (across from the Cathedral)
+33 (2) 35 71 71 72
Open Mon-Sat 10am-noon and 2-5pm; Sun 3-5pm
Closed Jan 1, May 1, July 14, and Nov 11
A masterpiece of Flamboyant Gothic style, this church was built starting in 1437. Its most unique and striking feature is the curved façade, with its five ornately decorated porches.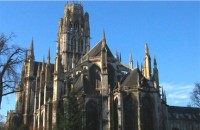 St. Ouen Abbey
Place du Général-de-Gaulle
+33 (2) 32 08 31 01
Open Mar–Oct Wed-Mon 10am-12:30pm and 2-6pm; Nov–Feb Wed and Sat-Sun 10am-12:30pm and 2-4pm
This remarkable structure is one of the few large monuments built in the High Gothic style. Narrow pillars and three levels of windows add to the impression of height and create an unusually light-filled interior. The church houses a renowned 19th-century organ, said to be "worthy of Michelangelo."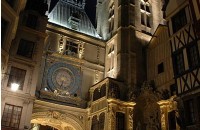 Great Clock (Gros Horloge)
Open daily except Mon, Apr 1-Oct 31 10am-6pm, Nov 1-Mar 31 2pm-5pm
A clock face was first installed here in 1409, over a gate in the ancient Roman walls. The magnificent Renaissance arch and current one-handed clock faces were added in the 16th century. Within the belfry and pavilion, visitors can discover the inner workings of the clock, see the 14th century mechanism and bells, and enjoy a panoramic view of the city.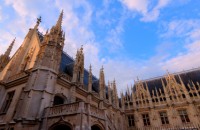 Palais de Justice
36 rue aux Juifs
An important and impressive example of civic architecture from the late Middle Ages, it was the meeting place of the Exchequer, and later, the Parliament of Normandy. Built between 1499 and 1550, the Palais received heavy bomb damage in 1944 but has been restored to its original glory.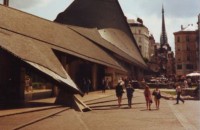 Old Market Square (Place du Vieux Marché)
A large cross marks the spot here where Joan of Arc was burned at the stake in 1430.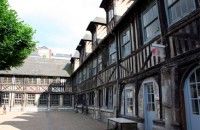 Aître Saint-Maclou
This cemetery site was built during the Great Plague of 1348. Thousands of plague victims were buried here in communal graves – the surrounding galleries were built in the 16th century to serve as ossuaries. Decorations throughout the galleries, featuring skulls and gravediggers' tools, pay homage to their macabre history.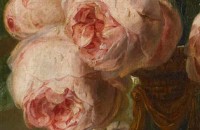 Esplanade Marcel-Duchamp

76000 Rouen
+33 (2) 35 71 28 40
Email: musees@rouen.fr
Open daily except Tue from 10am-6pm
Closed Jan 1, May 1, May 8, Ascension Thurs, Jul 14, Aug 5, Nov 1, Nov 11 and Dec 25
This museum was established in 1801, and received many of its works a result of the French Revolution. The excellent collection covers all the major schools from the 16th to the 20th century, including masterpieces by Caravaggio, Velasquez, Ingres and Delacroix, as well as the largest array of Impressionist paintings outside of Paris.
1 rue Faucon
76000 Rouen
+33 (2) 35 07 31 74
Email: musees@rouen.fr
Open daily except Tue, 10am-1 pm and 2pm-6 pm
Closed Jan 1, May 1, May 8, Ascension Thurs, Jul 14, Aug 5, Nov 1, Nov 11 and Dec 25
Housed in a splendid 17th-century mansion, this museum displays some works from important production centers like Delft and Nevers, but concentrates on fine examples of Rouen earthenware.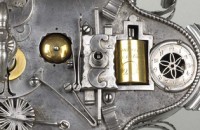 2 rue Jacques Villon

76000 Rouen
Tel: +33 (2) 35 88 42 92
Email: musees@rouen.fr
Open daily except Tue, 10am-1pm and 2pm-6 pm
Closed Jan 1, May 1, May 8, Ascension Thurs, Jul 14, Aug 5, Nov 1, Nov 11 and Dec 25
A 16th century Flamboyant Gothic-style church is the setting for the world's finest ironworks collection, featuring an immense array of items from all over Europe, dating from the 4th through the 19th centuries.
Flaubert Museum and Medical History Museum
51 rue de Lecat - Hôtel-Dieu
+33 (2) 35 15 59 95
Open Tue 10am-6pm, Wed-Sat 10am-12 pm and 2pm-6 pm
Closed Sun, Mon and public holidays
Located in the former hospital where the famed novelist was born, it displays items relating to Flaubert's childhood, as well as surgical instruments and other 17th to 19th century medical equipment.
18 quai Gustave Flaubert - Dieppedalle-Croisset
76380 Canteleu
+33 (2) 35 71 28 82
Open Jul 1 to Aug 31, Wed-Sun 2pm-6 pm, Sep 1–Jun 30 Sat and Sun 2pm-6pm
Group visits by appointment on Thu 10am-12 pm and 6pm
A small, square Louis XIII building is all that remains of the estate where Flaubert lived for 35 years, wrote most of his works, and entertained fellow writers such as Maupassant and Georges Sand. On display are quills, inkwells and other personal items.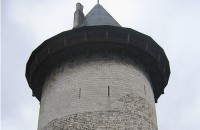 Joan of Arc Tower
rue Bouvreuil
Open Mon-Sat 10am-12:30pm and 2pm-6pm (5 pm from Oct 1 to Mar 31) and Sun 2pm-6:30pm (5:30 pm from Oct 1 to Mar 31)
Closed Tue and Jan 1, May 1, Nov 1, Nov 11 and Dec 25
This keep, built in 1209, was the scene of Joan of Arc's trial.
Copyright 2013 MyLittleSwans, LLC. All rights reserved. My Little Swans, the logo and Share a world of experience are registered Trademarks of MyLittleSwans, LLC. Use of this site constitutes acceptance of our Terms of Use and Privacy Policy.