Destination:
Western France
Brittany
topCap Fréhel
30 km west of St-Malo, this spit of land contains some of Brittany's most spectacular scenery, with 200-foot-high cliffs of pink sandstone rising nearly vertically from the sea. The cliff tops provide unforgettable views of Pointe de Groin to the east and the Ile de Bréhat to the west. The area is also an important bird sanctuary.
Cap Fréhel Lighthouses
The main attractions at Cap Fréhel are its two lighthouses. The famous old lighthouse was constructed in the 17th century on the orders of Marshal Vauban, Louis XIV's chief military engineer. First lit in 1702, it's now a cultural monument. The new lighthouse was built in 1950 and is open to visitors.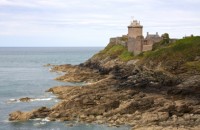 Fort-la-Latte
4km southeast of Cap Fréhel
Open daily Apr - Sep; afternoons and weekends Oct-Mar
+33 (2) 99 30 38 84
The impressive 14th-century Castle of La Latte has had a colorful history – besieged in the 100 Years War, demolished during the wars of religion in the late 16th century, and restored to its current appearance in the 17th century. Up until the 1890s, it was used to protect Fresnaye Bay. Declared a national monument in 1925, it was opened to the public in the 1930s and has been the setting for several movies and TV shows.
Copyright 2013 MyLittleSwans, LLC. All rights reserved. My Little Swans, the logo and Share a world of experience are registered Trademarks of MyLittleSwans, LLC. Use of this site constitutes acceptance of our Terms of Use and Privacy Policy.