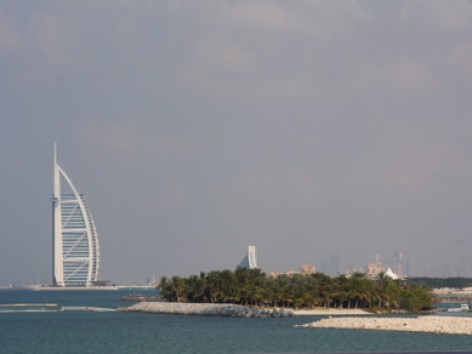 GeoStats:
Time Zone: 4 hours ahead of Greenwich Mean Time (+4GMT), 9 hours ahead of Eastern Standard Time (+9EST)
7 Emirates: Abu Dhabi, Ajman, Dubai, Fujairah, Ras al-Khaimah, Sharjah, Umm al-Quwain
Country Name: United Arab Emirates (UAE)
Languages: Arabic (official), Persian, English, Hindi, Urdu
Passport/Visa Requirements: Americans with US passports valid for more than 6 months are welcome to enter the UAE and no longer need a visa if staying less than 1 month.
Nationalities: Indian, Emirati, Pakistani, Bangladeshi, other Arab, Western
Religions: Muslim (main), Shi'a, Hindu, Christian
Monetary Unit: Dirham
Voltage Requirements: 220/240 volts
Telephone codes: 971, country code; 4 Dubai, 2 Abu Dhabi
Shopping
Located along Financial Centre Road next to the Burj Dubai
800-DUBAI-MALL (800 382 246 255)
Email: enquiry@thedubaimall.com

Opened in 2008, this massive mall features more than 1,200 stores and a host of world-class attractions, including Dubai Aquarium (one of the world's largest) and an Olympic-sized ice rink.
Sheikh Zayed Road
This shopping center houses over 520 retailers, a 14-screen movie theater, scores of upscale and fast-food restaurants, and big-time family entertainment options like Ski Dubai and Magic Planet.
Adjacent to Sheikh Zayed Road between interchanges 5 and 6
The world's largest themed mall is designed around the adventures of Ibn Battuta, a renowned 14th century Arabian explorer. Along with astounding architecture and oodles of shops, the mall offers "edutainment" in the form of storytelling, traditional dancing, children's plays and art.
P.O. Box 75157, Dubai, UAE
Tel: +971 4 366 8888
Fax: +971 4 366 7788
Email: MJinfo@jumeirah.com
This large and imaginative resort is like its own Arabian city, complete with a traditional souk. The pathways are lined with 75 open-fronted shops where craftsman make and sell their unique wares.
topDubai Shopping Festival
Held every year between December and February, this festival offers major shopping promotions, millions of dollars in prizes and world-class entertainment. Warning – the malls get overrun.
topJewelry Shops
Baghdad Jewellery
Old Gold Souk, Deira
Tel: +971 4 226 2642
Rambaldi Jewellery
The Dubai Mall, Gold Souk
Diamond Road
Tel: +971 4 434 0352
Karisma Jewellery
Al Raas Street, Gold House Bldg.
Tel: +971 4 226 2561-2
Fax: +971 4 226 2560
Oasis Jewellery & Watches
Oasis Gold Centre, Gold Souk
Tel: +971 4 229 5900/5100
Fax: +971 4 229 5200
Gems World
Jewellery & Watches
Gold Souk
Tel: +971 4 226 5129
Fax: +971 4 226 6980
Copyright 2013 MyLittleSwans, LLC. All rights reserved. My Little Swans, the logo and Share a world of experience are registered Trademarks of MyLittleSwans, LLC. Use of this site constitutes acceptance of our Terms of Use and Privacy Policy.