Sharjah
Seat of the neighboring emirate of Sharjah, and only 8km from Dubai's city center, Sharjah City is well worth visiting for its lovingly rebuilt historic neighborhoods, many fine museums, splendid architecture, and authentic souks.
Sharjah Heritage Area
The beautifully restored houses and museums of this district helped earn Sharjah its status as a center of Arabic culture. Many of the historic houses are open to the public.
Heritage Square, Al Merraija
Tel: +917 6 568 0006
Open Sat-Thu 8am-8pm; Fri 4pm-8pm
This museum explores the culture and history of Sharjah through traditional folklore, skills, crafts and music.
Majarrah Waterfront
Open Sat-Thu 8am-8pm, Fri 4-8pm
+971 (6) 565 5455
Located in a former souk, this museum displays a fascinating collection of ancient coins, manuscripts, sacred artifacts and a 1200-year-old map of the region.
Sharjah Art Precinct
This lovely district is home to several architecturally acclaimed historic buildings and an 18th-century mosque.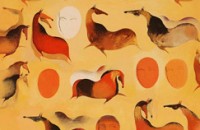 Al Shuwaiheyn, close to Al Boorj Avenue
Tel: +971 6 568 8222
Open Sat-Thu 8am-8pm, Fri 4-8pm
The largest and finest art museum in the UAE, with an extensive collection of 18th and 19th-century Orientalist works as well as three floors of contemporary art.
Souks
The charming, wooden-pillared Souq al-Arsah has a pleasantly traditional feel – shop here for authentic Bedouin and Arabic souvenirs. The Blue Souk is an especially good place to buy carpets and Bedouin jewelry.
Copyright 2013 MyLittleSwans, LLC. All rights reserved. My Little Swans, the logo and Share a world of experience are registered Trademarks of MyLittleSwans, LLC. Use of this site constitutes acceptance of our Terms of Use and Privacy Policy.