Amman
The modern and ancient capital of Jordan, Amman is one of the world's oldest continuously inhabited cities, and many civilizations – Nabatean, Roman, Christian and Arabic – have left their mark. Scattered around the city's seven hills (or jabals) are majestic Roman ruins, Byzantine churches and some of the most elaborate mosques in the Middle East, surrounded by bustling souks and the homes and office towers of a thriving modern metropolis.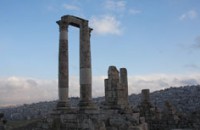 Citadel
Strategically located atop Jabal al-Qala'a in downtown Amman, this area has been an important site throughout the city's history. The grandest building here is al-Quasr, or "The Palace," dating back to the Islamic Ummayad period, around 720 AD. Nearly as impressive is the Temple of Hercules, larger than any temple in Rome, with its massive portico framed by 33-foot columns. The Citadel also houses the remains of a 6th-century Byzantine basilica and a small but excellent archaeological museum.
Jordan Archaeological Museum
Sat-Thu 8am-6pm; Fri 9am-4pm
This museum houses artifacts from all of the archaeological sites in the country, from prehistoric times to the 15th century. The collection includes everyday objects such as pottery and tools as well as four rare Iron-Age coffins and several of the fabled Dead Sea scrolls.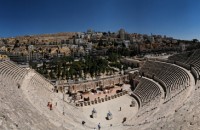 Roman Theater
Built around 140 AD, this impressive semi-circular relic could hold 6,000 spectators, and is still used for sporting and cultural events.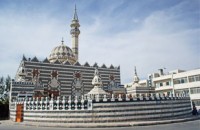 Abu Darwwish Mosque
Jebel al-Ashrafiyeh
Unique in the Middle East, this mosque has a striking black-and-white striped exterior. Non-Muslims are generally not allowed inside.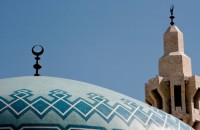 King Abdullah Mosque
El-Abdali district
This modern mosque, with its splendid blue mosaic dome and a 129,120 square-foot central prayer chamber, was built as a memorial to the assassinated King Abdullah I. Women will be asked to wear an abaya (caftan) and cover their hair.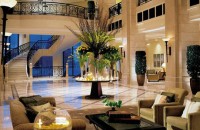 5th Circle, Al-Kindi Street
Jabal Amman, Amman, Jordan
Tel: +962 (6) 550-5555
Arguably Jordan's most luxurious hotel, with a hilltop location offering panoramic views. Indoor and outdoor pools, full-service spa.
Restaurants
Seasons
Breakfast 6:30-11am, Lunch 12:30-4pm, Friday brunch 1-4pm.
Buffet serving Arabic and international specialties, overlooking a landscaped terrace.
Asia
Lunch 12:30-3pm, Dinner 7-11pm
Contemporary Asian cuisine in a stylish room with views of the city. Smart casual attire.
Vivace
Lunch Sun-Thu 12:30-4pm, Dinner 7-11pm
Classic Italian cuisine in a casually elegant setting. Smart casual attire.
Copyright 2013 MyLittleSwans, LLC. All rights reserved. My Little Swans, the logo and Share a world of experience are registered Trademarks of MyLittleSwans, LLC. Use of this site constitutes acceptance of our Terms of Use and Privacy Policy.