Jerash
30 miles north of Amman, Jerash is the largest and best-preserved Roman architectural site outside of Italy. Traces of civilizations have been found here dating back to Neolithic times, but the area reached its golden age during Roman rule, beginning with Emperor Pompey in 63 BC. Over the next three centuries, numerous temples, civic buildings, colonnades and arches were built. Abandoned around 800 AD, the city lay buried in sand for centuries, which accounts for its remarkable preservation.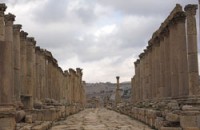 Highlights include Hadrian's Arch, the Hippodrome (where horse racing was held), the Temple of Zeus, and the Forum, notable for its oval shape.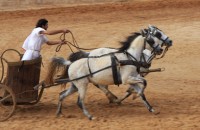 This 45-minute performance in the hippodrome really brings the ancient city to life. Nowhere else is it possible to see chariot races and gladiator battles reenacted in an authentic Roman setting. Older kids might find it a bit corny, but it's a worthwhile option for families with younger kids (as well as a chance to sit and rest). We thought it was fun.
Copyright 2013 MyLittleSwans, LLC. All rights reserved. My Little Swans, the logo and Share a world of experience are registered Trademarks of MyLittleSwans, LLC. Use of this site constitutes acceptance of our Terms of Use and Privacy Policy.