Wine Country Experience
The world's fourth-largest producer of wines, Australia is especially renowned for its Shiraz (known elsewhere as Syrah). Australian winemakers been exporting wine since 1820, and have gained an international reputation for the quality of their products. There are a number of wine-producing regions in Australia – the best-known are the Barossa, near Adelaide in South Australia; the Yarra Valley, near Melbourne in Victoria; the Hunter Valley, near Sydney in New South Wales; and the Margaret River region, south of Perth in Western Australia. The mild Mediterranean climate and rolling hills that make these regions so ideal for wine growing also make them relaxing and scenic places for touring. And because most of them are within an hour or so of a major city, it's easy to incorporate a wine country tour into your itinerary.
topThe Barossa
Located about an hour northeast of Adelaide, Australia's most celebrated wine region encompasses the Barossa Valley and Eden Valley. It's famous for fine Shiraz and is home to some of the world's oldest Shiraz vines as well as many of Australia's best-known brands (Penfolds, Peter Lehmann and Henschke, to name a few). Rieslings from the Eden Valley are another flagship wine, reflecting the area's history – many of the earliest European settlers were Lutheran dissidents from Germany, and a German mineralogist named Menge was one of the first to recognize the region's potential for wine-growing. Today, there are more than 50 cellar doors offering tastings.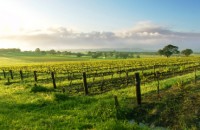 In addition to producing world-class wines, the Barossa is major culinary center, offering an abundance of gourmet restaurants as well as a famed Farmer's Market. Along with gastronomic pleasures, there's plenty of local culture and scenic beauty to enjoy. The region's historic towns, closely linked by roads and trails, are filled with museums and galleries, and the surrounding countryside has a variety of opportunities for hiking, cycling and golf. Soak up the scenery on a hot air balloon or helicopter ride, or unwind at a local spa. You'll find plenty of entertainment, too – there are events happening nearly every month. Some of the biggest are the biennial, nine-day Barossa Vintage Festival and the annual Barossa Under the Stars.
topAccommodations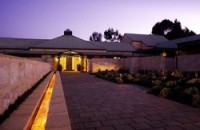 Corner of Seppeltsfield and Stonewell Roads, Marananga
Completely upgraded in 2006, this idyllic luxury vineyard retreat offers just 15 spacious private suites, each with individual terraces – some also feature fireplaces. The hotel's location, on a hilltop overlooking the Barossa Valley, offers sweeping views as well as ready access to the surrounding wineries and attractions. The attentive, knowledgeable staff will help you plan memorable experiences like hot air balloon rides, private tastings, and guided tours to heritage sites or wildlife parks. Appellation, the acclaimed on-site restaurant, is one of the region's finest dining venues.
topWinery Tours
With over 50 cellar doors in the region, it's hard to narrow down which ones to visit – but here are some wineries that offer something a little extra.
Complimentary tours and tasting
Tel: +61 8 8563 2595
The Shiraz vines at this historic, award-winning winery are believed to be some of the oldest in the world, dating back to the 1840s. Tours of the buildings and vineyards are available daily (bookings recommended).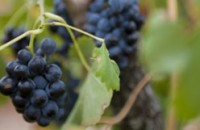 Daily, 10am and 2pm; 24-hour advance booking essential, four-person minimum
Tel: +61 8 8568 9408
Try your hand at the art of winemaking on this fun, one-of-a-kind tour at famous Penfold's winery. Guests are invited to the Winemakers' Laboratory to try blending their own wine from Grenache, Shiraz and Mourvedre, like Penfolds' own Bin 138. The wine is then presented to take home in a personalized bottle.
Tours daily
Tel: +61 8 8563 7303
Learn about traditional winemaking techniques on this behind-the-scenes tour (includes a barrel tasting).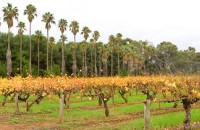 Advance bookings essential
Tel: +61 8 8568 6217
Makers of award-winning fortified wines as well as fine table wines, this winery is one of the oldest in the region. A range of tours are available for viewing the historic buildings, including the homestead, distillery, and cooperage.
36a Murray Street, Angaston
Open 6 days, 11am - 5pm; closed Tue
Group bookings appreciated
Tel: +61 8 8564 2435

Email: info@tasteEdenValley.com.au
Many of Eden Valley's wineries are not open to the public without prior appointment – but at this collaborative showcase on the main street of Angaston, you can drop in and taste a wide range of the region's boutique wines under one roof. Comparative tastings of featured wines are held each day.
Angaston
This gracious town is home to the Barossa Farmer's Market, the Taste Eden Valley showroom, and the Barossa Rose & Flower Show.
Bethany
Site of the region's first German settlement, it's also one of the few surviving examples of a "hufendorf," a democratic style of village layout where each family owned a strip of land off the main street.
Freeling
This quaint rural town is famous as the setting for the Australian TV show "McLeod's Daughters."
Gawler
Located at the foot of the Mount Lofty Ranges, this is the oldest country town in South Australia, filled with magnificent historic buildings.
Nuriootpa
The town's name means "the meeting place," and as the business center of the Barossa, it's an excellent base for exploring the region.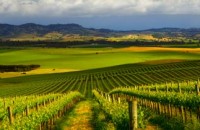 Tanunda
This charming town is the historical heart of the Barossa. Home to several of Australia's best-loved wines, it's also the location of the Barossa Visitor Information Centre.
topRestaurants
The Louise, Seppeltsfield Road, Marananga
Tel: +61 8 8562 4144
Email: dine@appellation.com.au
Daily from 7pm
Guests at the Louise are assured a table – those not staying at the Louise are advised to book 30 days in advance.

Awarded one of the top three South Australian restaurants by Australian Gourmet Traveller in 2008, this casually elegant venue serves fine regional cuisine paired with distinctive Barossa wines. Executive Chef Mark McNamara prepares a new menu daily featuring locally sourced seasonal produce, meats and fish.
Nuriootpa Road, Angaston
Tel: +61 8 8564 2488
Email: chef@vintners.com.au
Daily from 12 noon; dinner Mon-Sat from 6:30pm
This award-winning local favorite offers distinctive, well-balanced dishes created by head chef, winemaker and co-owner Peter Clarke. Located in a picturesque vineyard setting near historic Angaston, it offers outdoor dining in summer and a huge open fire in winter.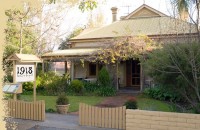 94 Murray St, Tanunda
Tel: +61 8 8563 0405
Open 7 days; Lunch 12-2:30pm: Dinner Mon-Sat 6:30-9pm, Sun 6-8pm
A Barossa institution, 1918 is in the heart of the Barossa Valley on Tanunda's main street, in the historic former home of the mayor. Head Chef Christian Fletcher is committed to serving fresh, seasonally-inspired cuisine based on modern Australian tastes and flavors borrowed from Asia and the Middle East.
Living Heritage Trail
Stretching from Kapunda in the north to Mt. Pleasant in the south, this trail links museums, historic places and natural sights throughout the area. Stop at any of the towns along the way for a self-guided tour – it's a fascinating way to learn about the region's 160 years of history.
The fertile soils and farming traditions of the Barossa have helped create a distinctive regional cuisine. This trail guides visitors to wineries, artisan bakers and cheesemakers, shops and restaurants that highlight the best of the area. Explore the trail on your own, or purchase a trail card, pick up a 4-course tasting hamper, and visit participating wineries to taste wines specially paired with each course.
Para Road Wine Path
Mix walking and wine-tasting on this scenic trail that follows the Para River and links four of Tanunda's famous cellar doors – Stanley Lambert, Richmond Grove, Peter Lehmann Wines and Langmeil Winery. On the 3rd weekend of November, this walk becomes a popular local event, with entertainment, food and activities for the whole family.
Barossa Arts and Convention Centre, Magnolia Road, Tanunda
Tel: +61 8 8563 0600
Held annually in March
This annual summer event presents some of the world's biggest entertainers in a spectacular open-air setting. Beginning in the afternoon with food, wine and local entertainment in the nearby village, it ends at sunset with a spectacular live concert (Chris Isaak was the headliner for 2009).
Various towns, late Mar-early Apr, odd-numbered years
The largest and longest-running wine tourism festival in Australia, this biennial event runs over nine days, encompassing all aspects of the Barossa community – particularly its fine wines. Beginning Easter Sunday with an opening day carnival, the family-friendly celebration continues with parades, a car rally, craft stalls, numerous food and drink vendors, live music and entertainment.
Held every year in August, this event features fine wine from a dozen wineries, paired with gourmet food, live entertainment and family-friendly activities.
Corner of Nuriootpa and Stockwell Rds, Angaston
Saturdays, 7:30-11:30am
This acclaimed market offers fresh local produce, meats, pickles, preserves, dairy products, and baked goods from area farmers and artisans.
Copyright 2013 MyLittleSwans, LLC. All rights reserved. My Little Swans, the logo and Share a world of experience are registered Trademarks of MyLittleSwans, LLC. Use of this site constitutes acceptance of our Terms of Use and Privacy Policy.