Ghan Train Experience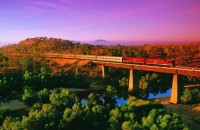 Admire the colors of the Outback and the mighty MacDonnell Ranges on an epic adventure through the heart of Australia. Beginning in Adelaide and ending in Darwin (or vice versa), the 2-night, 50-hour Ghan train journey covers 1859 miles, passing through the stark, arid Red Center and the lush tropical forest of the Top End. It's a unique and fascinating way to experience the country, and the train's new Platinum Service allows you to travel in greater luxury than ever.
The Ghan train is a living legend – it was named after the Afghan camel riders who trekked this route in the days before the railway. Construction of the Ghan began in 1878 and reached Alice Springs in 1929. The modern line was built in 1980, and the line to Darwin was finally completed in 2004. The train makes stops of about 4 hours each in Alice Springs and Katherine, allowing time for sightseeing, if desired. The Ghan offers several tours designed to fit within the timetable, including camel rides, helicopter flights, and boat cruises.

Due to cabin space constraints, it is recommended that guests take an overnight bag containing all requirements for their journey with them in their cabin and check in all other luggage. Each guest is permitted to check in a maximum 88 lbs of luggage free of charge (2 items not exceeding 44 lbs each).
Frequency: Twice weekly
Distance: 1859 miles
Duration: 2 nights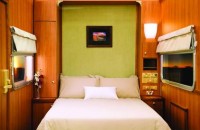 Platinum Cabins measure 11.9 x 6.9 feet (approximately twice the size of standard Gold Twin Cabins), with each room offering deluxe accommodation including double beds, spacious ensuite, panoramic windows and extended room service.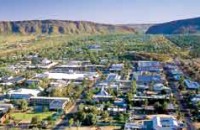 This is probably Australia's most famous Outback town. Founded in the 1880s on the site of a waterhole, it grew slowly until the 1970s, when an increase in tourism created a boom. Now, it's a very popular destination, with interesting historic sites and museums devoted to the intrepid heroes of the Outback. The Alice Springs Desert Park is also worth a visit.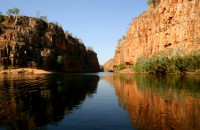 Located 19 miles northeast of Katherine, this park is home to the famed Katherine Gorge, a string of 13 gorges carved out of the red sandstone cliffs over the course of a billion years. Spectacular and impressive, the gorges are best explored by boat or canoe. Or, take a helicopter ride for an exciting view of the entire gorge system.
Copyright 2013 MyLittleSwans, LLC. All rights reserved. My Little Swans, the logo and Share a world of experience are registered Trademarks of MyLittleSwans, LLC. Use of this site constitutes acceptance of our Terms of Use and Privacy Policy.