Syracuse (Siracusa)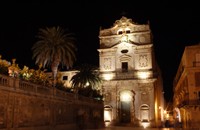 An hour south of Catania, this beautiful city is famed for its artistic and cultural heritage, combining superb examples of Greek, Norman, Spanish and Baroque art and architecture into a harmonious whole. It was the cradle of classical Greek civilization in Italy, and the birthplace of the renowned scientist Archimedes. The ancient Greek theater here is one of the finest in the world, while the heart of the city – the island of Ortygia – is chock-full of lovely cathedrals, squares and piazzas.
Neapolis Archaeological Zone
Viale Paradiso
Tel: +39 09 31 66206
Open 9am-3pm daily (to 6pm Jun-Oct); closed Mon
This spacious park contains some of the most important ancient ruins in Sicily.
Greek Theater
Many of the great Greek playwrights staged their works in this legendary theater, built in the 5th century BC and enlarged in the 2nd century. Its seats, hewn from rock, could hold 15,000 spectators.

Latomie
The stone from these massive quarries was used to build the city of Syracuse. The most famous quarry is called the Ear of Dionysius for its ear-like shape and incredible acoustics.

Altar of Hieron II
This massive sacrificial altar was dedicated to Zeus – up to 400 bulls at once were publicly slain here.

Roman Amphitheater
The 3rd largest Roman theater in Italy, it was used for gladiator battles and horse racing.
Museo Archaeological Regionale
Parco Landolina, Viale Teocroto 66
Tel: +39 09 31 464022
Housing a wealth of archaeological treasures from southeastern Sicily, this museum is divided into three sections: pre- and protohistoric, Greek colonies, and Syracusan outposts.
Temple of Apollo
Though not much remains except the bases of some columns, this is the oldest Doric temple still in existence in Western Europe.
Duomo
With its elegant Baroque façade, Norman-era mosaics, and remnants of an ancient Doric temple, the cathedral is a prime example of Syracuse's olio of architectural styles. The lovely piazza in front of the Duomo is flanked by other fine Baroque buildings.
Via Capodieci 14
Tel: +39 09 31 69511
Open 9am-2pm Tue-Sun, 3-7pm Wed & Fri; closed Mon
Housed in two architecturally unique palazzi, this museum is dedicated to Sicilian art and sculpture from medieval to modern times, including Antonello da Messina's Annunciation.
Castello Eurialo
Frazione Belvedere (5 mi from Syracuse)
Tel: +39 09 31 711773 or 481111
Open daily 9am-1 hr before sunset
This 4th century BC castle is the most important example of Greek military architecture in existence. Strategically located atop a ridge, it's worth visiting for the views alone.
Copyright 2013 MyLittleSwans, LLC. All rights reserved. My Little Swans, the logo and Share a world of experience are registered Trademarks of MyLittleSwans, LLC. Use of this site constitutes acceptance of our Terms of Use and Privacy Policy.