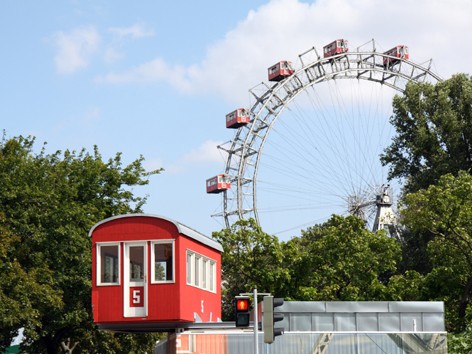 GeoStats:
Time Zone: 1 hour ahead of Greenwich Mean Time (+1 GMT). Daylight Saving Time is observed from the end of March to the end of October.
Predominant Religion: Christian (Roman Catholic, Protestant)
Population: 2,315,000
Languages: German. Most Viennese speak (or at least understand) some English.
Passport/Visa Requirements: Passports (valid for at least six months) and proof of onward passage
Voltage Requirements: 220 volts/50 Hz
Telephone Codes: 43, country code; 1, city code
Basics
topWhen to Go
Vienna is lovely any time of year, though summers can be humid and winters quite cold and snowy. The summer season brings a number of concerts and musical festivals to Vienna, as well as larger crowds. September and October might be the best months to visit: it is cooler and mostly dry, and there are shorter lines for museums and attractions. Skiers should wait until midwinter, however. The Christmas markets (late Nov-late Dec) and the annual ball season (late Dec-early March) are worth braving the winter cold and snow.
topWeather & Temperature
Weather in Vienna is subject to sudden changes. Winter highs can reach 55˚ F, and the low temperatures can plunge below freezing. Expect chilly winds. There is often heavy snow beginning in late December. Summer highs can reach 90˚ but then quickly fall to 50˚.

Heavy rain may occur at any time of the year, although rainfall is most abundant March-May.
topTime Difference
1 hour ahead of Greenwich Mean Time (+1 GMT). Daylight Saving Time is observed from the end of March to the end of October.
topPassport & Visa Requirements
Passports (valid for at least six months) and proof of onward passage are required of travelers from Canada and the U.S.
topMoney Matters
Currency
Austria's currency is the Euro. Notes come in denominations of €5, €10, €20, €50, €100, and €200. Coins come in 1c, 2c, 10c, 20c, 50c, €1 and €2.
Changing Money
The best way to get cash is at an ATM. If you need to exchange foreign currency, you can do so at exchange offices located at the airport, at post offices or at train stations; the best way to convert foreign money, however, is to go to a bank.
Tipping
The standard tip is 10% but can increase for larger groups or excellent service. Check your bill first, because a gratuity may already be included in the bill. If tipping, be sure to hand the tip to the server, rather than leaving it on the table.
topGeography
Vienna is divided into 23 districts (Bezirke). The Innere Stadt is the First district (known also as the Alt Stadt, or "Old City"), which all other districts encircle in a clockwise sequence. Districts 2-9, immediately outside the Ring, are the inner suburbs, and districts 10-23, beyond the Gurtel ring-road and the Danube Canal, are the outer suburbs. Address listings (in a phone book for instance) will begin with the district number, followed by the street name and number. When you see 19 Probusgasse 6, it means house number 6 on Probusgasse in the 19th district. In these pages, the district number is listed in parentheses after the street address.
topPersonal Security
For the most part, Vienna is a safe city, and most visitors shouldn't encounter problems. There have, however, been some reports of pickpocketing in high season near the two main train stations, so do take care when in those areas. It is never advisable to carry large amounts of cash and other valuables, or to leave bags or luggage unattended.

The center of Vienna is generally considered safe even at night – however, it is advisable not to walk through the parks at night. The Gurtel is Vienna's red-light district, where most of the city's strip clubs and prostitutes are found. This area is changing, as new trendy cafes and bars push the red-light business into the background. Still, women venturing out there alone might feel uneasy, but it's not really unsafe. We recommend visiting the Prater area outside of the amusement park only during the day.
topHealth Matters
Medical care in Austria may be expensive, depending on the medical procedure performed, and you may be asked to pay in cash for any medical services. Prior to your trip, it is recommended that you consult with your travel specialist or insurance provider about travel insurance options.

Prescription and nonprescription medications, including aspirin, antacids and cold tablets, can be obtained from an apotheke, Monday-Friday 8 am-noon and 2-6 pm, Saturday 8 am-noon. A drogerie sells over-the-counter health-care products such as bandages and toothpaste, as well as cosmetics and beauty supplies.
Vaccinations
No vaccinations are required for Austria, although those spending time walking in the forests may want to get a "tick shot." This is protection against the zecken, a tick that lives in the trees and can transfer encephalitis. Occasionally this disease has proven fatal.
topTelephone
Country code for Austria is 43
City code for Vienna is 1
When calling from US or Canada, dial 011 + 43 + 1 + number.
To call Vienna from another area within Austria, dial 01 followed by the local number. Local Vienna phone numbers have a varying number of digits.

Austrian and EU directory enquiries: 118-877
International directory enquiries: 0900-118-877
Police: 133
Public Phones
Pay phones are available at the post offices and around the city. Most operate with phone cards, which are available at post offices and the tabaktrafiken (kiosks that sell newspapers and cigarettes).
Mobile Phones
GSM900/1800 mobile phones work in Vienna. You can use a roaming service or buy prepaid SIM cards. Some cheap options are even available in supermarkets. Mobile phone numbers start with 664, 676, 699, 650, 660 or 699.
topElectrical
topEtiquette/Customs
Austrians are usually not physically expressive, and they observe a wide personal space. Gesturing is minimal. Posture is important, so do not act too casual in your demeanor.

It is considered rude to "get down to business" before pleasantries have been exchanged. Follow your Austrian counterpart's lead in small talk. Firm handshakes are the common greeting for both men and women, though a woman should make the practice clear by offering her hand. Make eye contact, but not too intensely, and give a brief nod upon introduction. Titles and qualifications are considered very important in Vienna. Use the German form of title: Herr for men and Frau for most women (fraulein is usually only used for women younger than age 18). Continue using the person's title and last name until instructed otherwise. The English titles "Mr." and "Ms." are also acceptable. Don't correct a Viennese when he addresses you as "Herr Professor" or "Frau Doktor." Viennese love to liberally bestow titles on people who just look like they might qualify for one.

Politics can be full of land mines: Austrians tend to be sensitive about past German domination of their country, and World War II doesn't help a conversation much (for instance, mentioning that Adolf Hitler was born in Austria is definitely not going to win you many friends). Safer topics include sports, the Alps, the Austrian countryside and music (if you are well-versed).

Remember that the Viennese speak a very distinct dialect from Germans, so even if you speak German, communications still may be difficult. Don't feel bad: Many Germans share the problem. And don't mind too much if the locals sound unfriendly on occasion. The Viennese love to grumble a bit at all times, a pastime that is called raunzen.
topWhat to Wear
Dress for the climate: Vienna's weather runs from warm (and sometimes humid) summers to cold, blustery winters that blanket the city in snow. Even in summer, you may want to take along a raincoat and warm sweater. If you're traveling into the countryside, especially, you'll want to have a warm sweater for occasional cool evenings. If you plan to go hiking in the spring or summer, be sure to pack long pants to protect your legs from ticks.

Most Viennese dress up to attend the opera, concerts and theater. Ties for men are not mandatory on these occasions but are appropriate. Upscale restaurants and bars may require a jacket and a tie. At any of the Viennese balls during the mid-January to mid-February season, men typically wear tuxedos and women wear long gowns. Also, traditional Austrian clothing (Trachten) is worn at hunters' balls known as Jagerballe.
topPublic Holidays
Jan 1 - New Year's Day
Jan 6 - Epiphany
May 1 - Labor Day
Aug 15 - Assumption
Oct 26 - National Day
Nov 1 - All Saints' Day
Dec 8 - Feast of the Immaculate Conception
Dec 25 - Christmas Day
Dec 26 - St. Stephen's Day
Copyright 2013 MyLittleSwans, LLC. All rights reserved. My Little Swans, the logo and Share a world of experience are registered Trademarks of MyLittleSwans, LLC. Use of this site constitutes acceptance of our Terms of Use and Privacy Policy.