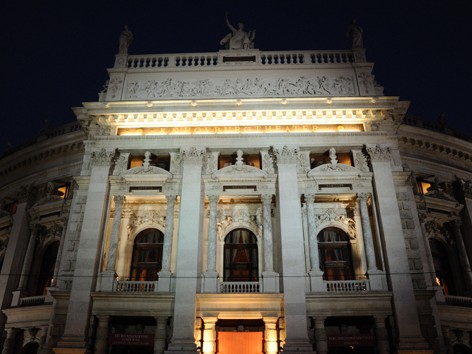 GeoStats:
Time Zone: 1 hour ahead of Greenwich Mean Time (+1 GMT). Daylight Saving Time is observed from the end of March to the end of October.
Predominant Religion: Christian (Roman Catholic, Protestant)
Population: 2,315,000
Languages: German. Most Viennese speak (or at least understand) some English.
Passport/Visa Requirements: Passports (valid for at least six months) and proof of onward passage
Voltage Requirements: 220 volts/50 Hz
Telephone Codes: 43, country code; 1, city code
Activities
topSpring, Summer & Fall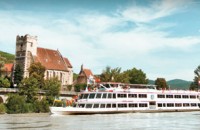 Daily, Apr-Oct

A cruise along Vienna's famous river is a wonderfully relaxing way to take in the sights. 1 ½ or 2-hour day cruises pass the Millennium Tower (the tallest building in Austria), the Donaturum, aka the "Concrete Needle" (Vienna's tallest freestanding structure), the unconventional KunstHausWien museum and more.

Evening cruises let you enjoy the sunset and experience the sights of Vienna under the stars.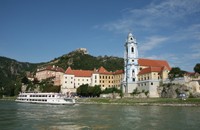 For a longer excursion filled with gorgeous scenery, take a cruise through the Wachau Valley, from Melk to Krems. Because of its exceptional beauty, this river valley has been included in the UNESCO World Heritage list. You'll pass medieval castles, picturesque villages, abbeys and terraced vineyards.
Vienna Woods

The fabled Wienerwald west and south of the city is a wonderful place for recreation, offering trails for hikers and cyclists. Expect to see nice, old taverns and restaurants as you explore the forest. There are several interesting towns and vintner's villages here as well (including Baden, the well-known spa town).

Note: In spring and summer, be sure to wear protective clothing, avoid tall grass and check for ticks after your hike. If you suspect a tick has bitten you, seek medical help. The local variety of ticks can be dangerous, and inoculation prior to travel is recommended.
Wine Taverns
Heurigen are wine taverns that serve first-year wines. Many are set in idyllic gardens or courtyards, with accompanying schrammelmusik (sentimental ballads, played on accordion, guitar and violin—the Austrian equivalent of pub songs). For the truest heurige experience (outdoors, in a garden setting, surrounded by vineyards rather than an urban environment), go to the heurigen in the outlying areas of Salmannsdorf, Sievering, Stammersdorf, Grinzing, Nussdorf and Heiligenstadt.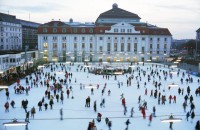 Ice Skating
The Viennese are very fond of ice skating and many waltz like professionals around the ice. A large rink in front of the Rathaus is open mid-January to March daily 9am-10pm. All rinks will rent skates.

Wiener Eislaufverein
Lothringerstrasse 22 (Third), Vienna
Tel: 43 1 713 6353.
Open Oct–Mar Tue, Thu and Fri 9am-9pm, Wed 9am-10pm, Sat-Mon 9 am-8 pm

This outdoor rink is artificially frozen, so it's open even on the very warm days in spring and fall. Sunday morning is a particularly good time to go for both skaters and spectators.
Ball Season
From late December through early March, some 300 of balls take place in and around Vienna – many of which are open to the public. Dressing up and taking a whirl at one of these balls is an unforgettable experience. The festivities kick off with the Imperial Ball on Dec 31st at the Hofburg. The famous Opera Ball in February is the season's mega-event and the epitome of ball culture – reservations should be made well in advance. If the crush of celebrity at the Opera Ball sounds like too much, there are many other very enjoyable events throughout the season, such as the Pharmacist's Ball, Flower Ball and the Hunter's Ball. To learn about ball traditions and etiquette, click here.
Copyright 2013 MyLittleSwans, LLC. All rights reserved. My Little Swans, the logo and Share a world of experience are registered Trademarks of MyLittleSwans, LLC. Use of this site constitutes acceptance of our Terms of Use and Privacy Policy.