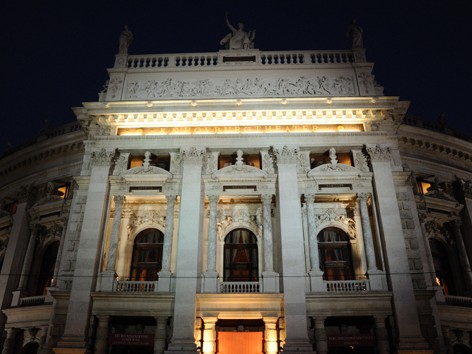 GeoStats:
Time Zone: 1 hour ahead of Greenwich Mean Time (+1 GMT). Daylight Saving Time is observed from the end of March to the end of October.
Predominant Religion: Christian (Roman Catholic, Protestant)
Population: 2,315,000
Languages: German. Most Viennese speak (or at least understand) some English.
Passport/Visa Requirements: Passports (valid for at least six months) and proof of onward passage
Voltage Requirements: 220 volts/50 Hz
Telephone Codes: 43, country code; 1, city code
Shopping
topMarkets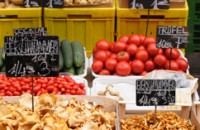 Naschmarkt
Wienzeile (Fourth), between Karlsplatz and Kettenbrückengasse
Mon-Fri 6am-7:30pm, Sat 6am-5pm; food stalls: Mon-Sat 6am-11pm
Flea market every Sat 6:30am-4pm

Vienna's largest and most popular open-air market has been around since the 16th century. Stretching along the Vienna River, it offers Viennese and international specialties, fresh fruits and vegetables, breads, cheeses, meat, fish and a huge array of other items. (Arrive early to beat the crowds.) On Saturday it extends into a major flea market.
Karmelitermarkt
Karmeliterplatz (Second), bounded by Krummbaumgasse, Leopoldsgasse, Haidgasse, Im Werd
Mon-Fri 6am-7.30pm, Sat 6am-5pm

This colorful, multicultural market is one of Vienna's oldest. Less crowded than the Naschmarkt, it offers Turkish food, traditional Austrian meats, fish, poultry, fresh fruits and vegetables, wine, and organic produce. On Saturdays it becomes a farmer's market.
Spittelberg Christmas Market
Mid-November through December
Off Burggasse, between Breitegasse and Stiftgasse (Seventh), Vienna

This famous and colorful market occupies several streets in the historic Spittelberg district, offering gluhwein (mulled wine), handmade Christmas-tree ornaments, crafts and hot snacks.

Other popular Christmas markets are held at Schonnbrunn, Rathausplatz, Am Hof and Freyung.
topShopping Centers & Department Stores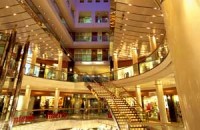 Kärtner Strasse/Kärtner Ring (First), Vienna
Open Mon-Fri 10am-7pm, Sat 10am-6pm. Restaurants/bars, cafes, Mon-Sun 8am-1am

Vienna's most exclusive shopping center is housed in two buildings connected by a glass bridge. Its 58 shops include Armani, Chanel, Prada and Roberto Cavalli.
Guglgasse (11th), Vienna
Tel: +43 720 740966

These round brick tanks were once part of Vienna's municipal gas works. Now historical landmarks, they were retired in the 1980s, renovated and turned into housing, leisure facilities and a shopping center with 70 stores.
Karntner Strasse 19 (First), Vienna
Tel: +43 1 514310
Mon-Fri 9:30am-7pm, Sat 9:30am-6pm

An ultramodern shopping temple crammed with top labels, cosmetics and a media cafe. An outside glass elevator takes you up to the seventh floor for a breathtaking view of Vienna. (The elevator operates until midnight for those visiting the Sky Bar and international restaurant atop the building.)
topShopping Streets
Kärtner Strasse, Graben & Kohlmarket
Vienna's most fashionable streets are lined with small, tasteful shops selling high-quality porcelain, glassware, clothing, and confectionary.
Mariahilfer Strasse
This trendy, popular street features hundreds of mid-range shops and a few department stores.
Lindengasse
Located not far from Mariahilfer, this narrow side street has become a hub of contemporary fashion, with a number of small, creative boutiques.
topSpecialty Shops
Antiques
Dorotheum
Dorotheergasse 17 (First), Vienna (and other locations)
Tel: +43 1 515 60-0

The oldest and one of the largest auction houses in Europe. The warehouse is open to the public and also offers non-auction sales.
Confectioners
Gerstner
Kärntner Strasse 13-15 (First), Vienna
Once the supplier to the imperial court, this company has been making traditional sweets and confections by hand since 1847.

K. und K. Hofzuckerbäcker Demel
Kohlmarkt 14 (First), Vienna
Tel: +43 1 535 17 17-0
More than two hundred years of tradition as well as old family recipes guarantee the quality of this confectioner's scones, cakes and candies.

Confiserie Heindl
This Viennese confectioner makes a range of unique sweets named for celebrities (Mozart, Sisi, Strauss) as well as classic Viennese specialties. Their Willendorfergasse location is also home to Vienna's first chocolate museum.

Rotenturmstrasse 16-18 (First), Vienna (and numerous other locations)
Tel: +43 1 512 85 22

Willendorfergasse 2-8 
(23rd district), 1230 Vienna
Tel: +43 1 667 21 10-33
Ceramics
Augarten Wien, City Center
Stock-im-Eisen-Platz 3 (First), Vienna
Tel: +43 (0) 1/512 14 94
email: Wien1(at)augarten.at


GmundnerKeramikShop
Stadiongasse 7 (Eighth), Vienna
Tel: +43 1 4054828
Traditional Clothing (Trachten)
Lanz
Karntner Strasse 10 (First), Vienna
Tel: +43 1 512-2456

A great shop for classic Austrian clothing. Styles for men, women and children.
Copyright 2013 MyLittleSwans, LLC. All rights reserved. My Little Swans, the logo and Share a world of experience are registered Trademarks of MyLittleSwans, LLC. Use of this site constitutes acceptance of our Terms of Use and Privacy Policy.