Sights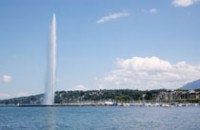 Geneva is divided in two by the Rhône River, which flows out of Lake Geneva toward France. The North Bank (Rive Droite) is the main commercial district and the home of the Cité International. The South Bank (Rive Gauche) contains the 16th century Old Town and most of Geneva's attractions, along with its best shopping. Set on a hill, the Old Town is compact, atmospheric and very walkable.
Visitor entrance: Pregny Gate, 14, avenue de la Paix
Tel: +41 22 917 48 96 or +41 22 917 45 39
Email: visit-gva@unog.ch
Valid identity documents are required; do not carry luggage or large bags.
Open daily Apr-Jun, 10am-12 noon and 2-4pm; Jul-Aug, 10am-4pm
Open Sep-Mar, Mon-Fri 10am-12 noon and 2-4pm
Closed mid Dec-early Jan

Created in the 1930s as the League of Nations, the Palais des Nations is the center of Geneva's international area and the European headquarters of the United Nations Organization. Many of the halls and chambers are open to the public, and it's well worth taking the hour-long guided tour (private tours available).
Cathédrale St. Pierre
Cour St-Pierre
Open daily 10am-5:30pm

Built in the late 12th and early 13th century, this massive cathedral incorporates Gothic and Romanesque elements. The lavish stalls and side chapels, remnants of the original Catholic decorations, form a sharp contrast to the starkly majestic nave. Famous theologian Jean Calvin preached hundreds of sermons here during the Reformation.
Petit Palais
2, Terrace St-Victor, 1206 Geneva
Tel: +41 22 346 14 33
Fax: +41 22 346 53 15
Open Mon-Fri, 10am-noon and 2-6pm; Sat-Sun, 10am-1pm and 2-5pm

Formerly a private townhouse, this elegant 18th century building houses an impressive collection of Impressionist and abstract works, from artists including Monet, Renoir, Chagall and Picasso.
Rue Charles-Galland,1206 Geneva
Tel: +41 22 418 26 00

Email: mah@ville-ge.ch
Open Tue-Sun 11am-6pm; closed Mon

With collections ranging from archaeology to fine and applied arts, this museum's vast offerings span history from prehistoric to modern times. Period interiors, ancient Greek and Roman treasures, paintings, pottery and costumes are among the 7,000 objects on permanent exhibition.
10, rue des Vieux-Grenadiers, CH-1205 Geneva

Tel: +41 22 320 61 22
Open Tue-Fri noon-6pm, Sat and Sun 11am-6pm. Closed Mon.
Opened in 1994, this is Geneva's newest contemporary art museum, focused on the diversity and vitality of the Swiss and international art scene.
Quartier des Bains
This district in the center of Geneva has become a vibrant center of contemporary art, featuring a concentration of contemporary art galleries and museums. The Quartier des Bains Association holds very popular common openings called Nuits des Bains (every third Thursday of March, May and September).
Parc des Bastions
Located just outside the ramparts of the Old Town, this large, tranquil park is popular with students, locals and tourists alike. It's best known for the imposing monument featuring four leaders of the Reformation movement – there's also a giant chessboard.
topLake Geneva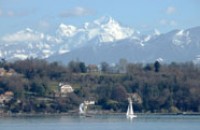 Known in French as Lac Léman, this spectacular arc-shaped lake is the largest lake in the Alps. Though much of the southern shore belongs to France, most of the lake lies within Switzerland. A series of historic towns and villages line its shores – ferries and cruise boats make regular trips between the towns.
Surrounded by the vineyards of the La Côte winegrowing region, this quiet town is the home of Institute Le Rosey, one of the world's most prestigious boarding schools. Rolle's huge, square lakeside castle was built by the Duke of Savoy in the 13th century.
topMontreux
Called the "Jewel of the Swiss Riviera," this upscale resort town has been attracting artists and writers for nearly 200 years, including Lord Byron, Leo Tolstoy, and Igor Stravinsky, who composed The Rite of Spring here. Queen singer Freddy Mercury considered Montreux his second home – there's a statue of him on the lakeshore. The annual jazz festival held here is internationally famous, and concerts and other cultural events take place year round. As for sightseeing, nearby Château de Chillon is a must. Other than that, the best way to enjoy Montreux is to walk along the lakeshore promenade or take in the view from the terrace of one of the many Belle Époque hotels.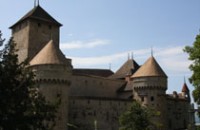 Tel: +41 21 966 89 10
Email: info@chillon.ch 
Open daily except Dec 25 and Jan 1. Apr-Sep, 9am-7pm; Oct & Mar, 9:30am-6pm; Nov-Feb, 10am-5pm. Last entry one hour before closing.

Originally built for the Dukes of Savoy in the 12th century, this enchanting medieval castle is situated on a small, rocky island which acts as a natural moat. Captured by the Bernese in 1536, it was used as a fortress, arsenal and prison. The prison's most famous captive was Francois de Bonivard, subject of Lord Byron's poem The Prisoner of Chillon – it's said you can still see the footprints where he paced during his 6-year imprisonment. The State of Vaud took it over in 1798. Restoration of its richly decorated halls and chapels began at the end of the 19th century.

The castle provides an excellent guide for children in the form of a scavenger hunt. There are also children's workshops available where kids can learn woodworking, build a coat of mail, or discover and date the castle graffiti.
Rochers-de-Naye
Train departs every hour from Montreux station
An hour's climb on the rack railway train takes you past meadows and fields to Rochers-de-Naye, which offers breathtaking views of Lake Geneva and the surrounding Alps.
topLausanne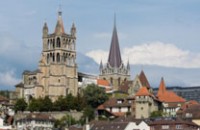 The center of culture for French-speaking Switzerland, Lausanne is spectacularly located on three hills along Lake Geneva's northern shore. With its fine Gothic cathedral, famous Olympic museum and charming shopping districts, it's easily worth a day of exploration.
Cathédrale Notre Dame
1 Place de la Cathédrale
Open 7am-7pm Mon-Fri, 8am-7pm Sat-Sun; Sep-Mar, closes at 5:30pm. Closed Dec 25, Jan 1 & 2.
Considered Switzerland's finest Gothic building, this magnificent cathedral dominates Lausanne's Old Town. Though largely bare of decoration, the lavishly carved chapel stalls, ornate portal, 16th-century murals and rose window recall the days before Reformation. Climb the 225 steps of the southwest tower for spectacular views of the city and Lake Geneva.
Place de la Palud
The main feature of this market square is the city's arcaded town hall. A popular gathering place, the square hosts street markets on Wednesdays and Saturdays, and a once-monthly craft fair.
1 Quay d'Ouchy
Closed for renovations until the end of 2013.
Devoted to preserving the heritage of the Olympics, from ancient to modern times, this is Switzerland's best-known museum. It features artifacts from the original Greek games, along with interactive exhibits and memorabilia illustrating great moments in Olympic history.
11, av. of Bergières, Lausanne
Tel: +41 21 315 25 70
Email: art.brut@lausanne.ch       
Open daily Jul-Aug, 11am-6pm; open Sep-Jun, Tue-Sun 11am-6pm

Art Brut ("raw art") was the term coined by Jean Dubuffet for artwork created by people on the outskirts of society, such as asylum inmates. Dubuffet collected Art Brut over a span of 25 years; about 1000 of the museum's 30,000 pieces are on display at any one time.
topEvian-les-Baines
This small, charming town, famous for its spring waters, is about 1 hour by car from Geneva on the French side of the lake. The spa at Evian Royal Resort is excellent and very kid-friendly; their special Kid's Resort offers a range of age-appropriate activities to keep your child entertained while you enjoy the spa facilities. The level of service at the resort is very high (the G8 summit was held here in 2003) and the restaurants are amazing.
topGruyères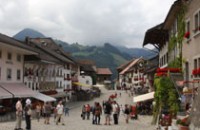 An hour by car from Geneva, this picturesque mountain town is famous for its namesake cheese. A bit touristy, but charming, and a fun place to shop for souvenirs. Enjoy the fromagerie demonstration at La Maison du Gruyère, followed by fondue (of course!) at the Café-restaurant des Remparts. If you're still in the mood for indulgence, stop by the chocolate factory in the nearby village of Broc.
CH-1663 Pringy-Gruyères
Tel: +41 26 921 84 00
Open Jun-Sep 9am-7pm, Oct-May 9am-6pm
Cheese-making: 9-11am and 12:30-2:30pm, 3 to 4 times a day, depending on season
Dec 24, 25, 31: Open 10am to 4pm; Cheese-making from 9-11am

This working dairy introduces visitors to the traditions and secrets behind the making of Le Gruyère, one of Switzerland's most iconic cheeses. The interactive exhibits include a tasting of the cheese at three different stages of maturity.
rue Jules Bellet 7, 1636 Broc

Tel: + 41 26 921 59 60
Open daily Apr-Oct, 1am-6pm; Nov-Mar, 10am-5pm. Dec 24 and 31, 10am-4pm.
This chocolate maker's new Maison opened in 2010. Learn about the history of chocolate and its journey from the Aztecs to the Swiss, discover the factory's chocolate-making secrets, and taste Callier's main creations.
Café-restaurant des Remparts
Rue de Bourg 19, CH-1663 Gruyères
Tel: +41 26 921 21 77   

Located in 16th century building, with a glassed-in terrace overlooking the ramparts of Château de Gruyères, this popular restaurant specializes in Vacherin fondue.
topLes Diablerets
Located between Lake Geneva and Gstaad, this ski resort offers a variety of family-friendly sports and activities. The Glacier 3000 ski region offers skiing (including glacier skiing) and snowboarding from early November to late May. In summer, there's hiking, mountain biking, paragliding and fixed-rope climbing. During the winter, three ski regions offer 77 miles of runs (pistes) along with cross-country trails, tobogganing, and snowshoeing.
topFarther Afield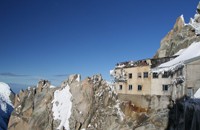 Aguille du Midi
This sharp-peaked mountain near Mont Blanc is known for the cable car up to its summit. The cable car departs from the center of Chamonix – climbing from 3,396 to 12,605 feet, it is the highest vertical ascent cable car in the world. At the summit, a viewing platform offers panoramic views of the Swiss, French and Italian Alps.
Mont Blanc Tunnel
When I was a student in Geneva, we took a lot of driving trips in the Alps. One of my favorite routes was through the Mont Blanc tunnel, which connects France and Italy – I'll never forget exiting the tunnel, looking out across three countries, and feeling on top of the world.
La Maison de Filippo
Frazione Entrèves di Courmayeur, Entreves
Tel: +39 (0)165 869797
Email: lamaison@lamaison.com
Reservations required
Open Wed-Mon 12:30-2:30 and 7:30-10pm. Closed Tue. Closed mid May-mid June, Nov.
Located just outside the Mont Blanc tunnel on the Italian side, this farmhouse restaurant is famous for its huge portions, but what I remember best is the fantastic view of Mont Blanc from the beer garden. Regional cuisine, set menu.
topSt. Gallen
3.75 hrs northeast of Geneva
This historic city in the Appenzell Alps is another memorable place from my student days. It's a bit of a drive from Geneva, but worth it. The town was founded by Gallus, an Irish monk, in 612, and is most famous for its exquisite Baroque cathedral and medieval library. It's also known for its fine embroidery. The pedestrianized old town is very charming – many of the 16th-18th century burgher houses feature oriel windows with elaborately carved, often brightly painted brackets, an art form unique to St. Gallen.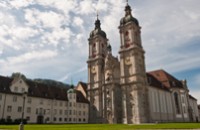 Convent of St. Gall
Klosterhof 6, St. Gallen
Open daily 9am-7pm
This magnificent complex is the city's main landmark and a UNESCO World Heritage site, representing 12 centuries of continuous activity. Founded in 719, the abbey was an important center of Western science and culture, reaching peaks during the Middle Ages, Renaissance, and Baroque periods.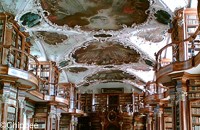 The cathedral is a sublime example of late Baroque style, but the convent's true gem is the Benedictine library. Containing 160,000 books and 2,100 manuscripts, it's one of the oldest and richest libraries in the world – an inscription over the entrance describes it as the "pharmacy of the soul." The library ceiling, an ornate mix of woodwork and stucco, is a masterpiece in itself.
Copyright 2013 MyLittleSwans, LLC. All rights reserved. My Little Swans, the logo and Share a world of experience are registered Trademarks of MyLittleSwans, LLC. Use of this site constitutes acceptance of our Terms of Use and Privacy Policy.