San Sebastian
Still one of the most beautiful cities in Spain, this town overlooking the Cantabrico Sea was the country's most elegant and fashionable seaside resort for more than a century. San Sebastian (aka Donostia) lies along two white sandy bays, with fishermen's houses, smart suburbs and modern districts adding to its appeal. The city's historic Old Quarter (Parte Vieja) is a maze of narrow streets lined with restaurants and tapas bars, very popular and busy at night. In the heart of the old town is the Plaza de la Constitución. Among its many balconies – numbered and painted white, betraying its origin as a bullring – stands the old Neoclassical City Hall, converted into the Municipal Library. La Alameda del Boulevard leads into the Romantic city (Zona Romántica) which emerged after the old walls were demolished. With architecture reminiscent of Paris, and a number of stylish cafés and music venues, it's perfect for an evening stroll or a night out.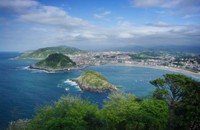 Shell-shaped La Concha Bay offers glorious views of Monte Igueldo and Santa Clara Island. There are two main beaches – fashionable Playa de Ondaretta and the larger Playa de la Concha — as well as a surfer's beach, Playa de la Zurriola.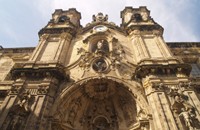 Churches
Parte Vieja contains a number of fine historic churches, including the Renaissance-Baroque Santa María del Coro, the Gothic San Vincente, and the Neo-Gothic el Buen Pastor.
Mercado de la Bretxa
Along Calle de Aldamar in Parte Vieja
This underground market offers a dazzling range of local produce, meats, seafood and other delicacies.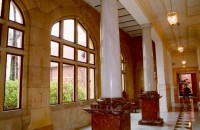 Palacio Miramar
Built in 1889 as a summer residence for Queen Maria Christina, this seaside palace is located between San Sebastian's two main beaches. The gardens are open to the public.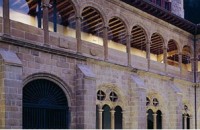 Plaza Zuloaga / Zuloaga Enparantza, 1
Tel: (+34) 94 348 15 80
Open Tue-Sun, 10am-8pm. Closed Mon. Closed Jan 1 & 20, Dec 25.
Housed in a 16th century Dominican monastery in Parte Vieja, this excellent museum is devoted largely to Basque culture and art. The fine arts collection features classical European paintings from the 15th to the 19th centuries. (Currently closed for renovation and expansion).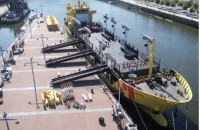 Aquarium and Naval Museum
Plaza Carlos Blasco de Imaz
Tel: (+34) 94 344 00 99
The Aquarium Donostia-San Sebastian is dedicated to education, research and conservation – its many tanks and exhibits help increase understanding of river ecosystems, dangerous fish and other aspects of marine life. On the second floor, the Naval Museum displays a rich collection of maritime objects dating from the 16th to 20th centuries.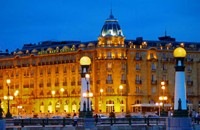 Paseo de la Republica Argentina, 4
20004, San Sebastian
Tel: (+34) 943 437 600
This emblematic hotel reopened in July 2012 after a $25 million restoration. Located in the lively historic center of the city, overlooking the Urumea River and close to the sea, Hotel Maria Cristina has been the quintessential icon of San Sebastian society since 1912. Luxurious rooms and a long-standing tradition of service add to the pleasure of your stay.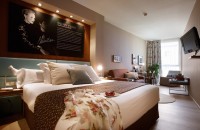 Calle de la Sagrada Familia 1
20010 San Sebastian
Tel: (+34) 943 445 000
Fax: (+34) 943 445 454
Email:info@astoria7hotel.com
This cinema-themed modern hotel offers a cosmopolitan feel.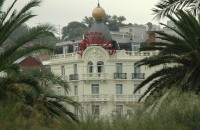 Calle de Zubieta 2
20007 San Sebastian
Tel: (+34) 943 440 770
Email:reservas@hlondres.com

Located in the center of San Sebastián facing the famous La Concha beach, this boutique hotel is at the heart of the city.
topRestaurants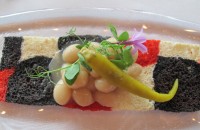 Paseo Padre Orcolaga, 56
20008 San Sebastian
Tel: (+34) 943 311 209
Email: restaurante@akelarre.net
Seatings from 1-3:30pm and 8:30-11pm.
Closed Sun evenings and all day Mon and Tues, Jan-June.
Closed Sun evenings and all day Mon, Jul-Dec.
This was our favorite restaurant in San Sebastian. It's best to make reservations a month before you travel.
Avenida del Alcalde Jose Elosegui, 273
20015 San Sebastian
Tel:(+34) 943 278 465 or (+34)943 285 593
Reservations:asesoramientos@arzak.es
Open Lunch and Dinner, Tue-Sat.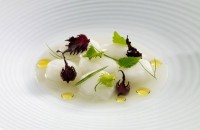 Aldura Aldea 20
Errenteria
Tel: (+34) 943 522 455 / (+34) 943 518 343
Email: info@mugaritz.com
Open 1-6:30pm and 8:30pm-1:30am. Closed Sun eve, all day Mon, Tue midday.
Open Apr-Dec (call for exact dates)
Chef Andoni Luiz Aduriz offers a stimulating menu with an eclectic collection of wines.
Bodega El Lagar
Calle de Zabaleta 55
San Sebastian
Tel: (34) 943 320 329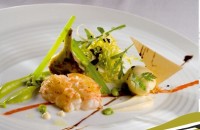 Avenida de Tolosa 123, bajo
20018 San Sebastian
Tel: (+34) 943 317 162
topRegional Cooking Schools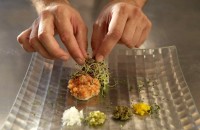 Calle de Mari 5, bajo
20003 San Sebastian
Tel: (+34) 943 43 15 40
Fax: (+34) 943 42 35 53
Email: info@escuelairizar.com
Basque cooking classes, some in English, are offered at this well-known school located near the harbor in San Sebastian.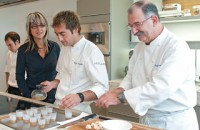 Padre Orcolaga, 56
20008 San Sebastian
Tel: (+34) 943 311 209
Email: restaurante@akelarre.net
The Cookery Classroom offers test and trials resulting in new dishes for their menu, and demonstrations to food-lovers (8-25 people). Custom master classes are also available with Akelarre's Chef, Pedro Subijana and his team.
Copyright 2013 MyLittleSwans, LLC. All rights reserved. My Little Swans, the logo and Share a world of experience are registered Trademarks of MyLittleSwans, LLC. Use of this site constitutes acceptance of our Terms of Use and Privacy Policy.