Bilbao
Spain's largest port and the largest city in the Basque region, Bilbao is the center of Basque industry. While not the most picturesque city in Spain, it does have its charms, such as the 14th century Old Quarter (Casco Viejo), with its pedestrianized streets lined with cafes and tapas bars. The newer town is home to the Museo de Bellas Artes, one of Spain's best art museums, displaying works by artists like Gauguin, El Greco, Goya, and Bacon. But the jewel of Bilbao is the Guggenheim Museum, offering a broad spectrum of modern and contemporary art. Famous for its groundbreaking design by Frank Gehry, this museum has created a cultural renaissance in Bilbao and brought a new vibrancy to the city.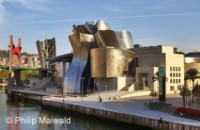 Avenida Abandoibarra, 2
48001 Bilbao
Open Sep-Jun, Tues-Sun 10am-8pm, closed Mon. Open Jul-Aug, Mon-Sun 10am-8pm.
Closes 5pm Dec 24 and 31. Closed Dec 25 and Jan 1.
This museum presents a comprehensive overview of 20th-century art, featuring works by art icons such as Kandinsky, Duchamp, Mondrian, Warhol and Picasso, as well as Koons' famous floral sculpture, "Puppy." The Frank Gehry-designed building, with its sinuous steel and titanium walls, is an icon in itself, lauded as the most important building of its time when it opened in 1997.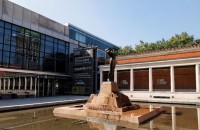 Plaza del Museo, 2
48011 Bilbao
Tel: +34 94 439 60 60
Open Tue-Sun 10am-8pm, closed Mon. Closes 2pm Dec 24 and 31. Closed Dec 25, Jan 1 and 6.
Renovated and expanded in 2001, this museum holds the combined works of the former Fine Arts and Modern Art museums. The collection contains outstanding examples of art from the 12th century to the present day, with a particularly interesting selection of paintings of the Flemish and Spanish schools and an abundance of works by Basque artists.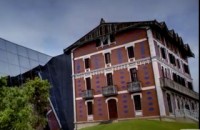 Aldamar Parkea, 6
20808 Getaria
Tel: +34 943 00 88 40
Open Jul-Aug, Mon-Sun 10am-8pm.
Open Jun & Sep, Tue-Sun 10am-8pm, closed Mon.
Open Oct-May, Tue-Thu 10:30am-5pm; Fri, Sat and days before holidays 10am-8pm; Sun and holidays, 10:30am-6pm. Closed Mon.
Consisting of approximately 1200 pieces, this is the most extensive collection of Balenciaga creations in the world. It is housed in a majestic villa that was the former residence of the Marqués and Marquesa of Casa Torres, mentors to Balenciaga during his early career.
Plaza Miguel de Unamuno, 4
48006 Bilbao
Tel: +34 94 415 54 23
Open Tue-Sat, 11am-5pm. Sun, 11am-2pm; Closed Mon and public holidays.
This Baroque-style building in Bilbao's Old Quarter displays artifacts exploring the ethno-history of the Basque country. (Currently undergoing renovations.)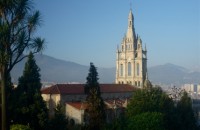 Catedral Basilica de Santiago
Plazuela de Santiago, 1
48006 Bilbao
Tel: +34 94 415 36 27
Guided tours: +34 94 432 01 25
Open Tue-Sat 10am-1:30pm and 4-7pm, Sun and holidays 10am-1:30pm
Located the heart of Old Quarter, this 14th century Gothic church is perhaps Bilbao's oldest building.
topRestaurant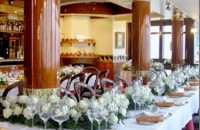 Copyright 2013 MyLittleSwans, LLC. All rights reserved. My Little Swans, the logo and Share a world of experience are registered Trademarks of MyLittleSwans, LLC. Use of this site constitutes acceptance of our Terms of Use and Privacy Policy.