Pamplona
Also known as Iruña, this fortified city in northern Spain was founded by the Roman general Pompey. From the 10th to the 16th century, it was the capital of the kingdom of Navarra – much of its Old Quarter dates from this time. Most visitors know Pamplona as the site of the festival of Los Sanfermines, made famous by Ernest Hemingway in The Sun Also Rises. From July 6-14 the normally quiet town explodes to life, beginning each day with the running of the bulls (encierro), followed by bullfights and late-night celebrations. But Pamplona's rich history makes for an interesting visit any time of the year.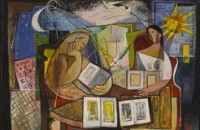 Calle Santo Domingo, 47
Tel: +34 848 42 64 92
Open Tue-Sat 9:30am-2pm and 5-7pm, Sun and public holidays 11am-2pm. Closed Mondays, Jan 1, Good Friday, Jul 7 and Dec 25.
The artifacts in this museum trace the region's heritage from prehistory to the present day. Exhibits of art and archaeology include Roman mosaics, Gothic murals and a collection of paintings by Basque artists.
Pablo Sarasate Museum
Calle Mayor (Palacio del Condestable), 2
Tel: +34 948 42 01 00
Open Mon-Fri 11am-2pm and 6-9pm. (Hours may vary by season.) Closed Sat, Sun and public holidays.
The museum is a tribute to the illustrious Pamplona-born violinist and composer Pablo Sarasate. On display are personal items, musical instruments, and gifts and honors bestowed on the musician.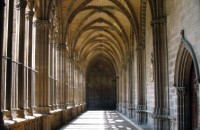 Pamplona Cathedral
Plaza Santa Maria La Real
The delicate cloisters of this 14th-century Gothic church are considered to be some of the finest in Spain.
Calle Ansoleaga, 10
Tel: +34 848 42 14 00
Open Mon-Fri, 8am-3pm. Closed Sat, Sun and public holidays.
Once the home of the General Auditing Office, this 13th century building was declared a National Monument in 1868. It is the only remaining example of civic Gothic architecture in Pamplona.
Copyright 2013 MyLittleSwans, LLC. All rights reserved. My Little Swans, the logo and Share a world of experience are registered Trademarks of MyLittleSwans, LLC. Use of this site constitutes acceptance of our Terms of Use and Privacy Policy.