Sevilla
Sevilla is a convivial city rich in history and monuments, with an intense nightlife that takes place under the sky thanks to the mild climate. The city was founded by the Romans and was ruled by the Moors from 711 until 1248 – both left indelible marks on the city. Under European rule, the height of Seville's splendor came with the discovery of America in 1492. Many great explorers departed from its port, which had a monopoly on trade with the overseas colonies – and the city owes much of its great architecture to the riches that flowed back in from the New World.

Most of the city's major sights are found in Santa Cruz, the old Jewish quarter, and El Arenal, the old port.
topSanta Cruz
This charming maze of narrow streets, lined with whitewashed buildings, was Seville's Jewish quarter from 1248 to 1492. During Seville's golden age, much of its newfound wealth was spent here, on lavish palaces, churches and civic buildings. Now filled with upscale homes, chic shops and attractive cafes, Santa Cruz is a popular area for strolling and shopping or an evening out.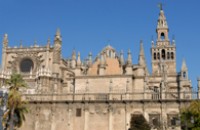 Seville Cathedral
Avenida de la Constitución
Open Jul-Aug: Mon-Sat 9:30am-4:30pm; Sun 2:30-6:30pm. Sep-Jun: Mon-Sat 11am-5:30pm; Sun 2:30-6:30pm

Located on the site of a mosque built by the Moorish Almohad rulers, this Gothic cathedral is the world's third largest church. Massive iron grills enclose the elaborate high altar, carved from New World gold by Flemish sculptors. To the right of the altar is the tomb of Christopher Columbus. The graceful Giralda tower, rising 322 feet high beside the cathedral, is a Sevilla landmark – formerly a minaret, it offers spectacular views over the city.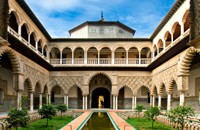 Patio de Banderas s/n
Tel: +34 954 50 23 24
Open Oct-Mar, 9:30am-5pm, Apr-Sep, 9:30am-7pm
This complex was declared a UNESCO World Heritage Site and is the city's emblem. Built by the Spanish King Pedro I within the former palaces of Moorish rulers, this fortress is a prime example of Mudejar architecture, blending Moorish and Catholic styles. Highlights include the magnificent cedarwood dome in the Salon de Embajadores, and the ornate, arcaded Patio de las Doncellas.
Hospital de los Venerables
Place de los Venerables 8
Tel: +34 95 456 26 96
Open daily 10am-2pm and 4-8pm
Founded as a home for elderly priests, this 17th century Baroque building is best known for the magnificent frescoes decorating its chapel.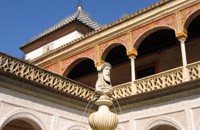 Casa de Pilatos
Plaza de Pilatos, 1
Tel: +34 95 422 52 98
Open daily, 9am-7pm (Apr-Oct), 9am-6pm (Nov-Mar)
So named because it was thought to resemble Pontius Pilate's house in Jerusalem, this16th-century mansion features an exceptionally beautiful blend of Mudjar elements, rendered in molded stucco and glazed tiles (azuejos).
Avenida de la Constitución, 3
Tel: +34 95 450 05 28
Open Mon-Sat Sep 16-Jun 15, 9;30am-5pm; Sun and holidays 10am-2pm
This Herreran-style building houses thousands of handwritten letters, drawings, and maps chronicling Spain's discovery and colonization of the Americas.
Palace of the Countess of Lebrija
Calle Cuna, 8
Tel: +34 95 422 78 02
Open Sep-Jun, Mon-Fri 10:30am-7pm, Sat 10am-2pm and 4-6pm, Sun 10am-2pm; Jul-Aug, Mon-Fri 9am-3pm, Sat 10am-2pm
This palace is often described as one of the most magnificent houses in Seville. With 580 square meters of Roman mosaics on the floors and walls, it's the most important private Roman art collection in the world.
topEl Arenal
Stretching along the Guadalquivir River, this district was the bustling center of Sevilla commerce during the city's heyday as a port. It's still a vibrant area, especially during bullfighting season. A cruise down the legendary river is a great way to see the sights.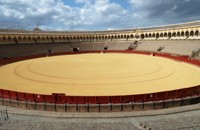 Plaza de Toros de la Maestranza
Paseo de Cristóbal Colón
Bullfighting days, call: +34 954 21 03 15
Open daily, May-Oct 9:30am-8pm, Nov-Apr 9:30am-7pm; closed Good Friday and Dec 25
The oldest bullring in Spain, and arguably the finest, this famous arena can hold up to 14,000 spectators.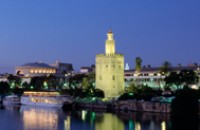 Torre del Oro
Paseo de Cristóbal Colón
Under Moorish rule, the 12-sided "Golden Tower" formed part of the city's walled defenses. Today it houses a small maritime museum.
Plaza del Museo, 9
Tel: +34 954 78 65 00
Open Tue-Sat 9am-8:30pm, Sun and public holidays 9am-2:30pm
Housed in a restored 17th-century convent, this excellent museum is largely devoted to artists of the Sevilla School, such as Velazquez and Murillo. The main attraction is Murillo's "Virgin de la Servietta," supposedly painted on a napkin. Also notable is the fabulous Baroque dome in the convent chapel.
Hospital de la Caridad
Calle Temprado 3
Tel: +34 954 22 32 32
Open Mon-Sat 9am-1:30pm, 3:30pm-6:30pm; Sun and public holidays 9am-1pm
This charity hospital, founded by the repentant aristocrat Miguel de Mañara in 1674, still cares for the elderly of Seville. The church is filled with magnificent 17th century paintings created for the site by Murillo.
topOutside the City Center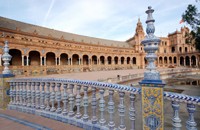 Plaza de España
Located south of Santa Cruz in the vast Parque de Maria Luisa, this colorful, semi-circular plaza was built for the 1929 Ibero-American Exhibition. The rich neo-Baroque ornamentation features handpainted tiles representing each Spanish province.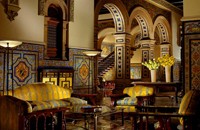 San Fernando, 2
Tel: +34 954 917 000
This beautifully appointed hotel in the heart of Sevilla offers suites, and outdoor pool and gardens, restaurants, and easy access to the Santa Cruz quarter and Guadalquivir River.
topRestaurants
topAperitifs & Tapas
Casa Robles
Álvarez Quintero, 58
Tel: +34 954 21 31 50
Famous for its tapas.
Bar Giralda
Mateos Gago, 1 (Santa Cruz Quarter)
Tel: +34 95 422 74 35
Elaborate tapas served in a vaulted room that was once a 10th-century Arabian bathhouse.
Barbiana
Albareda, 11
Tel: +34 95 422 44 02
Delicious fish and seafood tapas.
La Taquilla
Adriano, 24
Tel: +34 95 421 11 26
Small, charming tapas bar with a bullfighting theme.
topNightlife
Some of the liveliest bars, restaurants and clubs are located on Calle Betsis (on the Triana side of the river), and on the Alameda de Hércules (in the La Macarena neighborhood north of the city center).
Antigüedades
Argote de Molina 40
Start off your night with a drink at this hip international bar in Santa Cruz. The interior decor may be a bit morbid (in a cheerful way), but the outdoor terrace is perfect for an evening cocktail.
Copyright 2013 MyLittleSwans, LLC. All rights reserved. My Little Swans, the logo and Share a world of experience are registered Trademarks of MyLittleSwans, LLC. Use of this site constitutes acceptance of our Terms of Use and Privacy Policy.