Jerez de la Frontera
This lively town has a number of claims to fame – in addition to being Spain's capital of sherry production, it's also known for flamenco and horses. With a famed dance school and a long tradition, Jerez is considered by many to be the birthplace of flamenco. The Royal Andalusian School of Equestrian Art trains riders in the arts of dressage, using elegant, white Cartunjano horses. There's also an impressive Alcazar, a bull museum – in short, there's plenty to see and do here, if you can tear yourself away from the many sherry bodegas.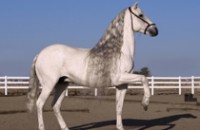 Avda. Duque de Abrantes
Tel: +34 956 31 96 35
Shows at 12 noon Thu, Tue (Mar-Dec), Fri (Aug), Wed and Fri during the May Horse Fair, and selected Saturdays
Founded in 1973, this equestrian academy offers public dressage exhibitions a few days a week where the famous Andalusian horses perform dances and other intricate steps. On other days, visitors can watch morning training sessions and visit the stables, as well as the Museum of Equestrian Art and the Horse Carriage Museum.
Finca Fuente del Suero
Tel: +34 956 16 28 09
This prestigious stud farm is home to the world's most important stock of Cartujano horses, originally bred by Carthusian monks. Stud Farm Open Days are held on Saturdays – visitors have direct contact with the horses, accompanied by the farm's hostess, who explains the history and features of the stud.
Centro Andaluz de Flamenco
1 Plaza de San Juan
Tel: +34 856 81 41 32
Open weekdays 9am-2pm
This dance school and cultural center is dedicated to the history and promotion of flamenco. The exhibition features costumes, instruments, photos and videos.
Alcázar de Jerez
Calle Alameda Vieja
Tel: +34 956 14 99 55
Open Mon-Fri 10am-6pm, Sat-Sun 10am-3pm (Winter), Mon-Fri, 10am-8pm, Sat-Sun 10am-3pm (Summer)
A former residence of the Sevillian caliphs during the Moorish reign, this impressive 11th-century fortress features fully restored Arab baths and a well-preserved mosque that is now a church.
Museo Taurino
Pozo del Olivar, 6
Open Mon-Sat 10am-2pm
This museum houses a large collection of objects and artworks dedicated to bullfighting and bull breeding (Jerez is home to a number of important bull ranches).
Copyright 2013 MyLittleSwans, LLC. All rights reserved. My Little Swans, the logo and Share a world of experience are registered Trademarks of MyLittleSwans, LLC. Use of this site constitutes acceptance of our Terms of Use and Privacy Policy.