Toledo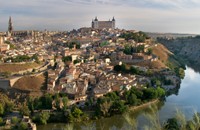 The religious and historic heart of Spain, this lovely city above the Rio Tagus shows the influence of Roman, Visigothic, Moorish, Catholic and Jewish cultures. Under Moorish rule during the middle ages, when Toledo was an important center of trade, Jews, Muslims and Christians worked and lived side by side. After the Spanish monarchs took power, Toledo was Spain's capital for 50 years, before Filipe II moved the court to Madrid in 1561. The city's rich and well-preserved cultural heritage makes for a fascinating visit. The Cretan painter El Greco made Toledo his home for most of his life – his works can be found throughout the city.
topOld Quarter
A UNESCO World Heritage site, Toledo's maze-like Old Quarter is a monument to the middle ages, when Christian, Muslim and Jewish cultures coexisted. Only two synagogues and two Moorish buildings survive, but the influence of Muslim artisans can be seen in the elaborate Mudejar details found in the churches and monasteries.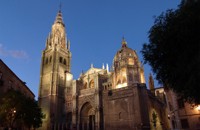 Calle Cardenal Cisneros 1
Tel: +34 925 22 22 41
Open Mon-Sat 10am-6pm, Sun 2-6pm
Built over 250 years in a unique blend of styles, including French Gothic and Mudejar, this formidable cathedral is filled with artistic marvels. Highlights include El Greco's The Denuding of Christ in the sacristy, a flamboyant Baroque altarpiece, and an exquisitely carved high altar reredos. The treasury houses a spectacular 15th century gilded monstrance.
Sinagoga de Santa Maria La Blanca
Calle de los Reyes Caólicos 4
Tel: +34 925 22 72 57
Dating from the 12th century, this large synagogue was the site of a massacre of Jews in 1391, marking the end of a long period of religious tolerance. Now fully restored, it features striking, horseshoe-shaped Mudejar arches.
Sinagoga del Transito
Calle Samuel Levi
Tel: +34 925 22 36 65
Open Tue-Sun (closed Sun afternoons)
Ornately decorated with geometric Mudejar motifs, this 14th-century synagogue is now the home of the Museo Sefardi. Manuscripts, costumes and artifacts depict the history of Jewish culture in Spain.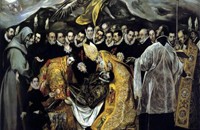 Iglesia de Santo Tomé
Plaza del Conde 4
Tel: +34 925 25 60 98
Though the church boasts a fine Mudejar tower, most visitors come here to view El Greco's masterpiece, The Burial of the Count of Orgaz. The painting is thought to contain portraits of Cervantes and the artist himself.
Monasterio de San Juan de los Reyes
Calle de los Reyes Caólicos 17
Tel: +34 925 22 38 02
Commissioned by the Catholic monarchs in the 15th century, this monastery features a harmonious mix of architectural styles, such as the intricate Mudejar ceiling in the Gothic cloister.
Museo de Santa Cruz
Calle Miguel de Cervantes 3
Open Mon-Sat 10am-6:30pm, Sun 10am-2pm; Closed Jan 1, May 1 and Dec 25
This museum, housed in the former site of a 16th-century hospital, is divided into three sections: Roman, Visigoth, Moorish and Mudejar Archaeology; Fine Arts, including an excellent collection of medieval and Renaissance tapestries and paintings; and Industrial Arts, displaying examples of damascene (blackened steel inlayed with gold wire), a typical Toledo craft.
Alcázar
Calle Unión
Tel:+34 925 23 88 00
Open Oct-May, Tue-Sat 10am-7pm, Sun 10am-3pm; Jun-Sep, Tue-Sat 10am-9pm, Sun 10am-3pm. Closed Wed; closed Jan 1 & 6, May 1, and Dec 24, 25 & 31.
Dominating Toledo's skyline, this massive 16th-century fortress was heavily damaged in 1936, during the Civil War. Now rebuilt, it houses the National Army Museum (open Thu-Tue 11am-5pm).
Copyright 2013 MyLittleSwans, LLC. All rights reserved. My Little Swans, the logo and Share a world of experience are registered Trademarks of MyLittleSwans, LLC. Use of this site constitutes acceptance of our Terms of Use and Privacy Policy.