Explore By Area - Andalucía
There is so much to see, do and experience in Andalucía – you may want to extend your trip or change hotels more frequently in order to fully explore all the region has to offer. Major destinations within this region, such as Sevilla and Grenada, are covered in-depth in their own sections, but here are some other places well worth visiting.
topCórdoba
Córdoba is located a 1.75-hr drive from Sevilla or a 2.25-hr drive from Granada. Built on a sharp bend of the Guadalquivir River, Córdoba is today a UNESCO World Heritage Site – the best places to explore are the cobblestone streets of the old Jewish quarter, filled with small shops selling ornately carved gold and silver and embossed leather. A walk in this area gives you the feeling of being transported to the 10th century. One of the most atmospheric plazas in Andalucía is the Plaza de los Capuchinos – it's well worth seeing by moonlight.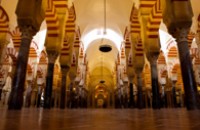 Mezquita
Córdoba's main attraction is the celebrated Mezquita (8th century), the only mosque remaining from medieval Spain. Don't miss the arches and pillars, the elaborate mihrab (prayer niche), and the stunning Capilla de Villaviciosa.
Córdoba's other important sites include:
The 14th century Sinagoga, with walls covered in Hebrew scripts
Alcazar de los Reyes Cristianos, a 14th century palace built by the Catholic Monarchs, with tranquil gardens featuring water terraces and fountains
topCarmona
Carmona is located 24 miles east of Sevilla. Its old quarter was built on a hill overlooking today's suburbs. Puerta de Sevilla is the gateway to the Moorish old quarter, a dense cluster of mansions, Mudejar churches, squares and winding cobblestone streets. The Plaza de San Fernando has a feeling of grandeur due to its Renaissance-era Ayuntamiento façade. The ruins of Alcazar of Rey Pedro dominate the town – part of the Alcazar is now a Spanish posada. Outside Carmona is a Necropolis Romana – its museum displays articles found in the graves, such as statues, glass and jewelry.
topPueblos Blancos
The mountains of Andalucía are dotted with lovely, fortified pueblos blancos (white villages), so called because their historic old quarters are whitewashed in the Moorish tradition. These agricultural towns occupy a range of scenic locations – many are perched atop steep cliffs, others climb the sides of gorges or are nestled at the foot of mountains. A tour of these villages makes a lovely day trip from Marbella.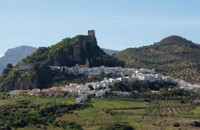 Some of the most worthwhile are Zahara, a cliffside town that's been declared a national monument; Arcos de la Frontera, known for its Gothic-Mudejar Church of Santa Maria; charming Grazalema, with its numerous churches, restaurants and bars; and Gaucin, offering spectacular views of the Mediterranean, Atlantic and the Rock of Gibraltar. Perhaps the most inviting of these towns is Ronda, which straddles a deep ravine atop a 600-foot bluff.
Copyright 2013 MyLittleSwans, LLC. All rights reserved. My Little Swans, the logo and Share a world of experience are registered Trademarks of MyLittleSwans, LLC. Use of this site constitutes acceptance of our Terms of Use and Privacy Policy.