Destination:
Utah & Arizona Parks
Arches
This park is famous for its remarkable natural arches, the largest concentration in the world. There are over 2,000 arches in all, ranging from a three-foot opening to the long, narrow Landscape Arch (which measures 306 feet from base to base). Towering spires, fins and balanced rocks complete the park's amazing variety of landforms.
topActivities
Biking
Arches offers great opportunities for both road and mountain biking. The Salt Valley and Willow Springs roads are less traveled but are more suited to mountain bikes. Bicycles are only permitted on roads; there is no single track or trail riding in the park.
Hikes
Arches National Park contains a multitude of hiking trails. Ranging in length and difficulty, these trails provide access to outstanding viewpoints and many of the park's famous features, including Balanced Rock and Delicate Arch. Some of the trails pass directly under the arches.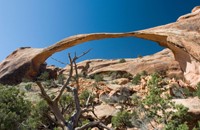 Easy Trails:
Landscape Arch (2 miles) - A relatively flat, gravel-surfaced trail leads to a spectacular ribbon of rock, whose span is more than a football field in length.
Broken Arch (1.2 miles) - Loop trail leads through fin canyons with sand dunes and slickrock.
Balanced Rock (0.3 miles) - A loop trail around the base of a fragile, picturesque rock formation.
Ranger-Led Hikes:
Ranger-guided hikes through the Fiery Furnace are offered twice each day from March through October. These popular 3-hour hikes through a labyrinth of narrow canyons are considered by most to be moderately strenuous, involving drop-offs and tight squeezes. One adult is required for each child age six or under attending the tour. One adult is recommended for each child age seven to twelve.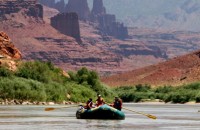 Half-day, full-day and multi-day rafting trips down the Colorado River are available.
Ride past towering 2,000-foot cliffs on your way to Castle Rock. Minimum age 8 years.
topLodging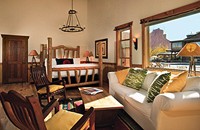 The only luxury lodging accommodations near Arches & Canyonlands National Park. This resort's spacious guest rooms and suites combine rustic yet elegant ranch decor, the charm of a country inn with the comforts of home and the service of an upscale hotel.
Copyright 2013 MyLittleSwans, LLC. All rights reserved. My Little Swans, the logo and Share a world of experience are registered Trademarks of MyLittleSwans, LLC. Use of this site constitutes acceptance of our Terms of Use and Privacy Policy.