Destination:
Utah & Arizona Parks
Canyonlands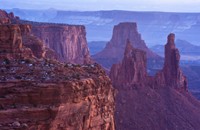 The vivid landscape of Canyonlands has been eroded into countless canyons, spires and buttes by the Green and Colorado Rivers. The rivers divide the park into three districts: the Island in the Sky, the Needles, and the Maze. Though they share a rugged desert environment, each of the districts has its own character and offers different opportunities for exploration.
topActivities
Hikes
Both the Island in the Sky and the Needles districts have several short trails great for children.
Island in the Sky:
Aztec Butte Trail (2 mile round-trip):
 A steep climb up a slickrock dome leads to some ancestral Puebloan granaries and outstanding views of Taylor Canyon.
Grand View Point Trail (2 mile round trip): An easy walk out to the very end of the Island in the Sky mesa. Panoramic views.
Mesa Arch (.5 mile): A mild walk out to an arch perched right on a cliff edge. A great sunrise hike.
Upheaval Dome Overlook Trail (1 mile round-trip): Good view of a very intriguing rock formation.
Whale Rock Trail (1 mile round-trip): Handrails provided for the steep climb up Whale Rock. Good views of upheaval dome area.
Needles:
Cave Spring Trail (.6 mile round-trip): Trail features a historic cowboy line camp and prehistoric pictographs. Two wooden ladders must be climbed.
Pothole Point Trail (.6 mile round-trip): Uneven slickrock surface. Trail leads to pothole communities and views of the Needles.
Roadside Ruin Trail (.3 mile round-trip): Trail features an ancestral Puebloan granary.
Slickrock Trail (2.4 mile round-trip): 
Uneven slickrock surface. Several viewpoints and sometimes bighorn sheep.
Biking
Canyonlands is famous for its mountain biking terrain, particularly the 100-mile White Rim Road at the Island in the Sky.
Boating
Above their confluence near the heart of Canyonlands, the Colorado and Green rivers offer miles and miles of flat water perfect for canoes, sea kayaks and other shallow-water boats. Below the confluence, the combined flow of both rivers spills down Cataract Canyon, creating a fourteen-mile stretch of Class III to V white water.
Local outfitters offer a variety of guided trips, from half-day excursions to week-long floats. Most river trips involve several nights of camping.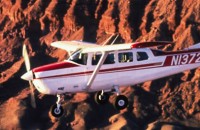 Departing from Canyonlands Airport, take a 1-hour aerial tour of Canyonlands National Park, or a 2-hour tour of amazing Monument Valley.
topLodging
The town of Monticello is near the southern end of Canyonlands and might be a good choice for the later portion of your stay.
43 well-equipped rooms, spa, and the area's largest indoor pool.
Copyright 2013 MyLittleSwans, LLC. All rights reserved. My Little Swans, the logo and Share a world of experience are registered Trademarks of MyLittleSwans, LLC. Use of this site constitutes acceptance of our Terms of Use and Privacy Policy.