Marbella
Tucked between the mountains and the sea, Marbella is one of the most popular tourist destinations on the Costa del Sol, with great beaches and dozens of excellent golf courses. The historic part of town shelters lovely areas of typically Andalusian flavor, with whitewashed houses and orange trees adorning the streets and squares.
Spanish Contemporary Engraving Museum
Calle Hospital Bazán, Marbella
Tel:+34 95 276 57 41
Located in the former Bazan Hospital, this museum's collection covers the full range of Spanish art in the print medium – everything from 15th-century engravings to works by Picasso, Dalí, and Miró.
Bonsai Museum
Parque Arroyo de la Represa
Avda. Del Dr. Maíz Viñal, Marbella
Tel: +34 95 286 29 26
Open daily.
Housing some 300 miniature trees representing 40 species, this is considered one of Europe's finest collections of bonsai. Landscaped gardens and lakes surround the museum.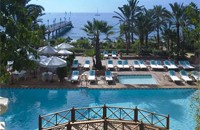 Once the private residence of Prince Alfonso von Hohenlohe, this renowned beach-front resort features 121 luxury bedrooms and suites and 14 Andalusian-style villas. Enjoy the Thalasso Spa, an 18-hole golf course, the riding stables with activities such as treks through beautiful countryside to training for high-level competition, the pool or the beach, and restaurants.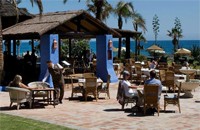 This sophisticated beachfront hotel offers newly renovated rooms designed in elegant, contemporary style, with private balconies and spacious marble baths. Facilities include 3 outdoor pools, a Kid's Club, and restaurants ranging from casual to gastronomic.
topRestaurants and Bars
Local specialties to try include gazpacho andaluz (cold tomato and vegetable soup), paella, and espetos de sardina (barbecued sardines on skewers, best enjoyed by the beach).
La Meridiana
Camino de la Cruz, s/n Marbella
Tel: +34 95 277 61 90
Cipriano
Avenida Playas del Duque, s/n Marbella
Tel: +34 95 281 10 77
topUpscale Restaurants
Carretera de Istán, Km. 0.8, Marbella
Tel: +34 95 282 88 61
Taberna del Alabardero Resort
Carretera de Ronda, Km 167, Marbella
Tel: +34 95 281 27 94
topBars and Nightclubs
Muelle Ribera, Local 58-59, Puerto Banus
Tel: +34 95 281 42 83
Salduba
Muelle de la Ribera, Puerto Banus
Tel: +34 95 281 10 92
Sinatra's Bar
Calle de la Ribera 2, Puerto Banus
Tel: +34 95 281 90 50
Carretera de Istán (beside Babilonia), Km. 0.8, Marbella
Tel: +34 95 282 88 61
Camino de la Cruz (beside Meridiana), s/n Marbella
topMarkets
Puerto Banús
Every Saturday (Marbella)
The stalls of this large market spread in all directions, selling a wide range of goods, especially antiques. It's difficult to park here – the better option is to park at the bottom end of the town near the N340 and walk up (10 minutes).
Craftsmen Market
Marbella
Puerto Banús, beside the Plaza de Toros and the Plaza Benabola
"El Barato"
Mondays (downtown Marbella)
Estepona
Every Wednesday in the town center (21 miles west of Marbella)

A large and well-organized market with a great variety of stalls. Get there early and take a walk into town towards the sea. The market is very tourist-orientated but nice on a warm day along the water, with lots of bars nearby for eating and drinking.
Copyright 2013 MyLittleSwans, LLC. All rights reserved. My Little Swans, the logo and Share a world of experience are registered Trademarks of MyLittleSwans, LLC. Use of this site constitutes acceptance of our Terms of Use and Privacy Policy.