Trip Extensions
We visited these destinations on our one-week Japan trip, but looking back, I have to say we packed too much in. We're suggesting them as trip extensions instead. They are all very worthwhile if you have a few extra days.
topKamakura and Hakone
Together, these destinations make a great two-day trip from Tokyo by car, with an overnight in Hakone. At the end of day two, either return to Tokyo or continue on to Kyoto by train (Hikari 413 from Mishima Station).

topKamakura
This seaside town was Japan's capital from 1185-1333. It still holds a number of important shrines and temples.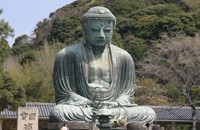 Great Buddha
Located at Kotokuin Temple
2-28 Hase 4-chome, Kamakura, Kanagawa 248-0015
Tel: +81 (0)467 22 0703
Open daily 7am-6pm (winter 7am-5:30pm)
Kamakura's most famous attraction, this bronze statue stands 44 feet tall – visitors can go inside its hollow interior.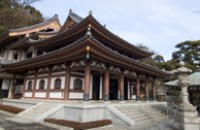 3-11-2 Hase, Kamakura City, Kanagawa
Tel: +81 (0)467 22 6300
Open Mar-Sept 8am-5pm daily; Oct-Feb 8am-4:30pm daily
This elegant temple is famous for its lovely 11-faced Kannon, goddess of mercy. The terrace next to the temple offers a fine view of the city.
The Hakone area extends across the remains of a volcano – the resulting hot springs have made Hakone a popular resort since the 9th century.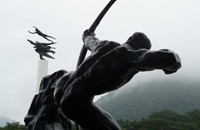 Ninotaira, Hakone-Town, Kanagawa-Prefecture 250-0493
Tel: +81 (0)460 82 1161
Open daily 9am-5pm
This amazing 70,000 sq. meter open-air museum displays sculptures by Rodin, Henry Moore, Bourdelle and Miro. There are five indoor galleries as well, featuring over 300 Picasso works.
Other Hakone-area museums:
Lalique Museum
Pola Museum of Art
Venetian Glass Museum
Museum of Saint-Exupery and the Little Prince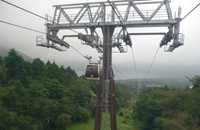 The Hakone Route
From Gora terminal, ride the cable car to summit of Soun-zan. Cable cars leave Gora every 20 minutes or so.
From Soun-zan, board a gondola for a 30-minute ride over the mountain to Togendai, which lies beside Lake Ashi, known as Lake Ashinoko in Japanese. (Gondola ropeway stops running at around 5:15 p.m. in summer and 4 p.m. in winter.)
Before reaching Togendai, get off at the first stop, Owaku-dani or Great Boiling Valley, the ropeway's highest point, to hike the 30-minute Owakudani Nature Trail and enjoy panoramic views of Mt. Fuji and Lake Ashi. You'll see (and smell) the sulfurous steam escaping from fissures in the rock, testimony to the volcanic activity still present here. It's a tradition to boil eggs in the sulphur thermal hot pools and eat them at the summit. (The egg shells turn instantly black!)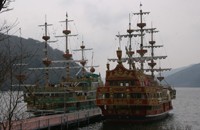 Depending on the weather, you may enjoy a cruise of Lake Ashi on replicas of historical Western-style boats.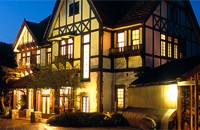 1300 Gora, Hakone–machi, Ashigarasitagun, Kanagawa 250-0408
Tel: +81 460 82 3331
Fax: +81 460 82 3334
Email: info@gorakadan.com
A former retreat of imperial families set in Hakone National Park, this traditional inn has mastered the art of Japanese bathing. A western style spa is also available. We recommend booking spa packages well ahead of time.
topIga Ueno
Day trip from Kyoto by car.
This provincial castle town is famous as the home of the Ninja spies of Japan's medieval era.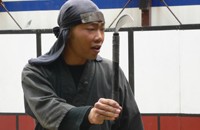 117-13-1 Ueno Marunouchi, Iga-shi, Mie-ken
+81 (0)595 23 0311
Open daily 9am-5pm; Closed Dec 29-Jan 1
Ninja shows happen hourly most days, but not all - call to confirm.
This extraordinary museum dedicated to the art of stealth includes Ninja Yashiki, former headquarters of the Iga Ninja clan, filled with revolving walls, trap doors and hidden compartments. The museum offers spectacular demonstrations of ninja skills, using real weapons. Visitors can also dress up as ninjas and try their hand at throwing knives.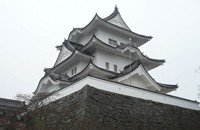 Iga Ueno Castle
106 Marunouchi,Ueno-shi, Mie
Tel: +81 (0)595 21 3148
Open daily 9am-5pm. Closed Dec 29-31.
This castle is nicknamed "Hakuho" or "white phoenix" for its elegant five-story white tower. It was used as a location for the Kurosawa Akira film Kagemusha in the early 1980s.
Kumi-no-sato Center of Japanese Rope Braiding
1929-10, Shijuku-cho, Ueno-shi, Mie 518-0823
Tel: +81 (0)595 23 8038
Oen Tue-Sun 9am-5pm. Closed every Mon (except national holidays) and Dec 29-Jan 3
Kumihimo are the braided silk cords used on Japanese armor, swords and sutra scrolls. Besides the historical exhibit on display here, you can try your hand at braiding.
topTakayama
Day trip from Kyoto by train. Take the bullet train Nozomi 66 to Nagoya. Change to Express Train Wideview Hilda 3 to Takayama. Take a taxi to Takayama city center.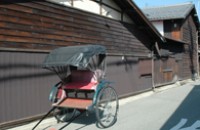 The isolated location of this mountain town left much of its character intact, with well-preserved streets lined with tiny Edo-period shops and restaurants. The main attractions are the old merchants' houses, clustered together in San-machi Suji on three narrow streets, as well as the numerous museums throughout the district.
Hirata Kinenkan Museum
39 Kaminino-machi, Ichino-machi, Takayama
Tel: +81 (0)577 33 1354
Open Tue-Sun 9am-5pm (until 4:30 Dec-Feb). Closed Mon and Dec 29-31.
This former candle shop houses a collection of folk art, such as Edo-period toys and clothing.
Kusakabe Heritage House
1-52 Ojimamachi, Takayama 506-0816
Tel: +81 577 32 0072
Open daily 9am-4:30pm (closed Tuesdays Dec-Feb).
Built of Japanese cypress, this well-preserved moneylender's dwelling from the late 1800s is a prime example of Meiji-era architecture.
Yoshijima Heritage House
1-51 Ojimamachi, Takayama 506-0816
Tel: +81 577 32 0038
Open daily 9am-5pm. Closed Tue, Dec-Feb.
This sake merchant's house from the early 1900s features the delicate latticework and heavy beams characteristic of the region.
Takayama-matsuri Festival
Held here every spring (Apr 14-15) and autumn (Oct 9-10), the popular Matsuri festival revives parades, crafts and costumes from 15th century Japan.
Copyright 2013 MyLittleSwans, LLC. All rights reserved. My Little Swans, the logo and Share a world of experience are registered Trademarks of MyLittleSwans, LLC. Use of this site constitutes acceptance of our Terms of Use and Privacy Policy.